The recently released major update of VMware vSphere, version 5.5 addresses several issues in vSphere 5.1. An update is absolutely recommended as it resolves many issues and reduces the complexity of some components like Single Sign-On. This update guide shows a small Walk-though how to Update you Platform to vSphere 5.5.

Part 1: Check Compatibility
When you want to Update to vSphere 5.5, the first to check is the Hardware Compatibility List. That is a list of hardware which has been tested to work properly with ESXi 5.5. Please note that some servers were supported in 5.x but are no longer supported in 5.5.
Part 2: Check Interoperability
This is the standard task whenever you install or update anything related to your platform. Check all products you have installed at VMware Product Interoperability Matrix. Select VMware vCenter Server in the first Drop-Down Box and all your products in the second. When you have external tools, you should check them too.
It is usually not required (ESXi 5.x works great with vCenter 5.5) but definitely recommended to Update the physical ESXi Hosts too. Additional components are required to be updated when you want to install vCenter Server 5.5:
VMware vCenter Site Recovery Manager 5.5

VMware vCenter Orchestrator 5.5
VMware vCenter Operations 5.7.2
VMware vCenter Update Manager 5.5
VMware vSphere Data Protection (VDP) 5.5.1
VMware vSphere Storage Appliance 5.5
VMware vCloud Director 5.5
Part 3: Product Update Sequence
When you have additional VMware products in your environment you have to follow a update sequence described in KB2057795:

Part 4: Update vCenter Server Components
The easiest way to Update to vCenter Server 5.5 is by using the Simple Install option. The update process itself if strait forward and can usually been clicked through without answering much questions. But do not start yet, as there is an issue with probably expired SSL certificates:
Warning 25000. Please verify that the SSL certificate for your vCenter Single Sign-On 5.1 SSL is not expired. If it did expire, please replace it with a valid certificate before upgrading to vCenter Single Sign-On 5.5.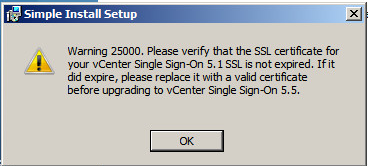 This message is always displayed. How to check and fix this issue is described in KB2060511. After the certificate has been verified, the update process should succeed without problems.
Part 5: Update ESXi Hosts
After the vCenter has been updated, you can update your ESXi Host. This can be done in various ways:
Mount and boot the Installer ISO and select "Upgrade ESXi, preserve VMFS datastore"
Upload the Offline-Bundle the the Update Manager and let all ESXi hosts remediate
Upload the Offline-Bundle to a datastore and update with "esxcli software vib install"
More information on updating can be found here:
Part 6: Verify Updates
To make sure that all components have been updated you should check the Version and Build Numbers. They should correspond to the following listings:
Control Panel > Programs > Programs and Features
vCenter Orchestrator: 5.5.0.1281930

VMware vCenter Inventory Service: 5.5.0.38036

VMware vCenter Server: 5.5.0.38036

VMware vCenter Server - Java Components: 5.5.0.678
VMware vCenter Server - tc Server: 5.5.0.636

VMware vSphere Web Client: 5.5.0.10865

Product Build Numbers
VMware vCenter Server Version 5.5.0 Build 1312298

VMware ESXi, 5.5.0, 1331820
vSphere Web Client Version 5.5.0 Build 1300321
Client Integration Plugin VMRC Version 5.5.0 Build 1280474