Hewlett Packard has updated its widely distributed Microserver Series to Gen8. This extremely affordable server which was initially made for SMB and home servers has become very popular in the virtualization scene. Due to its low price and power consumption you can find this system in many virtualization home labs. The Generation 8 Microserver (Gen8 or G8) comes with more power, upgraded ports and an integrated iLO.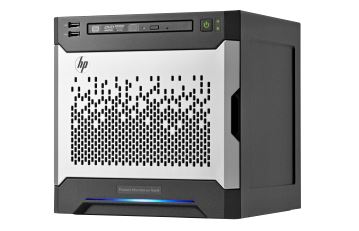 The HP Microserver Gen8 is available in 2 versions - G1610T and G2020T. Both models are equipped with a 2 core CPU and can support up to 16GB of RAM. The system is shipped with 4 hard drive trays, which allows the installation of any SATA hard drive. It also has a CPU socket, so you can change the CPU.
HP Microserver Gen8 G1610T (2x 2.3 GHz)
HP Microserver Gen8 G2020T (2x 2.5 GHz)
HP Microserver Gen8 E3-1220V2 (4x 3.1 GHz)
Features
The Server is shipped with the following configuration:
Prozessor:
Intel® Celeron® G1610T (2.3Hz/2-core/2MB/35W) Processor
Intel® Pentium® G2020T (2.5GHz/2-core/3MB/35W) Processor
Intel® Pentium® E3-1220V2 (3.1GHz/4-core/8MB/69W) Processor

Memory: 2GB PC3-12800E DDR3 UDIMM
Hard Disk: - (4 hard drive trays)
LAN: 1x 10/100/1000 MBit (332i)
Storage Controller: HP Dynamic Smart Array B120i
Power Supply: 150 Watt, non-redundant
Ports: VGA, 5x USB 2.0, 2x USB 3.0, 2x RJ-45, MicroSD slot
HCL and ESXi 5.x Support
The server has hardware support for virtualization (Intel VT-x and EPT) and a 64-bit CPU. It is listed in the VMware HCL but not at hp.com for VMware Support. I can not recommend to use this System in a productive environment (at least due to its missing redundancy), but as a home lab, or a small home server it should be fine. The Network Controller (332i) is supported. The embedded Storage Controller (B120i) is not supported, but the system can be upgraded with a HP Smart Array P222 Controller, which is supported.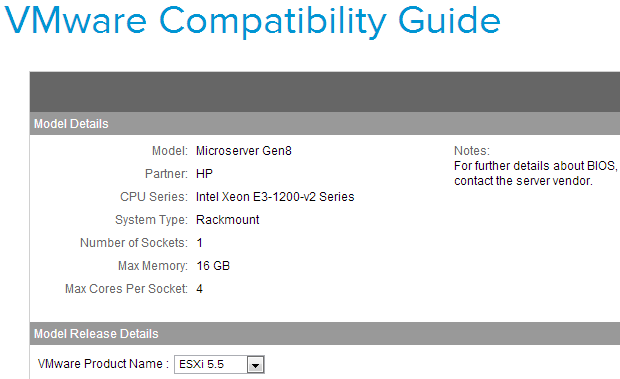 Delivery and assembly
The server is very handy and fits easily on or below a desk. Compared to the old Microserver, the front is not secured with a lockable door. To install additional components, the mainboard has to be removed. To change the CPU, just remove the passive heatsink and change the CPU.
The CPU can be replaced with:
Setup


The IP address of the iLO is configured though a DHCP Server and you can access it either with HTTP or HTTPS. The default login is admin and password. The iLO enables the server to be powered on and off remotely. Additionally it comes with a KVM and remote media Java application. To install the ESX server you have to launch the KVM und Remote Media application, mount the ISO file The System has been tested with ESXi 4.0, ESXi 4.1, ESXi 5.0, ESXi 5.1 and ESXi 5.5. Use HP Customized ESXi Images for better hardware support.
Difference between G7 (N36L / N40L / N54L) and Gen8
+ CPU socket (changeable CPU)
+ 16GB memory max
+ Integrated iLO and Mobile App Support
+ 2x USB3.0 port
+ Internal microSD slot
+ 2x onboard nics
- 5,25" Slot
- no eSATA port
- no PCIe 8x slot
Result
The HP Proliant Gen8 is a great upgrade from the well known NxxL series. With two or three Systems you can build a reliable homelab and start to play around various VMware features. You can create a cluster, try vMotion, HA, DRS and resource pools or even create your personal vCloud or VDI environment. When you have an additional SSD, you can use vSAN to transform the local storage into redundant shared storage. The server runs pretty quiet, so you can run it near your desk.
Shopping Guide