Whether you want to build a vSphere Home Lab for testing or a Home Server, basic requirements are the same: decent price, good performance and low power consumption. The Intel NUC (Next Unit of Computing) family has grown to the 4th generation, including some great enhancements for ESXi Hosts. Definitely the best enhancement is that Intel has added a SATA port to the board, that allows to use more than a single mSATA SSD.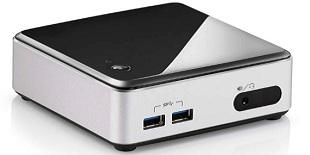 Intel NUC Systems are available as system board only and with a chassis. The 4th Generation NUC is available with 3 type of CPUs: Celeron, i3 and a i5. You can choose between a chassis with, or without 2.5" drive support.
Available Models (Kit / Kit with 2,5" Slot / Board only):
D54250WYK / D54250WYKH / D54250WYB: Intel Core i5-4250U (up to 2x 2.60 GHz)
D34010WYK / D34010WYKH / D34010WYB: Intel Core i3-4010U (2x 1.7 GHz)
Review
Features

The Kits are shipped with:
Chassis
System board
Processor (soldered)
19V, 65W power adapter
Power cord (Type B, E, G, or no cord)
VESA Bracket
To get an ESXi Host installed you need:
Memory (SO-DIMM DDR3)
mSATA SSD, 2,5" HDD or USB-Stick
Model comparison
D54250WYK D54250WYKH D54250WYB
D34010WYK D34010WYKH D34010WYB
DN2820FYKH
(No ESXi support)
Form factor
UCFF
Processor
Core i5-4250U
Core i3-4010U
Celeron N2820
Clock Speed
1.3 GHz (2.6 max)
1.7 GHz
2.4 GHz
Cores
2
2
2
HT
YES
YES
NO
Max Memory
16 GB
16 GB
16 GB
Network
1x 1Gb Ethernet
1x 1Gb Ethernet
1x 1Gb Ethernet
Ports
4x USB 3.0
2x USB 2.0 (int.)
1x SATA
4x USB 3.0
2x USB 2.0 (int.)
1x SATA
1x USB 3.0
2x USB 2.0
Intel VT-d
YES
YES
NO
VT-x with EPT
YES
YES
YES
AES
YES
YES
NO
TDP
15 W
15 W
7,5 W

HCL and ESXi 5.x Support
All Intel NUC systems have hardware support for virtualization and a 64-bit capable CPU. Therefore it should be compatible to VMware ESX. SATA and Network drivers are not included in the ESXi Base Image, so you have to create a customized Image. This is very easy with ESXi-Customizer by v-front.de:
This article explains how to create a customized Image for ESXi more detailed.
To clarify, the system is not supported by VMware (No HCL entry), so do not use this System in a productive environment. As a home lab, or a small home server it should be fine.
Tested ESXi Versions
VMware ESXi 4.1
VMware ESXi 5.0
VMware ESXi 5.1
VMware ESXi 5.5
Delivery and assembly
The NUC is shipped in well designed box. The Box contains a short description how to open and assemble the components. The system is a little bit heavier than it looks and has a high build quality. The upside is scratch-sensitive, so be careful with it.
To assemble the memory, you have to remove 4 screws on the bottom. The assembly is really quick, it took about 5 Minutes to open it, install the memory/SSD modules, and close it. The 2.5" enabled version also allows to fit a 2.5 hard disk into it.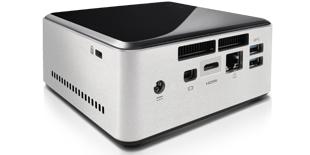 Setup
To install the NUC you need an external USB CD drive. Create a customized ESXi ISO and use the USB CD drive to install the NUC. When you have the proper drivers installed, the installation should succeed without problems. I would recommend to install ESXi on an USB Stick. That allows to use the SSD and HDD for VMware vSphere features like VSAN.

Power consumption
Due to its Haswell technology, the power consumption is very low:
Idle: 5-10W
Peak: 25W
With that, the average operating costs are at about 3-4 Euros per month:
20 watt * 24 h * 30 (days) = 12,96 KWh * 0,25 (EUR) = 3,24 EUR
Consumption measured with Voltcraft Energy Monitor 3000
Intel NUC Gen 3 vs. Intel NUC Gen 4
Intel's 4th Generation NUC leverages the Haswell technology.
+ Lower Power Consumption
+ SATA Port
+ Chassis with 2,5" drive support
+ Additional USB 3.0 slots
- no vPRO Technology (i5 only)
Shopping Guide