Running ESXi on a Mac mini made by Apple is nothing new. There are many opportunities to consider when you want to build a VMware vSphere Lab or a Homeserver. In this post I am going to cover capabilities, accessories and issues you might encounter in the newest release: Mac mini MD387, Mac mini MD388 and the slightly enhanced Mac mini Server MD389 from 2012/2013. Mac mini offers great performance and is small in size and power consumption and thus makes it a great candidate for running ESXi at home.

The latest version offers 3 models which are different in CPU performance and HDD capacity. The Server version has two 2,5" hard drives:
Apple Mac Mini MD387LL/A - Intel Core i5 (Up to 2x 3.1 GHz)
Apple Mac Mini MD388LL/A - Intel Core i7 (Up to 4x 3.3 GHz)
Apple Mac Mini MD389LL/A Server - Intel Core i7 (Up to 4x 3.3 GHz)
Features

Mac mini is a fully configured ready-to-run system including:
Mac mini Chassis
CPU
4GB memory
Hard drive: 500GB (MD387) / 1TB (MD388) / 2x 1TB (MD389)
Internal PSU
Power Cord
HDMI to DVI Adapter
To run ESXi I would suggest to have additionally:
16GB Memory (2x 8GB)
USB Flash Driver for ESXi Installation
Thunderbolt to Gigabit Ethernet Adapter
SSD as second drive
Data Double (required to fit a second drive into MD387/MD388)
Model comparison
MD387LL/A
MD388LL/A
MD389LL/A Server
Form factor
Mac mini Unibody
Processor
Core i5-3210M
Core i7-3615QM
Core i7-3615QM
Clock Speed
2.5 GHz (3.1 max)
2.3 GHz (3.3 max)
2.3 GHz (3.3 max)
Cores
2
4
4
HT
YES
YES
YES
Max Memory
16 GB
16 GB
16 GB
Network
1x 1Gb Ethernet
1x 1Gb Ethernet
1x 1Gb Ethernet
Ports
4x USB 3.0
1x Thunderbolt
1x Firewire 800
4x USB 3.0
1x Thunderbolt
1x Firewire 800
4x USB 3.0
1x Thunderbolt
1x Firewire 800
Hard drive
500 GB (5400 RPM)
1 TB (5400 RPM)
2x 1 TB (5400 RPM)
VT-x with EPT
YES
YES
YES
AES
YES
NO
NO
TDP
35 W
45 W
45 W
HCL and ESXi 5.x Support
The system has hardware support for virtualization and a 64-bit capable CPU. There are some tweaks required to get ESXi 5.x installed because the installer usually fails with a PSOD when you try to install the basic ESXi Image.
To clarify, the system is not supported by VMware (No HCL entry), so do not use this System in a productive environment. As a home lab, or a small home server it should be fine.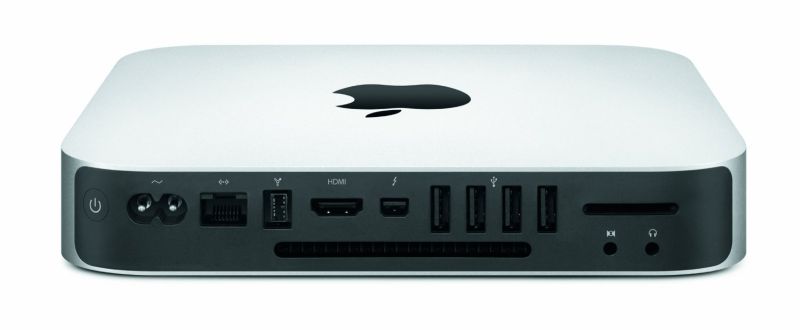 Delivery and assembly
To install additional memory you have to open the Mac mini Unibody chassis. This can be achieved by twisting the bottom cover anti-clockwise. To replace or add hard drives you have to take apart the Mac mini. If you have the Server Version (MD389), you can simply replace the second hard drive with a SSD. Howto install the SSD is well explained at YouTube.
The Desktop Version (MD387/MD388) is only made fore a single hard drive but it can be extended with Data Doubler. Howto install a second drive with a Data Doubler is also explained at YouTube.
Setup
As mentioned, the standard installer fails with an PSOD. VMTN Community has solved most of the known issues. With that howtos you should be able to install ESXi without problems:
ESXi 5.0/5.1:
ESXi 5.5:
How to get the Thunderbolt Ethernet Adapter working is explained here.
Power consumption
Standby: 3-4W
Idle: 12W
Peak: 35-40W
My standard setup with 3 Linux and one Windows Server averages at about 25W and is up 24×7. With that, the operating costs are at about 4,50 Euros per month:
25 watt * 24 h * 30 (days) = 18 KWh * 0,25 (EUR) = 4,50 EUR
Consumption measured with Voltcraft Energy Monitor 3000
Shopping Guide
| | | |
| --- | --- | --- |
| 1. | Mac Mini | |
|  2. | Memory | |
|  3. |  SSD | |
|  4. |  NIC | |
|  5. | USB Stick | |