The new coredump file feature in vSphere ESXi 5.5 creates a file to extend the coredump partition. This usually happens when you upgrade from a previous version to ESXi 5.5, or you install ESXi to a USB drive or SD card. This coredump file is created on a random VMFS datastoore by using a smart selection algorithm. This random placement causes different kind of problems, for example when you want to delete a datastore. Another problem might occur in an EMC VPLEX deployment where you want to failover VMs to the secondary site in a PDL situation (VMkernel.Boot.terminateVMOnPDL=1 / Disk.AutoremoveOnPDL=0). Datastores that had a coredump file configured can't get mounted back when the volume leaves the PDL state after a site failure has been fixed.
To workaround this issue you might want to permanently disable the coredump file. You can't just disable it, as it gets created automatically after a reboot.
Prior to disable local coredump files you should consider to have a network coredump collector installed. A coredump collector software is included on every vCenter Server installation medium and can be easily installed beside the vCenter.
1. Configure each ESXi Host to use a network coredump collector
~ # esxcli system coredump network set --interface-name vmkX --server-ipv4 X.X.X.X --server-port 6500
~ # esxcli system coredump network set --enable true
2. Disable and delete the currently configured coredump file
~ # esxcli system coredump file set --enable false
~ # esxcli system coredump file remove --force
3. Disable VMkernel.Boot.autoCreateDumpFile
This is an Advanced Setting on the ESXi Host (Configuration > Software > Advanced Settings)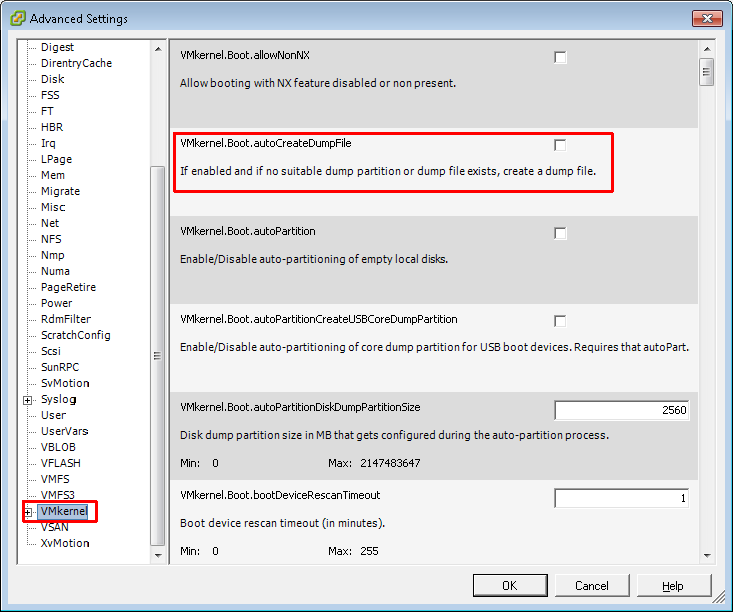 You can also use PowerCLI to disable autocreate of a dumpfile:
Get-vmhost esx01.virten.lab | get-AdvancedSetting -name vmkernel.boot.autocreatedumpfile |Set-AdvancedSetting -Value 0
4. Reboot the Host
5. Verify that the corefile is still disabled after reboot
~ # esxcli system coredump file get
  Active:
  Configured: