At VMworld 2013, VMware announced the public beta of its Software-defined Storage platform Virtual SAN. Today at the VMware NOW - Virtual SAN Special Online Event the final release date for Virtual SAN 1.0 was announced. Virtual SAN will be released in a few days, together with vSphere 5.5 Update 1. Unfortunately, there are still no pricing information.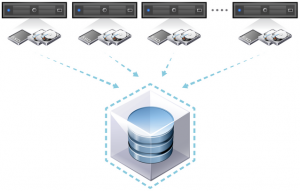 Facts from VMware NOW - Virtual SAN Special Online Event
Virtual SAN 1.0 GA is going to be released next week (Starting 10th of March)
VSAN will be released with vSphere 5.5 Update 1
VSAN will be fully supported and can be used in production
The cluster size has been increased to 32 hosts, which is the well-known vSphere cluster limit
Benchmarks have reached 2 Million IOPS (32 node Cluster)
VSAN can scale up to 4.4 PB (35 disks x 32 hosts)
VSAN supports 3200 Virtual Machines
VSAN supports VMware Horizon
VSAN supports vSphere Replication
VSAN supports vSphere Data Protection
Server platforms from HP, IBM, Dell, Fujitsu and Cisco are certified with VSAN
Pricing
There were no information about pricing or licensing at VMware NOW.