Small, silent, transportable and a very low power consumption. That's the Intel NUC. It's not only a great system for Homelabs, or Homeservers - It can also be used to build a portable Virtual SAN Cluster. I ordered 3 NUCs to build a VMware Virtual SAN enabled Cluster.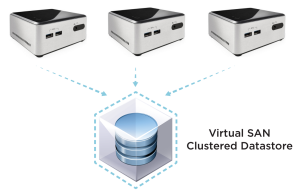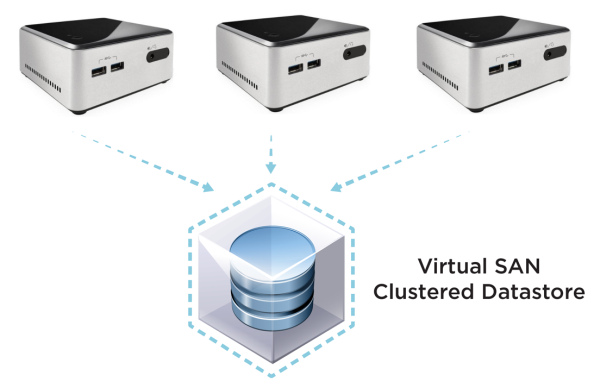 Hardware Configuration
The NUC has been explained in more detail at my vSphere Homelab on 4th Gen NUC post. For my VMware Virtual SAN Mobile Lab I ordered 3 NUCs with the following configuration:
No VMware Support
VMware does only support enterprise hardware. Intel NUC is not on their HCL so you won't get support in case of failures. Do not put sensitive data to your NUC Virtual SAN without backup and do not run productive systems on it.
ESXi Installation
Installation with the images provided by VMware fails with an "No Network Adapters" error messsage. Due to the missing drivers you have to create a Customized ESXi Image.
VMware Virtual SAN Configuration
Deploy vCenter Server 5.5 and 3x ESXi 5.5 on your NUC
Add the 3 ESXi Hosts to the vCenter inventory

Create a Cluster and add the 3 hosts
Enable Virtual SAN traffic on all 3 ESXi hosts (Hosts > Your ESXi > Manage > Networking > VMkernel adapters > vmk0 > Edit settings > Virtual SAN traffic)

Enable Virtual SAN in Automatic Mode within the Cluster configuration (Clusters > Your Cluster > Manage > Settings > Virtual SAN > General > Edit...)

That's all. Virtual SAN will now be configured automatically. After a few minutes you have your 3 TB vsanDatastore:


Performance
Each NUC has a Core i5-4250U CPU (2x 2.6 GHz) and 16GB of RAM. This should be enough for a couple of Virtual Machines. The limiting factor will be of course the 1Gb Ethernet Adapter. Write performance will not be great because all disk traffic has to pass the 1Gb NIC. 3 Windows and 9 Linux Virtual Machines are currently active at my NUC Cluster. They do perform without issues.
Power Consumption
The total power consumption of the lab (3 NUCs and 8Port Switch) is about 150W.