VMware changed the certification policy and decided that VCP-level certifications will now expire after 2 years. The deadline for first certificates to expire is March 10, 2015. For those that have not recertified yet:
VMware supports you on your recertification process and offers a Delta Recertification Exam with great advantages:

No course requirements
Exam available online
Far less expensive (EUR 90,-)
65 question exam with 75 minutes time limit
How to take the Exam?
Request Authorization – You will receive a Candidate ID
Schedule your Exam at Pearson VUE (100% online!)
I had a strange issue while trying to take the exam at Pearson VUE. During registration, after selecting the language (english) I received an error message:

Alert!
This application has encountered an unexpected problem. We apologize for the inconvenience. Please close your browser and start over.

I tried again with another browser and a few days later - Same problem. I figured out that you can resolve the issue by using the "Sign In" link, instead of selecting the exam:
Go to: pearsonvue.com/vmware/exams
You can create an account or login to an existing. Make sure to use the Candidate ID you've received from VMware. After logging in you can schedule the exam in the main menu without any issues: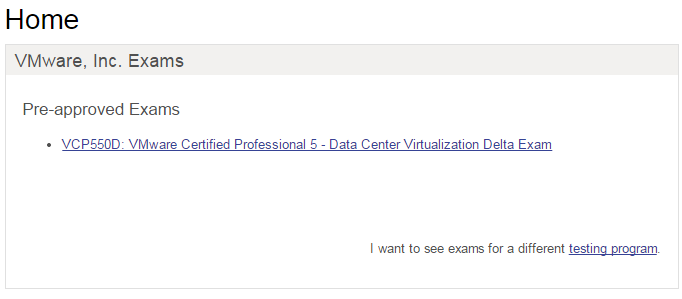 Good luck!