Today VMware has made the bits available for everyone to download.
Updated: ESXi Release and Build Number History
Updated: VMware Product Latest Version
VMware vSphere 6.0 Download
Longest releace cycle since vSphere 4.0
With 536 days, the ever shortening product release cycles have been interrupted. vSphere 6.0 had a long closed and open beta phase to hunt for bugs. Let's hope for smooth upgrades in the next couple of weeks.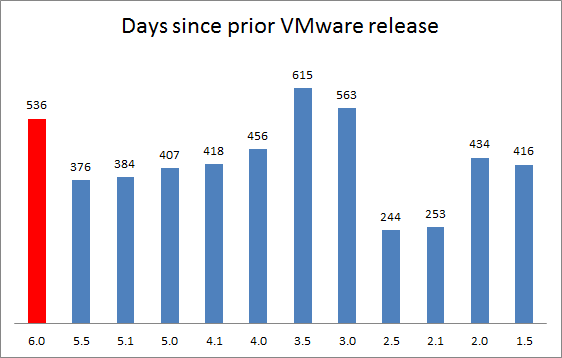 ESX
Release Date
Days since
prior release
6.0
2015-03-12
536
5.5
2013-09-22
376
5.1
2012-09-11
384
5.0
2011-08-24
407
4.1
2010-07-13
418
4.0
2009-05-21
456
3.5
2008-02-20
615
3.0
2006-06-15
563
2.5
2004-11-29
244
2.1
2004-03-30
253
2.0
2003-07-21
434
1.5
2002-05-13
416
1.0
2001-03-23
VMware ESX History Diagram