When analysing performance metrics in the vSphere Web Client (Monitor > Performance) or in the vSphere Client (Performance Tab) you might have seen the following messages instead of performance graphs:
"No data available"
"Data is not collected for the current statistics level. Increase the statistics level to view the graph."
Statistic parameters are "Interval Duration" and "Statistics Level". This is what you configure in the vCenter Server settings:


Interval Duration determines the frequency at which statistics are stores:
Realtime (20 seconds), save for 1 hour - not configurable, all metrics available
5 minutes, save for X days
30 minutes, save for X weeks
2 hours, save for X month
1 day, save for X month
Statistic Level determines the amount of data gathered and which counters are available for displayed. The default Level 1 stores the fewest metrics, Level 4 stores all metrics supported by the vCenter Server.
With vSphere 6.0, vCenter Server supports 544 metrics but as there are only 4 statistic levels it is not clear what metrics are included in each level. This post helps to understand what metrics are included in each level, and how you can add single metrics to lower levels. This might be helpful if you need single metrics from level 2, but do not want to activate all level 2 metrics.
Please note that changing the collection level beyond level 1 or adding a large number of data counters to collection level 1, might result in a significant reduced performance.
The number in brackets is the "Per Device Statistic Level" which is typically only available in higher levels. Some metrics are available as aggregated metric and for each device, or object. A descriptive example are datastore metrics. They are available as aggregated metric for the entire host and for individual datastores: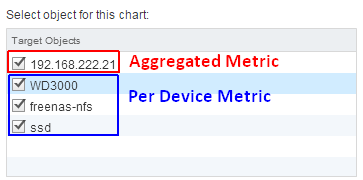 Object Index
ESXi Host performance counters
| Category | Level | Description |
| --- | --- | --- |
| CPU | 1 (3) | Usage (average) |
| CPU | 1 (3) | Usage in MHz (average) |
| CPU | 1 (3) | Ready (summation) |
| CPU | 2 (3) | Reserved capacity (average) |
| CPU | 2 (3) | Idle (summation) |
| CPU | 2 (3) | Utilization (average) |
| CPU | 2 (3) | Core Utilization (average) |
| CPU | 2 (3) | Total capacity (average) |
| CPU | 2 (3) | Latency (average) |
| CPU | 2 (3) | Demand (average) |
| CPU | 2 (3) | Co-stop (summation) |
| CPU | 3 | Wait (summation) |
| CPU | 3 | Used (summation) |
| CPU | 3 | Swap wait (summation) |
| CPU | 4 | Usage (minimum) |
| CPU | 4 | Usage (maximum) |
| CPU | 4 | Usage in MHz (minimum) |
| CPU | 4 | Usage in MHz (maximum) |
| CPU | 4 | CPU Capacity Provisioned |
| CPU | 4 | CPU Capacity Usage |
| CPU | 4 | CPU Capacity Demand |
| CPU | 4 | CPU Capacity Contention |
| CPU | 4 | CPU Core Count Provisioned |
| CPU | 4 | CPU Core Count Usage |
| CPU | 4 | CPU Core Count Contention |
| CPU | 4 | Utilization (maximum) |
| CPU | 4 | Utilization (minimum) |
| CPU | 4 | Core Utilization (maximum) |
| CPU | 4 | Core Utilization (minimum) |
| CPU | 4 | Readiness (average) |
| Datastore | 1 (3) | Average read requests per second |
| Datastore | 1 (3) | Average write requests per second |
| Datastore | 1 (3) | Read latency |
| Datastore | 1 (3) | Write latency |
| Datastore | 1 (3) | Storage I/O Control aggregated IOPS |
| Datastore | 1 (3) | Storage I/O Control normalized latency |
| Datastore | 1 (3) | Storage I/O Control active time percentage |
| Datastore | 1 (3) | Storage DRS datastore read I/O rate |
| Datastore | 1 (3) | Storage DRS datastore write I/O rate |
| Datastore | 1 (3) | Storage DRS datastore outstanding read requests |
| Datastore | 1 (3) | Storage DRS datastore outstanding write requests |
| Datastore | 1 (3) | Datastore latency observed by VMs |
| Datastore | 1 (3) | Storage I/O Control datastore maximum queue depth |
| Datastore | 2 | Read rate |
| Datastore | 2 | Write rate |
| Datastore | 2 | Storage DRS datastore bytes read |
| Datastore | 2 | Storage DRS datastore bytes written |
| Datastore | 2 | Storage DRS datastore normalized read latency |
| Datastore | 2 | Storage DRS datastore normalized write latency |
| Datastore | 3 | Highest latency |
| Datastore | 4 | Storage DRS datastore read workload metric |
| Datastore | 4 | Storage DRS datastore write workload metric |
| Disk | 1 (3) | Usage (average) |
| Disk | 1 (3) | Highest latency |
| Disk | 1 (3) | Average read requests per second |
| Disk | 1 (3) | Average write requests per second |
| Disk | 1 (3) | Physical device command latency |
| Disk | 1 (3) | Maximum queue depth |
| Disk | 2 | Disk SCSI Reservation Conflicts |
| Disk | 2 (3) | Read rate (average) |
| Disk | 2 (3) | Write rate (average) |
| Disk | 2 (3) | Commands aborted |
| Disk | 2 (3) | Bus resets |
| Disk | 2 (3) | Commands issued |
| Disk | 2 (3) | Physical device read latency (average) |
| Disk | 2 (3) | Kernel read latency (average) |
| Disk | 2 (3) | Read latency (average) |
| Disk | 2 (3) | Queue read latency (average) |
| Disk | 2 (3) | Physical device write latency (average) |
| Disk | 2 (3) | Kernel write latency (average) |
| Disk | 2 (3) | Write latency (average) |
| Disk | 2 (3) | Queue write latency (average) |
| Disk | 2 (3) | Kernel command latency (average) |
| Disk | 2 (3) | Queue command latency (average) |
| Disk | 2 (3) | Average commands issued per second |
| Disk | 3 | Read requests |
| Disk | 3 | Write requests |
| Disk | 3 | Command latency (average) |
| Disk | 4 | Usage (minimum) |
| Disk | 4 | Usage (maximum) |
| Disk | 4 | Disk Throughput Usage (average) |
| Disk | 4 | Disk Throughput Contention (average) |
| Memory | 1 | Overhead (average) |
| Memory | 1 (3) | Usage (average) |
| Memory | 1 (3) | Swap in rate (average) |
| Memory | 1 (3) | Swap out rate (average) |
| Memory | 1 (3) | Balloon (average) |
| Memory | 1 (3) | Consumed (average) |
| Memory | 2 (3) | Reserved capacity (average) |
| Memory | 2 (3) | Granted (average) |
| Memory | 2 (3) | Active (average) |
| Memory | 2 (3) | Shared (average) |
| Memory | 2 (3) | Zero (average) |
| Memory | 2 (3) | Unreserved (average) |
| Memory | 2 (3) | Swap used (average) |
| Memory | 2 (3) | Shared common (average) |
| Memory | 2 (3) | State (latest) |
| Memory | 2 (3) | Compressed (average) |
| Memory | 2 (3) | Compression rate (average) |
| Memory | 2 (3) | Decompression rate (average) |
| Memory | 2 (3) | swapIn (average) |
| Memory | 2 (3) | Swap out (average) |
| Memory | 2 (3) | Used by VMkernel (average) |
| Memory | 2 (3) | Active write (average) |
| Memory | 2 (3) | Total capacity |
| Memory | 2 (3) | Low free threshold |
| Memory | 2 (3) | Swap in rate from host cache |
| Memory | 2 (3) | Swap out rate to host cache |
| Memory | 2 (4) | Memory Consumed by VMs |
| Memory | 2 (4) | Memory Consumed by userworlds |
| Memory | 4 | Usage (minimum) |
| Memory | 4 | Usage (maximum) |
| Memory | 4 | Granted (minimum) |
| Memory | 4 | Granted (maximum) |
| Memory | 4 | Active (minimum) |
| Memory | 4 | Active (maximum) |
| Memory | 4 | Shared (minimum) |
| Memory | 4 | Shared (maximum) |
| Memory | 4 | Zero (minimum) |
| Memory | 4 | Zero (maximum) |
| Memory | 4 | Unreserved (minimum) |
| Memory | 4 | Unreserved (maximum) |
| Memory | 4 | Swap used (minimum) |
| Memory | 4 | Swap used (maximum) |
| Memory | 4 | Shared common (minimum) |
| Memory | 4 | Shared common (maximum) |
| Memory | 4 | Heap (average) |
| Memory | 4 | Heap (minimum) |
| Memory | 4 | Heap (maximum) |
| Memory | 4 | Heap free (average) |
| Memory | 4 | Heap free (minimum) |
| Memory | 4 | Heap free (maximum) |
| Memory | 4 | Balloon (minimum) |
| Memory | 4 | Balloon (maximum) |
| Memory | 4 | Consumed (minimum) |
| Memory | 4 | Consumed (maximum) |
| Memory | 4 | Overhead (minimum) |
| Memory | 4 | Overhead (maximum) |
| Memory | 4 | Memory Capacity Provisioned (average) |
| Memory | 4 | Memory Capacity Usable (average) |
| Memory | 4 | Memory Capacity Usage (average) |
| Memory | 4 | Memory Capacity Contention (average) |
| Memory | 4 | Memory Reserved Capacity % (average) |
| Memory | 4 | Swap in (maximum) |
| Memory | 4 | Swap in (minimum) |
| Memory | 4 | Swap out (maximum) |
| Memory | 4 | swapOut (minimum) |
| Memory | 4 | Used by VMkernel (maximum) |
| Memory | 4 | Used by VMkernel (minimum) |
| Memory | 4 | Host cache used for swapping (average) |
| Memory | 4 | Host cache used for swapping (maximum) |
| Memory | 4 | Host cache used for swapping (minimum) |
| Memory | 4 | Swap in from host cache (average) |
| Memory | 4 | Swap in from host cache (maximum) |
| Memory | 4 | Swap in from host cache (minimum) |
| Memory | 4 | Swap out to host cache (average) |
| Memory | 4 | Swap out to host cache (maximum) |
| Memory | 4 | Swap out to host cache (minimum) |
| Memory | 4 | VMFS PB Cache Size (latest) |
| Memory | 4 | Maximum VMFS PB Cache Size (latest) |
| Memory | 4 | VMFS Working Set (latest) |
| Memory | 4 | Maximum VMFS Working Set (latest) |
| Memory | 4 | VMFS PB Cache Overhead (latest) |
| Memory | 4 | VMFS PB Cache Capacity Miss Ratio (latest) |
| Network | 1 (3) | Usage (average) |
| Network | 2 (3) | Packets received |
| Network | 2 (3) | Packets transmitted |
| Network | 2 (3) | Data receive rate |
| Network | 2 (3) | Data transmit rate |
| Network | 2 (3) | Receive packets dropped |
| Network | 2 (3) | Transmit packets dropped |
| Network | 2 (3) | Data receive rate |
| Network | 2 (3) | Data transmit rate |
| Network | 2 (3) | Broadcast receives |
| Network | 2 (3) | Broadcast transmits |
| Network | 2 (3) | Multicast receives |
| Network | 2 (3) | Multicast transmits |
| Network | 2 (3) | Packet receive errors |
| Network | 2 (3) | Packet transmit errors |
| Network | 2 (3) | Unknown protocol frames |
| Network | 3 | pNic Throughput Usage for VMs |
| Network | 3 | pNic Throughput Usage for NFS |
| Network | 3 | pNic Throughput Usage for vMotion |
| Network | 3 | pNic Throughput Usage for FT |
| Network | 3 | pNic Throughput Usage for iSCSI |
| Network | 3 | pNic Throughput Usage for HBR |
| Network | 4 | Usage (minimum) |
| Network | 4 | Usage (maximum) |
| Network | 4 | Net Throughput Provisioned |
| Network | 4 | Net Throughput Usable |
| Network | 4 | Net Throughput Usage |
| Network | 4 | Net Throughput Contention |
| Network | 4 | pNic Packets Received and Transmitted per Second |
| Power | 2 (3) | Usage |
| Power | 3 | Cap |
| Power | 3 | Energy usage |
| Power | 4 | Host Power Capacity Provisioned |
| Power | 4 | Host Power Capacity Usable |
| Power | 4 | Host Power Capacity Usage |
| Resource group CPU | 3 | Active (1 min average) |
| Resource group CPU | 3 | Active (1 min peak) |
| Resource group CPU | 3 | Running (1 min average) |
| Resource group CPU | 3 | Active (5 min average) |
| Resource group CPU | 3 | Active (5 min peak) |
| Resource group CPU | 3 | Running (5 min average) |
| Resource group CPU | 3 | Active (15 min average) |
| Resource group CPU | 3 | Active (15 min peak) |
| Resource group CPU | 3 | Running (15 min average) |
| Resource group CPU | 3 | Running (1 min peak) |
| Resource group CPU | 3 | Throttled (1 min average) |
| Resource group CPU | 3 | Running (5 min peak) |
| Resource group CPU | 3 | Throttled (5 min average) |
| Resource group CPU | 3 | Running (15 min peak) |
| Resource group CPU | 3 | Throttled (15 min average) |
| Resource group CPU | 3 | Group CPU sample count |
| Resource group CPU | 3 | Group CPU sample period |
| Storage adapter | 2 | Average commands issued per second |
| Storage adapter | 2 | Average read requests per second |
| Storage adapter | 2 | Average write requests per second |
| Storage adapter | 2 | Read rate |
| Storage adapter | 2 | Write rate |
| Storage adapter | 2 | Read latency |
| Storage adapter | 2 | Write latency |
| Storage adapter | 2 | Storage Adapter Outstanding I/Os |
| Storage adapter | 2 | Storage Adapter Number Queued |
| Storage adapter | 2 | Storage Adapter Queue Depth |
| Storage adapter | 2 | Storage Adapter Queue Command Latency |
| Storage adapter | 3 | Highest latency |
| Storage adapter | 4 | Storage Adapter Throughput Contention |
| Storage adapter | 4 | Storage Adapter Outstanding I/Os |
| Storage adapter | 4 | Storage Adapter Throughput Usage |
| Storage path | 2 (3) | Storage Path Bus Resets |
| Storage path | 2 (3) | Storage Path Command Terminations |
| Storage path | 3 | Highest latency |
| Storage path | 3 | Average commands issued per second |
| Storage path | 3 | Average read requests per second |
| Storage path | 3 | Average write requests per second |
| Storage path | 3 | Read rate |
| Storage path | 3 | Write rate |
| Storage path | 3 | Read latency |
| Storage path | 3 | Write latency |
| Storage path | 4 | Storage Path Throughput Contention |
| Storage path | 4 | Storage Path Throughput Usage |
| System | 1 (3) | Uptime |
| System | 3 | Resource CPU usage (Average) |
| System | 3 | Resource memory touched |
| System | 3 | Resource memory mapped |
| System | 3 | Resource memory share saved |
| System | 3 | Resource memory swapped |
| System | 3 | Resource memory overhead |
| System | 3 | Resource memory shared |
| System | 3 | Resource memory zero |
| System | 3 | Resource CPU running (1 min. average) |
| System | 3 | Resource CPU active (1 min average) |
| System | 3 | Resource CPU maximum limited (1 min) |
| System | 3 | Resource CPU running (5 min average) |
| System | 3 | Resource CPU active (5 min average) |
| System | 3 | Resource CPU maximum limited (5 min) |
| System | 3 | Resource CPU allocation minimum (in MHz) |
| System | 3 | Resource CPU allocation shares |
| System | 3 | Resource memory allocation minimum (in KB) |
| System | 3 | Resource memory allocation maximum (in KB) |
| System | 3 | Resource memory allocation shares |
| System | 4 | Resource CPU usage (Maximum) |
| System | 4 | Resource CPU usage (Minimum) |
| System | 4 | Resource memory consumed |
| System | 4 | File descriptors used |
| Virtual flash module related statistical values | 4 | Number of caches controlled by the virtual flash module |
| vSphere Replication | 4 | vSphere Replication VM Count |
| vSphere Replication | 4 | Replication Data Receive Rate |
| vSphere Replication | 4 | Replication Data Transmit Rate |
Virtual Machine performance counters
| Category | Level | Description |
| --- | --- | --- |
| CPU | 1 (3) | Ready |
| CPU | 1 (3) | Usage (average) |
| CPU | 1 (3) | Usage in MHz (average) |
| CPU | 2 (3) | Co-stop |
| CPU | 2 (3) | Demand |
| CPU | 2 (3) | Entitlement (latest) |
| CPU | 2 (3) | Idle |
| CPU | 2 (3) | Latency |
| CPU | 2 (3) | Max limited |
| CPU | 2 (3) | Run |
| CPU | 3 | Overlap |
| CPU | 3 | Swap wait |
| CPU | 3 | System |
| CPU | 3 | Used |
| CPU | 3 | Wait |
| CPU | 4 | CPU Capacity Contention |
| CPU | 4 | CPU Capacity Demand |
| CPU | 4 | CPU Capacity Entitlement |
| CPU | 4 | CPU Capacity Usage |
| CPU | 4 | CPU Core Count Contention |
| CPU | 4 | CPU Core Count Provisioned |
| CPU | 4 | Demand-to-entitlement ratio |
| CPU | 4 | Readiness |
| CPU | 4 | Usage (minimum) |
| CPU | 4 | Usage (maximum) |
| CPU | 4 | Usage in MHz (minimum) |
| CPU | 4 | Usage in MHz (maximum) |
| Datastore | 1 (3) | Average read requests per second |
| Datastore | 1 (3) | Average write requests per second |
| Datastore | 1 (3) | Read latency |
| Datastore | 1 (3) | Write latency |
| Datastore | 2 | Read rate |
| Datastore | 2 | Write rate (average) |
| Datastore | 3 | Highest latency |
| Disk | 1 | Space actually used |
| Disk | 1 | Space not shared |
| Disk | 1 | Space potentially used |
| Disk | 1 (3) | Average read requests per second |
| Disk | 1 (3) | Average write requests per second |
| Disk | 1 (3) | Highest latency |
| Disk | 1 (3) | Usage (average) |
| Disk | 2 | Disk SCSI Reservation Conflicts |
| Disk | 2 (3) | Average commands issued per second |
| Disk | 2 (3) | Bus resets |
| Disk | 2 (3) | Commands aborted |
| Disk | 2 (3) | Commands issued |
| Disk | 2 (3) | Read rate |
| Disk | 2 (3) | Write rate (average) |
| Disk | 3 | Read requests |
| Disk | 3 | Write requests |
| Disk | 4 | Disk SCSI Reservation Conflicts % |
| Disk | 4 | Disk Throughput Contention |
| Disk | 4 | Disk Throughput Usage |
| Disk | 4 | Usage (minimum) |
| Disk | 4 | Usage (maximum) |
| Memory | 1 | Overhead (average) |
| Memory | 1 (3) | Balloon (average) |
| Memory | 1 (3) | Consumed (average) |
| Memory | 1 (3) | Swap in rate |
| Memory | 1 (3) | Swap out rate |
| Memory | 1 (3) | Usage (average) |
| Memory | 2 (3) | Active (average) |
| Memory | 2 (3) | Active write |
| Memory | 2 (3) | Balloon target (average) |
| Memory | 2 (3) | Compressed |
| Memory | 2 (3) | Compression rate |
| Memory | 2 (3) | Decompression rate |
| Memory | 2 (3) | Entitlement (average) |
| Memory | 2 (3) | Granted (average) |
| Memory | 2 (3) | Latency |
| Memory | 2 (3) | Memory saved by zipping |
| Memory | 2 (3) | Reserved overhead |
| Memory | 2 (3) | Shared (average) |
| Memory | 2 (3) | Swap in rate from host cache |
| Memory | 2 (3) | Swap out (average) |
| Memory | 2 (3) | Swap out rate to host cache |
| Memory | 2 (3) | Swap target (average) |
| Memory | 2 (3) | swapIn |
| Memory | 2 (3) | Swapped (average) |
| Memory | 2 (3) | Zero (average) |
| Memory | 2 (3) | Zipped memory |
| Memory | 4 | Active (minimum) |
| Memory | 4 | Active (maximum) |
| Memory | 4 | Balloon (minimum) |
| Memory | 4 | Balloon (maximum) |
| Memory | 4 | Balloon target (minimum) |
| Memory | 4 | Balloon target (maximum) |
| Memory | 4 | Consumed (minimum) |
| Memory | 4 | Consumed (maximum) |
| Memory | 4 | Granted (minimum) |
| Memory | 4 | Granted (maximum) |
| Memory | 4 | Host cache used for swapping (average) |
| Memory | 4 | Host cache used for swapping (maximum) |
| Memory | 4 | Host cache used for swapping (minimum) |
| Memory | 4 | Memory Capacity Contention |
| Memory | 4 | Memory Capacity Entitlement |
| Memory | 4 | Memory Capacity Provisioned |
| Memory | 4 | Memory Capacity Usage |
| Memory | 4 | Overhead (minimum) |
| Memory | 4 | Overhead (maximum) |
| Memory | 4 | Overhead touched |
| Memory | 4 | Shared (minimum) |
| Memory | 4 | Shared (maximum) |
| Memory | 4 | Swap in (maximum) |
| Memory | 4 | Swap in (minimum) |
| Memory | 4 | Swap out (maximum) |
| Memory | 4 | Swap target (minimum) |
| Memory | 4 | Swap target (maximum) |
| Memory | 4 | swapOut |
| Memory | 4 | Swapped (minimum) |
| Memory | 4 | Swapped (maximum) |
| Memory | 4 | Usage (minimum) |
| Memory | 4 | Usage (maximum) |
| Memory | 4 | Zero (minimum) |
| Memory | 4 | Zero (maximum) |
| Network | 4 | Net Throughput Contention |
| Network | 4 | Net Throughput Usage |
| Power | 2 (3) | Usage (average) |
| Power | 3 | Energy usage |
| Power | 4 | Host Power Capacity Usage |
| Resource group CPU | 3 | Active (1 min average) |
| Resource group CPU | 3 | Active (1 min peak) |
| Resource group CPU | 3 | Active (15 min average) |
| Resource group CPU | 3 | Active (15 min peak) |
| Resource group CPU | 3 | Active (5 min average) |
| Resource group CPU | 3 | Active (5 min peak) |
| Resource group CPU | 3 | Group CPU sample count |
| Resource group CPU | 3 | Group CPU sample period |
| Resource group CPU | 3 | Running (1 min average) |
| Resource group CPU | 3 | Running (1 min peak) |
| Resource group CPU | 3 | Running (15 min average) |
| Resource group CPU | 3 | Running (15 min peak) |
| Resource group CPU | 3 | Running (5 min average) |
| Resource group CPU | 3 | Running (5 min peak) |
| Resource group CPU | 3 | Throttled (1 min average) |
| Resource group CPU | 3 | Throttled (15 min average) |
| Resource group CPU | 3 | Throttled (5 min average) |
| System | 1 (3) | Uptime |
| System | 4 | Heartbeat |
| Virtual disk | 1 (3) | Average read requests per second |
| Virtual disk | 1 (3) | Average write requests per second |
| Virtual disk | 1 (3) | Read latency |
| Virtual disk | 1 (3) | Write latency |
| Virtual disk | 2 | Average number of outstanding read requests |
| Virtual disk | 2 | Average number of outstanding write requests |
| Virtual disk | 2 | Read rate |
| Virtual disk | 2 | Read workload metric |
| Virtual disk | 2 | Write rate (average) |
| Virtual disk | 2 | Write workload metric |
| Virtual disk | 2 (4) | Virtual Disk Number of Resets |
| Virtual disk | 2 (4) | Virtual Disk Number of Terminations |
| Virtual disk | 4 | Number of large seeks |
| Virtual disk | 4 | Number of medium seeks |
| Virtual disk | 4 | Number of small seeks |
| Virtual disk | 4 | Read Latency (us) |
| Virtual disk | 4 | Read request size |
| Virtual disk | 4 | Virtual Disk Throughput Contention |
| Virtual disk | 4 | Virtual Disk Throughput Usage |
| Virtual disk | 4 | Write Latency (us) |
| Virtual disk | 4 | Write request size |
Cluster performance counters
| Category | Level | Description |
| --- | --- | --- |
| CPU | 1 (3) | Usage (average) |
| CPU | 1 (3) | Usage in MHz (average) |
| CPU | 2 (3) | Reserved capacity (average) |
| CPU | 4 | CPU Capacity Contention (average) |
| CPU | 4 | CPU Capacity Demand (average) |
| CPU | 4 | CPU Capacity Provisioned (average) |
| CPU | 4 | CPU Capacity Usage (average) |
| CPU | 4 | CPU Core Count Contention (average) |
| CPU | 4 | CPU Core Count Provisioned (average) |
| CPU | 4 | CPU Core Count Usage (average) |
| CPU | 4 | Usage (maximum) |
| CPU | 4 | Usage (minimum) |
| CPU | 4 | Usage in MHz (maximum) |
| CPU | 4 | Usage in MHz (minimum) |
| Disk | 4 | Disk Throughput Contention (average) |
| Disk | 4 | Disk Throughput Usage (average) |
| Memory | 1 | Overhead (average) |
| Memory | 1 (3) | Consumed (average) |
| Memory | 1 (3) | Usage (average) |
| Memory | 1 (3) | Balloon (average) |
| Memory | 2 (3) | Active (average) |
| Memory | 2 (3) | Compressed (average) |
| Memory | 2 (3) | Compression rate (average) |
| Memory | 2 (3) | Decompression rate (average) |
| Memory | 2 (3) | Granted (average) |
| Memory | 2 (3) | Reserved capacity (average) |
| Memory | 2 (3) | Shared (average) |
| Memory | 2 (3) | Swap used (average) |
| Memory | 2 (3) | Zero (average) |
| Memory | 4 | Active (maximum) |
| Memory | 4 | Active (minimum) |
| Memory | 4 | Memory Capacity Contention (average) |
| Memory | 4 | Memory Capacity Entitlement (average) |
| Memory | 4 | Memory Capacity Provisioned (average) |
| Memory | 4 | Memory Capacity Usable (average) |
| Memory | 4 | Memory Capacity Usage (average) |
| Memory | 4 | Consumed (maximum) |
| Memory | 4 | Consumed (minimum) |
| Memory | 4 | Granted (maximum) |
| Memory | 4 | Granted (minimum) |
| Memory | 4 | Overhead (maximum) |
| Memory | 4 | Overhead (minimum) |
| Memory | 4 | Shared (maximum) |
| Memory | 4 | Shared (minimum) |
| Memory | 4 | Swap used (maximum) |
| Memory | 4 | Swap used (minimum) |
| Memory | 4 | Usage (maximum) |
| Memory | 4 | Usage (minimum) |
| Memory | 4 | Balloon (maximum) |
| Memory | 4 | Balloon (minimum) |
| Memory | 4 | Zero (maximum) |
| Memory | 4 | Zero (minimum) |
| Network | 4 | Net Throughput Contention (summation) |
| Network | 4 | Net Throughput Provisioned (average) |
| Network | 4 | Net Throughput Usable (average) |
| Network | 4 | Net Throughput Usage (average) |
| Power | 2 (3) | Usage (average) |
| Power | 3 | Energy usage (summation) |
| Power | 3 | Cap (average) |
| Virtual machine operations | 1 (3) | VM datastore change count (non-powered-on VMs) |
| Virtual machine operations | 1 (3) | VM host change count (non-powered-on VMs) |
| Virtual machine operations | 1 (3) | VM host and datastore change count (non-powered-on VMs) |
| Virtual machine operations | 1 (3) | VM clone count |
| Virtual machine operations | 1 (3) | VM create count |
| Virtual machine operations | 1 (3) | VM template deploy count |
| Virtual machine operations | 1 (3) | VM delete count |
| Virtual machine operations | 1 (3) | VM power off count |
| Virtual machine operations | 1 (3) | VM power on count |
| Virtual machine operations | 1 (3) | VM guest reboot count |
| Virtual machine operations | 1 (3) | VM reconfigure count |
| Virtual machine operations | 1 (3) | VM register count |
| Virtual machine operations | 1 (3) | VM reset count |
| Virtual machine operations | 1 (3) | VM guest shutdown count |
| Virtual machine operations | 1 (3) | VM standby guest count |
| Virtual machine operations | 1 (3) | VM suspend count |
| Virtual machine operations | 1 (3) | Storage vMotion count |
| Virtual machine operations | 1 (3) | VM unregister count |
| Virtual machine operations | 1 (3) | vMotion count |
| Virtual machine operations | 1 (3) | VM host and datastore change count (powered-on VMs) |
Datacenter performance counters
| Category | Level | Description |
| --- | --- | --- |
| Virtual machine operations | 1 (3) | VM power on count |
| Virtual machine operations | 1 (3) | VM power off count |
| Virtual machine operations | 1 (3) | VM suspend count |
| Virtual machine operations | 1 (3) | VM reset count |
| Virtual machine operations | 1 (3) | VM guest reboot count |
| Virtual machine operations | 1 (3) | VM standby guest count |
| Virtual machine operations | 1 (3) | VM guest shutdown count |
| Virtual machine operations | 1 (3) | VM create count |
| Virtual machine operations | 1 (3) | VM delete count |
| Virtual machine operations | 1 (3) | VM register count |
| Virtual machine operations | 1 (3) | VM unregister count |
| Virtual machine operations | 1 (3) | VM reconfigure count |
| Virtual machine operations | 1 (3) | VM clone count |
| Virtual machine operations | 1 (3) | VM template deploy count |
| Virtual machine operations | 1 (3) | VM host change count (non-powered-on VMs) |
| Virtual machine operations | 1 (3) | VM datastore change count (non-powered-on VMs) |
| Virtual machine operations | 1 (3) | VM host and datastore change count (non-powered-on VMs) |
| Virtual machine operations | 1 (3) | vMotion count |
| Virtual machine operations | 1 (3) | Storage vMotion count |
| Virtual machine operations | 1 (3) | VM host and datastore change count (powered-on VMs) |
Resource Pool performance counters
| Category | Level | Description |
| --- | --- | --- |
| CPU | 1 (3) | Usage in MHz |
| CPU | 2 (3) | Worst case allocation |
| CPU | 4 | Usage in MHz |
| CPU | 4 | Usage in MHz |
| CPU | 4 | CPU Capacity Entitlement |
| CPU | 4 | CPU Capacity Usage |
| CPU | 4 | CPU Capacity Demand |
| CPU | 4 | CPU Capacity Contention |
| CPU | 4 | CPU Core Count Provisioned |
| CPU | 4 | CPU Core Count Contention |
| Disk | 4 | Disk Throughput Usage |
| Disk | 4 | Disk Throughput Contention |
| Memory | 1 | Overhead (average) |
| Memory | 1 (3) | Consumed (average) |
| Memory | 1 (3) | Balloon (average) |
| Memory | 2 (3) | Worst case allocation |
| Memory | 2 (3) | Granted (average) |
| Memory | 2 (3) | Active (average) |
| Memory | 2 (3) | Shared (average) |
| Memory | 2 (3) | Zero (average) |
| Memory | 2 (3) | Swapped (average) |
| Memory | 2 (3) | Compressed |
| Memory | 2 (3) | Compression rate |
| Memory | 2 (3) | Decompression rate |
| Memory | 4 | Memory Capacity Provisioned |
| Memory | 4 | Memory Capacity Entitlement |
| Memory | 4 | Memory Capacity Usage |
| Memory | 4 | Memory Capacity Contention |
| Memory | 4 | Overhead (minimum) |
| Memory | 4 | Consumed (minimum) |
| Memory | 4 | Granted (minimum) |
| Memory | 4 | Active (minimum) |
| Memory | 4 | Shared (minimum) |
| Memory | 4 | Zero (minimum) |
| Memory | 4 | Swapped (minimum) |
| Memory | 4 | Balloon (minimum) |
| Memory | 4 | Overhead (maximum) |
| Memory | 4 | Consumed (maximum) |
| Memory | 4 | Granted (maximum) |
| Memory | 4 | Active (maximum) |
| Memory | 4 | Shared (maximum) |
| Memory | 4 | Zero (maximum) |
| Memory | 4 | Swapped (maximum) |
| Memory | 4 | Balloon (maximum) |
| Network | 4 | Net Throughput Usage |
| Network | 4 | Net Throughput Contention |
| Power | 2 (3) | Usage |
| Power | 3 | Energy usage |
Datastore performance counters
| Category | Level | Description |
| --- | --- | --- |
| Datastore | 1 (3) | Average read requests per second |
| Datastore | 1 (3) | Average write requests per second |
| Datastore | 2 | Read rate |
| Datastore | 2 | Write rate |
| Datastore | 4 | usage |
| Datastore | 4 | contention |
| Disk | 1 | Space actually used |
| Disk | 1 | Space potentially used |
| Disk | 1 | Space not shared |
| Disk | 1 (3) | Capacity |
| Disk | 4 | provisioned |
| Disk | 4 | usage |
| Disk | 4 | contention |
Change collection level for metrics
Download and unzip LevelMappingUtility.zip (Also available in KB2009532 from VMware). The archive contains the required Power CLI functions in VMware.VimAutomation.PowerCliExtensions.CounterLevelMapping.psm1
Open PowerCLI and import the module

PS> Import-Module VMware.VimAutomation.PowerCliExtensions.CounterLevelMapping.psm1

Identify the counter you want to change (Full list here). In this example I am going to map all CPU Usage graphs to level 1. The counter for CPU Usage is cpu.usage.*
Verify the current configuration:

PS> Get-PxCounterLevelMapping | where { $_.Name -like "cpu.usage.*" }

Name                AggregateLevel      PerDeviceLevel
----                --------------      --------------
cpu.usage.none      4                   4
cpu.usage.average   1                   3
cpu.usage.minimum   4                   4
cpu.usage.maximum   4                   4


Map the counters to Level 1

PS> Get-PxCounterLevelMapping | where { $_.Name -like "cpu.usage.*" } | Set-PxCounterLevelMapping -AggregateLevel 1 -PerDeviceLevel 1

All CPU Usage counters are now available in Statistic Level 1
You can reset counters to thir default with the -Reset option:
PS> Get-PxCounterLevelMapping | where { $_.Name -like "cpu.usage.*" } | Set-PxCounterLevelMapping -Reset