Intel NUCs are not officially supported by VMware but they are very widespread in many homlabs or test environments. They are small, silent, transportable and have a very low power consumption, making it a great server for your homelab. I've posted a preview at the beginning of the year and got my first 5th Gen NUC up and running in February. Today all versions of the NUC, including the flagship with the i7 CPU, are available in the market. Time to give it a more detailed review

5th Gen Intel NUCs are available with an Intel i3, i5 or i7 CPU. The Intel i3 and i5 are available with and without 2.5" slot where the i7 is only available with 2.5". With the NUC5i5MYHE there is also a i5 model with a faster vPro CPU.
Features
The Kits are shipped with:
Chassis
System board
Processor (soldered)
Power adapter
Power cord
To get an ESXi Host installed you need:
Memory (1.35V SODIMM Memory)
M.2 SSD (22×24, 22×60 and 22×80), 2,5″ HDD or USB-Stick
Model comparison
In my opinion, the best candidates for ESXi are the i5, i5 with vPro and i7 models. You should definately get one with an 2.5" slot.
Model (2.5")

NUC5i7RYH

NUC5i5RYH

NUC5i5MYHE

NUC5i3RYH
NUC5i3MYHE
no 2.5" Slot
 n/a
NUC5i5RYK
n/a
NUC5i3RYK
n/a
Architecture
Broadwell (14 nm)
CPU
i7-5557U
i5-5250U
i5-5300U vPro
i3-5010U
i3-5010U
Base Frequency
 3.1 GHz
1.6 GHz
2.3 GHz
2.1 GHz
2.1 GHz
Max Frequency
 3.4 GHz
2.7 GHz
2.9 GHz
2.1 GHz
2.1 GHz
Cores
2 (4 Threads)
TDP
 28 W
15 W
Memory Type
DDR3L SODIMM 1.35V
1333/1600/1866 MHz
Max Memory
16GB
USB Ports
2x USB 3.0 (front panel)
2x USB 3.0 (back panel)
2x USB 2.0 (internal)
Storage
M.2 SSD Card
SATA3 2.5" HDD/SDD
Wireless LAN
 Yes
Yes
No
Yes
No
Bluetooth
 Yes
Yes
No
Yes
No
Gigabit LAN
Yes
Yes
Yes
Yes
Yes
Intel VT-d
Yes
Yes
Yes
Yes
Yes
Intel VT-x
Yes
Yes
Yes
Yes
Yes
Price
$480
$370
$440
$280
$290
HCL and VMware ESXi Support
All NUCs have hardware support for virtualization and a 64-bit capable CPU. Therefore it should be compatible to VMware ESXi.
To clarify, the system is not supported by VMware (Not listed in HCL), so do not use this system in a productive environment. I can not guarantee that it will work stable. As a home lab, or a small home server it should be fine.
For ESXi 5.x you have to create a customized image or the installer will fail with an "No Network Adapters" error message. VMware ESXi 6.0 has the network drivers included.
Tested ESXi Versions
VMware ESXi 5.0
VMware ESXi 5.1
VMware ESXi 5.5
VMware ESXi 6.0
Delivery and assembly
The 5th Gen NUC is shipped in well designed box. The Box contains a short description how to open and assemble the components. The system is a little bit heavier than it looks and has a high build quality. The upside is scratch-sensitive, so be careful with it.
The installation is very simple. Remove 4 screws on the bottom and remove the lid which is also the 2.5" drive holder. The assembly takes about 5 Minutes to open the NUC, install the memory, M.SSD module and an 2.5" HDD.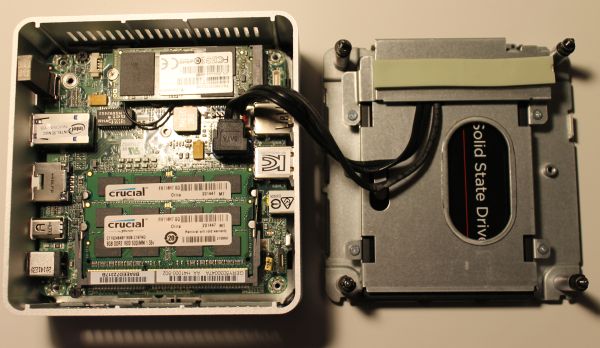 Installation
The installation of VMware ESXi 5.x fails due to missing network drivers. ESXi 6 works out of the box, but there is a problem with the AHCI controller. Therefore you have to create a customized Image for all versions.
If you see a malformed Manufacturer and Model in the vSphere Client, here is a fix for you.


32GB Memoy with 5th Gen NUC?
There are reports that the 5th Gen NUC works with 32GB of memory if you use Intelligent Memory 16GB SO-DIMMs. I can't verify that with ESXi at the moment as these modules are not available here. I also doubt that it makes sense at the moment as the 16 GB I'M SO-DIMMS are very expensive at the moment, but technically it should be possible.
Power consumption
Power consumption differs a little bit based on the model.
i5 NUC: 7W (idle) - 33W (load)
i7 NUC: 8W (idle) - 45W (load)
During normal usage the average consumption is about 18W.
With that, the average operating costs are at about 3-4 Euros per month:
18 watt * 24 h * 30 (days) = 12,96 KWh * 0,25 (EUR) = 3,24 EUR
Consumption measured with Voltcraft Energy Monitor 3000
Shopping Guide
| | | |
| --- | --- | --- |
| 1. | Chassis | |
|  2. | Memory | |
|  3. | M.2 SSD | |
|  4. |  2.5" HDD | |
|  5. | USB Stick | |