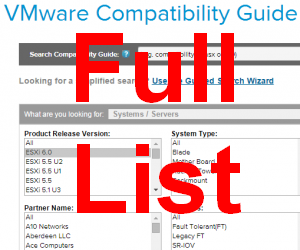 Double check your vendor support when updating ESXi hosts from VMware vSphere 5.5 to 6.0. There are a lot of systems that are no longer supported. The following servers were supported in 5.5 U2 but are according to the VMware HCL no longer supported in vSphere 6.0.
Your server is listed and you want to upgrade? Don't panic.
Not supported does not mean that it does not work.
Servers get certified by their vendor, not VMware. If you want a server to get certified, ask your vendor.
Did I miss something? Please comment.
Last Update: September 10, 2015
This post contains a sortable and searchable list containing all vendors. It extends the shortlist of widley used servers I maintain since the vSphere 6.0 release.
No vSphere ESXi 6.0 Support: