The 6th Generation of my favorite Homelab systems are ready to be launched and the shipping is expected to start in December. Intel NUCs are small, silent, transportable and have a very low power consumption, making it a perfect system for homelabs or homeservers. Intel has put its latest Skylake mobile CPU into the mini system.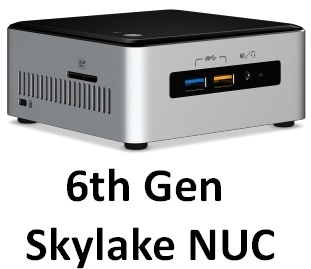 Intel NUCs were never officially supported by VMware but they have a great community support. Their last 4th and 5th Generations are proven in many homlabs or even for demonstrating Virtual SAN deployments.
6th Gen NUCs are equipped with Skylake CPUs
i5 and i3 systems will be available in December 2015
Up to 32GB of DDR4 SODIMM memory
Available with and without 2.5" HDD slot
M.2 slot with PCIe x4 support
External SD Card Slot
Intel I219V Network Adapter
6th Gen Skylake NUC Models
Model (2.5")
NUC6i5SYH
NUC6i3SYH
no 2.5" Slot
NUC6i5SYK
NUC6i3SYK
Architecture
Skylake (14 nm)
CPU
Intel Core i5-6260U
Intel Core i3-6100U
Base Frequency
1.8 GHz
2.3 GHz
Max Frequency
2.9 GHz
2.3 GHz
Cores
2
TDP
15 W
TDP-down
9,5 W
7,5 W
Memory Type
2x 260-pin 1.2 V DDR4 2133 MHz SO-DIMM
Max Memory
32 GB
USB Ports
2x USB 3.0 (front panel)
2x USB 3.0 (back panel)
2x USB 2.0 (internal header)
Storage
M.2 SATA or PCIe x4 SSD
SATA3 2.5" HDD/SDD
SDXC Slot
Wireless LAN
Yes
Bluetooth
Yes
Gigabit LAN
Yes (Intel I219V)
Launch
December 2015
5th Gen vs. 6th Gen Model Comparison
Comparing the NUC6i5SYH against the NUC5i5RYH.
The size of both NUCs is identical (115 mm x 111 mm). They also look quite similar.
The 6th Gen NUC has an external accessible SD Card slot (SDXC).
The CPU of the 6th Gen NUC is slightly faster (2.9 GHz vs. 2.7 Ghz). Both systems have a 2-core CPU with Hyperthreading.
6th Gen Skylake NUCs support 32GB memory, up from 16GB.
DDR4 SODIMM is required for 6th Gen NUCs.
The CPU of the 6th Gen NUC supports PCI-Express 3.0 instead of 2.0
Does DDR3 SODIMM Modules work in DDR4 Slots?
No! DDR3 modules used in previous NUCs are not compatible! DDR4 Slots are not backward compatible because it uses a completely different physical sockets and voltage.
Will VMware ESXi work?
We do not have any Skylake CPUs on VMwares HCL at the moment but according to the community it is possible to install ESXi 6.0 U1 on Skylake Hardware. A common problem with NUCs in the past was the Network and AHCI Controller. 6th Gen NUCs are equipped with an Intel I219V Gigabit Ethernet Controller which should be possible to get up and running with ESXi. AHCI compatible SATA controllers with new PCI BUS IDs are typically not mapped to the correct drivers causing them to not work out of the box. This is usually a quick fix.
I expect ESXi to work on 6th Gen NUCs. I will write a review as soon as the first 6th Gen NUCs are delivered.