Intels 6th Gen NUCs are out and it's time to take a look on their capabilities as homeserver running VMware ESXi. NUCs are not officially supported by VMware but they are very widespread in many homlabs or test environments. They are small, silent, transportable and have a very low power consumption, making it a great server for your homelab. I've posted a preview on the new models in December. Currently, 6th Gen NUCs are available with i3 and i5 CPU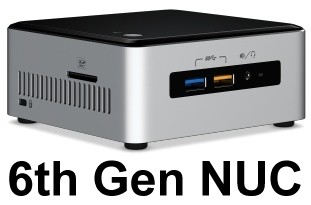 Features
Skylake CPU
Up to 32GB of DDR4 SODIMM memory
Available with and without 2.5″ HDD slot
M.2 slot with PCIe x4 support
External SD Card Slot
Intel I219V Network Adapter
Intel Sunrise Point AHCI controller
The Kits are shipped with:
Chassis
System board
Processor (soldered)
Power adapter for different countries
Power cord
VESA bracket
To get an ESXi Host installed you need:
Memory (1.2V DDR4 SODIMM)
M.2 SSD (22×42 and 22×80), 2,5″ HDD or USB-Stick
Model comparison
Model (2.5")
NUC6i5SYH
NUC6i3SYH
no 2.5" Slot
NUC6i5SYK
NUC6i3SYK
Architecture
Skylake (14 nm)
CPU
Intel Core i5-6260U
Intel Core i3-6100U
Base Frequency
1.8 GHz
2.3 GHz
Max Frequency
2.9 GHz
2.3 GHz
Cores
2
TDP
15 W
TDP-down
9,5 W
7,5 W
Memory Type
2x 260-pin 1.2 V DDR4 2133 MHz SO-DIMM
Max Memory
32 GB
USB Ports
2x USB 3.0 (front panel)
2x USB 3.0 (back panel)
2x USB 2.0 (internal header)
Storage
M.2 SATA or PCIe x4 SSD
SATA3 2.5" HDD/SDD
SDXC Slot
Wireless LAN
Yes
Bluetooth
Yes
Gigabit LAN
Yes (Intel I219V)
VT-x with EPT
Yes
Yes
VT-d
Yes
Yes
Price
$400
$320
HCL and VMware ESXi Support
The NUC itself is not supported by VMware and not listed in the HCL. However, some essential components are listed. ESXi runs out of the box starting with the following releases:
ESXi 6.0 with patch ESXi600-201601001 (Build 3380124) released in January 2016
ESXi 5.5 Update 3 (Build 3029944) released in September 2015
To clarify, the system is not supported by VMware, so do not use this system in a productive environment. I can not guarantee that it will work stable. As a home lab, or a small home server it should be fine.
Network (Intel I219-V)
On previous NUC versions it was required to create a customized Image in order to install ESXi on a NUC. The 6th Gen NUC is equipped with an Intel I219-V Ethernet controller which is listed in the HCL.
Ethernet controller Network controller: Intel Corporation Ethernet Connection I219-V [vmnic0]
Class 0200: 8086:1570
Currently only ESXi 5.5 U3 is listed with the e1000e driver version 3.2.2.1-2vmw but this driver has also been added to ESXi 6.0 with patch ESXi600-201601001. For older releases it was also possible to create a custom iso with the latest e1000e driver. Use the following PowerCLI Image Builder commands to create a custom ESXi Image with the latest e1000e driver:
Add-EsxSoftwareDepot https://hostupdate.vmware.com/software/VUM/PRODUCTION/main/vmw-depot-index.xml
New-EsxImageProfile -CloneProfile "ESXi-6.0.0-20151104001-standard" -name "ESXi-6.0.0-20151104001-NUC" -Vendor "virten.net"
Add-EsxSoftwarePackage -ImageProfile "ESXi-6.0.0-20151104001-NUC" -SoftwarePackage net-e1000e
Export-ESXImageProfile -ImageProfile "ESXi-6.0.0-20151104001-NUC" -ExportToISO -filepath ESXi-6.0.0-20151104001-NUC.iso

Storage (Sunrise Point AHCI)
The AHCI driver for previous NUC versions was always available, but unsupported controllers were not correctly mapped to the driver. Therefore it was required to use the additional sata-xahci package by Andreas Peetz (v-front.de). This is no longer required as the Sunrise Point AHCI driver is correctly mapped since ESXi 5.5 U3 and ESXi 6.0 U1.
SATA controller Mass storage controller: Intel Corporation Sunrise Point-LP AHCI Controller [vmhba0]
Class 0106: 8086:9d03
The 6th Gen NUC is equipped with an Sunrise Point AHCI controller which is listed in the HCL for ESXi 5.5U3 and ESXi 6.0U1 with ahci driver version 3.0-22vmw.
SD Card
6th Gen NUCs are equipped with a SDXC Slot. Unfortunately, there is currently no driver available for ESXi so it's not possible to use the SD Card slot at the moment. I'm trying to find a solution for that later.
SD Host controller Generic system peripheral:
Class 0805: 8086:9d2d
Tested ESXi Versions
VMware ESXi 5.5
VMware ESXi 6.0
Delivery and assembly
The Box contains a short description how to open and assemble the components. The system is a little bit heavier than it looks and has a high build quality. The upside is very scratch-sensitive, so be careful with it.
The installation is very simple. Remove 4 screws on the bottom and remove the lid which is also the 2.5" drive holder. The assembly takes about 5 Minutes to open the NUC, install the memory, M.SSD module and an 2.5" HDD.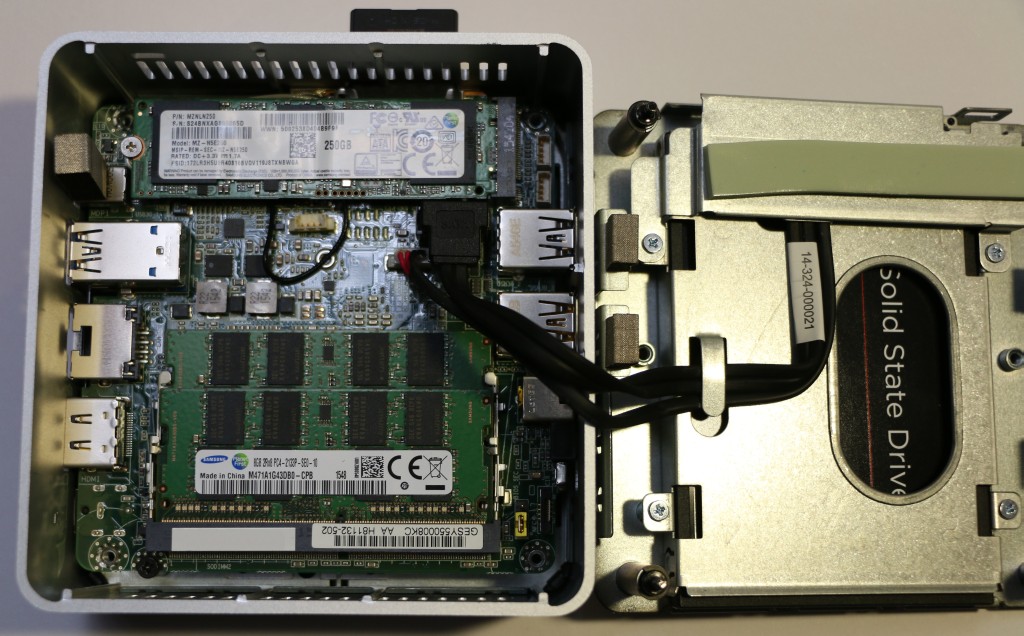 Installation
No customization is required to install the latest ESXi 5.5 and ESXi 6.0 versions on 6th Gen NUCs. You can use the images provided by VMware to Install ESXi:
The simplest way to install ESXi is by using the original ISO and Rufus to create a bootable ESXi Installer USB Flash Drive.
First NUC with native 32GB Memoy Support
While it was already possible to use 32GB Memory on 5th Gen NUCs, it is now fully supported. 6th Gen NUCs support up to 32GB of DDR4 SODIMM Memory.
The NUC requires:
2x 260-pin 1.2 V DDR4 2133 MHz SO-DIMM
Please note that DDR3 is not compatible with DDR4. They have completely different slots so DDR3 modules can not be used in 6th Gen NUCs.
Performance
The performance of a single NUC is sufficient to run a small homelab including a vCenter Server and 3 ESXi hosts. It's a great system to take along for demonstration purposes. Currently my NUC (5th Gen vPRO) runs 3 Windows VMs, 4 Linux VMs, 2 virtual ESXi hosts and a vCenter Server with a decent performance.
The following chart is a comparison of the latest Core i5 CPUs based on PassMark:


Power consumption
NUCs have a very low power consumption. My i3 NUC with a M.2 SSD and a SATA 2.5" SSD consumes about 28W (idle) - 33W (load). During normal usage the average consumption is about 30W.
With that, the average operating costs are at about 5-6 Euros per month:
30 watt * 24 h * 30 (days) = 21,6 KWh * 0,25 (EUR) = 5,40 EUR
Consumption measured with Voltcraft Energy Monitor 3000
Shopping Guide
| | | |
| --- | --- | --- |
| 1. | Chassis | |
|  2. | Memory | |
|  3. | M.2 SSD | |
|  4. |  2.5" HDD | |
|  5. | USB Stick | |