General Support for vSphere 5.0 and 5.1 runs out this year. It is very important to keep an eye on support because products that are "EOS" do no longer receive security updates or bugfixes from VMware. To keep an eye on VMwares Lifecycle Product Matrix I've created a page that shows a countdown for each product.
Features
Current Date
Products that are running out shortly are at the top of the table. For a clear view the current date is marked in the table. Products where EOS has been reached in the last 90 days stay visible on this pag


Product Mouseover
Displays General Availability, End of General Support, End of Technical Guidance and End of Availability dates for each product.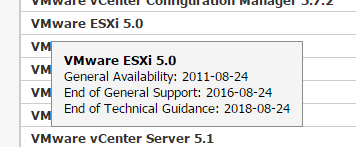 Reminder in .ics Format
Each product has an .ics file associated that adds a Reminder to any compatible calendar. To download or open the iCalendar file just click on the EOS countdown.