PernixData has released the latest version of their FVP and Architect software, bringing FVP to version 3.5 and Architect to version 1.1. Together with some small feature enhancements and support for vSphere 6.0 Update 2, the main enhancement is the virtual appliance.
I've deployed the appliance in my Homelab to test drive the appliance and their new features.
PernixData Management Server Appliance Installation
The appliance is provided as ova making it very easy and fast to deploy. The Windows based version is still available, but similiar to the vCenter Server Appliance, I hope the fokus will be on the virtual appliance, removing the need to operate (and pay) additional OS licenses.
The appliance is deployd with "Deploy OVF Template" feature in the vSphere Client or vSphere Web Client. During the deployment, the wizard requires 2 settings:
1. Network configuration
2. Appliance Size. The following sizes are available:
Tiny 2vCPU 4GB RAM 100GB disk (1-5 Hosts or 1-50 VMs)
Small 4vCPU 8GB RAM 100GB disk (5-100 Hosts or 50-1000 VMs)
Medium 8vCPU 12GB RAM 100GB disk (100-400 Hosts or 1000-4000 VMs)
Large 16vCPU 16GB RAM 100GB disk (>400 Hosts or >4000 VMs)
When the deployment has been finished, the configuration like vCenter connection (which was previously done in the Software Installation) must be entered in a new webinterface within the appliance:
Address: https://<ADDRESS>/config/
Username: pernixdata
Password: pernixdataappliance
Accept EULA

Login (pernixdata // pernixdataappliance)

Specify vCenter Server credentials
Verify network settings. IP configuration has been already set during the ova deployment so the only parameter to set here is the hostname.

Change appliance credentials. This user is only required for the appliance configuration UI and SSH access. For FVP and the Architect Software itself, vCenter Server credentials are used like you know it from previous versions.

That's it.
The PernixData Management Console is now available at https://<ADDRESS>:60002/ or just the address itself, without any ports: https://<ADDRESS>/

What's new in FVP 3.5 and Architect 1.1
Management Server Appliance
For new installations, a virtual appliance is available which removes the need for an underlying Windows-based Operating System. The Windows-based version is still available and comes of course with all the features of FVP 3.5 and Architect 1.1.
Support for accelerating physical and virtual raw device mapping (RDM)
Virtual Machines with raw devices mappings can be accelerated, but with some limitations. Disks in Multi-writer sharing mode are not supported. Multi-Writers are required in systems such as Microsoft Cluster Server and Oracle RAC and therefore they are not supported. The sharing mode can be verified in the virtual machine hard disk configuration. Make sure that sharing is set to "No sharing".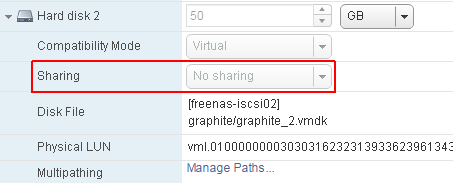 Another limitation is that physical RDMs do not support remote cache reads from the original host after vMotion. That means in effect that the cache footprint has to be rebuilt from scratch.
FVP Cluster Dashboard Enhancements
A search box has been added to the FVP Dashboard making it easy to find a FVP Cluster in a large deployments. Instead of reporting just an average acceleration rate for combined reads and writes, the acceleration rate now displays separate information for read and write operations.


PDF Performance Report
Performance reports are used to generate a static, one time PDF report that represents VM performance over a selected time interval. The report is created with the following content:

Environment includes information about Cluster, Virtual Machines, Acceleration Resources
Workload Profile displays Read/Write and Block Size Distribution Statistics
Cluster Performance includes consolidated Latency, IOPS and Throughput statistics
Datastore Performance with Datastore latency statistics
VM Performance with Virtual Machine latency statistics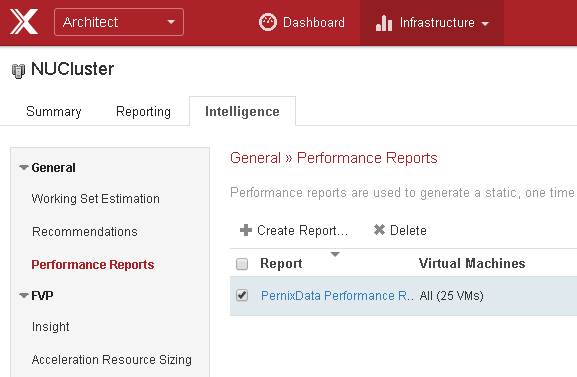 Breakdown Statistics
Default breakdown statistics displayed in Architect 1.1 have been revised. You can now see all required information without having to use "Custom..." to select appropriate metrics. From the default Read/Write Summary Chart you can see that the charts are now much more unmistakeable.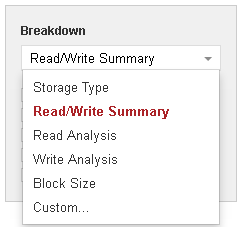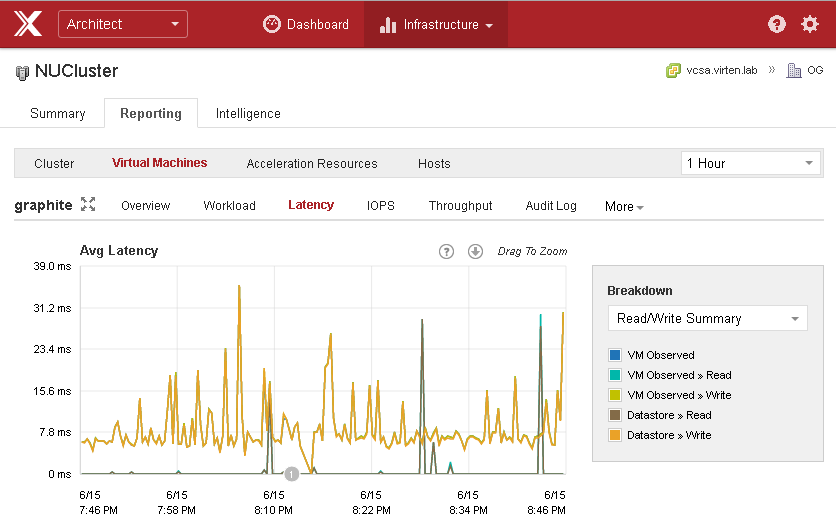 vSphere ESXi 6.0 U2 support
PernixData FVP Host Extension 3.5 is the first version to support ESXi 6.0 U2. According to PernixData, official vSphere 6.0 U2 support will also be added to FVP 3.1 with the next hotfix.