Intel has launched the Skull Canyon NUC which completes the 6th Gen NUC family with a powerful Core i7 CPU and a redesigned chassis. I will take a look at its capabilities as homeserver running VMware ESXi. NUCs are not officially supported by VMware but they are very widespread in many homlabs or test environments. They are small, silent, transportable and have a very low power consumption, making it a great server for your homelab. 6th Gen NUCs in the old layout are also available with an i3 or i5 CPU which have been reviewed here.
Features
Quad Core i7-6770HQ Skylake CPU
Up to 32GB of DDR4 SODIMM memory
2x M.2 slot with PCIe x4 support
NVMe Support
External SD Card Slot
Intel I219-LM Gigabit Network Adapter
Thunderbolt 3 port with USB 3.1
4x USB 3.0 Port
To be used with ESXi I recommend to buy additionally:
USB Flash Drive (ESXi Boot)
32GB Memory (2133+ MHz, 1.2V/1.35V DDR4 SODIMM)
M.2 NVMe SSD (22×42 and 22×80)
USB 3.0 Gigabit network adapter (Howto)
Model comparison
The Skull Canyon NUC has a completely redesigned chassis that is wider than the standard NUC case. Compared against 6th Gen i5 and i3 NUCs, the main differences are:
Quad-Core CPU
Thunderbolt 3 (40 Gbps) with USB Type C connector
2x M.2 22x42/80 (key M) slots for SATA3 or PCIe X4 Gen3 NVMe or AHCI SSDs
No 2.5" HDD Support
Larger power adapter (120W)
Redesigned enclosure

Model
NUC6i7KYK
Skull Canyon
NUC6i5SYH
NUC6i5SYK
NUC6i3SYH
NUC6i3SYK
Architecture
Skylake (14 nm)
CPU
Intel Core i7-6770HQ
Intel Core i5-6260U
Intel Core i3-6100U
Base Frequency
2.6 GHz
1.8 GHz
2.3 GHz
Max Frequency
3.5 GHz
2.9 GHz
2.3 GHz
Cores
4
2
TDP
45 W
15 W
TDP-down
35 W
9,5 W
7,5 W
Memory Type
2x 260-pin 1.2 V DDR4 2133 MHz SO-DIMM
Max Memory
32 GB
USB Ports
2x USB 3.0 (front panel)
2x USB 3.0 (back panel)
Thunderbolt Port
YES
NO
Storage
2x M.2 NVMe or AHCI
M.2 SATA or PCIe x4 SSD
SATA3 2.5" HDD/SDD
SD Card Slot
YES (SDXC)
Gigabit LAN
YES (Intel I219LM)
YES (Intel I219V)
VT-x with EPT
YES
VT-d
YES
vPro
NO
Dimensions (mm)
211 x 116 x 28
115 x 111 x 32
115 x 111 x 48 (with 2.5")
Price
$640
$340
$240
HCL and VMware ESXi Support
The NUC itself is not supported by VMware and not listed in the HCL. However, some essential components are listed. ESXi runs out of the box starting with the following releases:
ESXi 6.0 with patch ESXi600-201601001 (Build 3380124) released in January 2016
ESXi 5.5 Update 3 (Build 3029944) released in September 2015
To clarify, the system is not supported by VMware, so do not use this system in a productive environment. I can not guarantee that it will work stable. As a home lab, or a small home server it should be fine. I'm running Intel NUCs in my homelab for 3 years without any issues.
Network (Intel I219-LM)
On previous NUC versions it was required to create a customized Image in order to install ESXi on a NUC. The 6th Gen NUC is equipped with an Intel I219-V Ethernet controller which is listed in the HCL.
Ethernet controller Network controller: Intel Corporation Ethernet Connection I219-LM [vmnic0]
Class 0200: 8086:15b7
Storage (NVMe)
The NVMe driver is included in all ESXi 6.0 versions. There is no need to install any additonal packages. ESXi 5.5 does not have NVMe driver, however if you want to run ESXi 5.5 on the NUC, drivers are available for download here.
 Non-Volatile memory controller Mass storage controller:   [vmhba0]
Class 0108: 144d:a802
SD Card
6th Gen NUCs are equipped with a SDXC Slot. Unfortunately, there is currently no driver available for ESXi so it's not possible to use the SD Card slot at the moment.
SD Host controller Generic system peripheral:
Class 0805: 1217:8621
Tested ESXi Versions
VMware ESXi 5.5
VMware ESXi 6.0
Assembly
The assembly of the Skull Canyon NUC is basically the same as assembling the regular one. Loosen the 4 screws at the bottom of the case and remove the cover to install memory and M.2 drives. The internal layout exposes why the NUC is wider than the old ones. Additional space for a large fan to cool down the i7 CPU.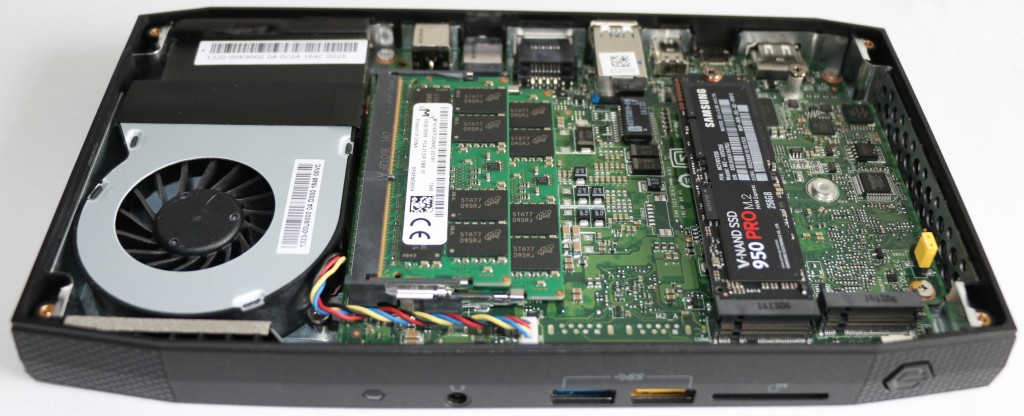 Installation
When you try to install VMware ESXi 6.0 on the latest Skull Canyon Intel NUC (NUC6i7KYK), the installation fails with a fatal error as explained here. The problem can be solved by temporarily disabling the Thunderbolt controller during installation.
No customization is required to install ESXi 6.0 on the Skull Canyon NUC. I highly recommed to use ESXi 6.0 because of the NVMe driver included only in ESXi 6.0. If you want to run ESXi 5.5 on the NUC, drivers are available for download here.
The simplest way to install ESXi is by using the original ISO and Rufus to create a bootable ESXi Installer USB Flash Drive.
Performance
The performance of a single NUC is sufficient to run a small homelab including a vCenter Server and 3 ESXi hosts or even a NSX Lab. It's a great system to take along for demonstration purposes.
The following chart is a comparison of all 6th Gen NUCs based on PassMark:


Power consumption
NUCs in general have a very low power consumption. The Skull Canyon NUC is a very powerful machine, delivered with an 120W power adapter, which is twice as on regular NUCs. During normal usage the average consumption is about 32W.
With that, the average operating costs are at about 5-6 Euros per month:
32 watt * 24 h * 30 (days) = 23 KWh * 0,25 (EUR) = 5,75 EUR
Consumption measured with Voltcraft Energy Monitor 3000
Shopping Guide
| | | |
| --- | --- | --- |
| 1. | Chassis | |
|  2. | Memory | |
|  3. | M.2 SSD | |
|  4. |  USB NIC | |
|  5. | USB Stick | |