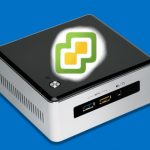 VMware vSphere ESXi 6.5 is here and while you should wait to upgrade your production, it's time to explore the new features in your Homelab. I've received a few questions on whether it is safe to upgrade.
Short answer
ESXi 6.5 will run on 5th and 6th Gen NUCs just as ESXi 6.0 U2
Long answer...
Important information before upgrading to vSphere 6.5
If your Homelab runs one of the following products, please consider that the following products are not compatible with vSphere 6.5 at this time:
VMware NSX
VMware Integrated OpenStack
vCloud Director for Service Providers
vRealize Infrastructure Navigator
App Volumes
Horizon Air Hybrid-Mode
Integrated OpenStack
vCloud Networking and Security
vRealize Business for Cloud
vRealize Configuration Manager
vRealize Hyperic
vRealize Networking Insight
ESXi 6.5 on 5th/6th Gen NUC
Intel NUC6i7KYK (Intel Core i7-6770HQ Skull Canyon)
Intel NUC6i5SYH (Intel Core i5-6260U)
Intel NUC6i5SYK (Intel Core i5-6260U)
Intel NUC6i3SYH (Intel Core i3-6100U)
Intel NUC6i3SYK (Intel Core i3-6100U)
Intel NUC5i7RYH (Intel Core i7-5557U)
Intel NUC5i5RYH (Intel Core i5-5250U)
Intel NUC5i5MYHE (Intel Core i5-5300U vPro)
Intel NUC5i5RYK (Intel Core i5-5250U)
Intel NUC5i3RYH (Intel Core i3-5010U)
Intel NUC5i3MYHE (Intel Core i3-5010U)
Intel NUC5i3RYK (Intel Core i3-5010U)
The ESXi 6.5 stock image can be installed without any issues on 5th Gen and 6th Gen NUCs including the latest i7 Skull Canyon. Drivers for all onboard NICs (I218-LM, I219-LM and I219-V) are available in the stock image. Drivers for NVMe devices and any SATA AHCI controllers are also available without any customizations.
Upgrade to ESXi 6.5
Upgrade a running installation to ESXi 6.5 is very simple. Download the Offline Bundle, copy it to the datastore and run the following command:
# esxcli software profile update -d /vmfs/volumes/[DATASTORE]/VMware-ESXi-6.5.0-4564106-depot.zip -p ESXi-6.5.0-4564106-standard
If you are using USB NIC drivers by William Lam, refer to following guide: USB 3.0 Ethernet Adapter (NIC) driver for ESXi 6.5
Upgrade from ESXi 6.5 Beta to ESXi 6.5 GA?
Yes, it is possible to upgrade from beta versions to the final release, but it is not supported. VMware recommends to do a fresh install.