During VMworld Europe in Barcelona, VMware has announced that vSphere 6.5 will be available in Q4 2016. Today they made the bits available for everyone to download. VMware vSphere 6.5 is now GA.
VMware vSphere 6.5 Release Notes and Download Links
20 month development time
Since vSphere 6.0 VMware started to extend major release cycles. However, vSphere 6.0 still had some serious issues. With 614 days, the development time of vSphere 6.5 was over 20 month. vSphere 6.5 had a long closed and open beta phase to hunt for bugs. Let's hope for smooth upgrades in the next couple of weeks.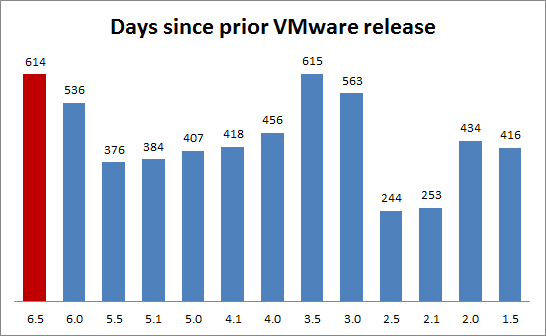 ESX
Release Date
Days since
prior release
6.5
2016-11-15
614
6.0
2015-03-12
536
5.5
2013-09-22
376
5.1
2012-09-11
384
5.0
2011-08-24
407
4.1
2010-07-13
418
4.0
2009-05-21
456
3.5
2008-02-20
615
3.0
2006-06-15
563
2.5
2004-11-29
244
2.1
2004-03-30
253
2.0
2003-07-21
434
1.5
2002-05-13
416
1.0
2001-03-23
VMware ESX History Diagram