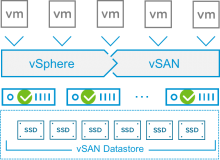 Today VMware has made the bits for vSAN 6.6 available for everyone to download.
What's New
Unicast - In vSAN 6.6, cluster communication has been redesigned to use unicast traffic. Multicast is no longer required on the physical switches to support the vSAN cluster.
Encryption - vSAN supports data-at-rest encryption of the vSAN datastore. When encryption is enabled, vSAN performs a rolling reformat of every disk group in the cluster.
Enhanced Stretched Clusters with Local Failure Protection - Previously, vSAN's was able to provide a fully active-active, stretched cluster. vSAN 6.6 takes this a step further, allowing for storage redundancy within a site AND across sites at the same time.
Site Affinity for Stretched Clusters - A new feature for vSAN 6.6 Stretched Clusters is the ability to configure site affinity.
Configuration Assist and Updates - New Configuration Assist and Updates pages allows to check the configuration of your vSAN cluster, and resolve any issues.
Resynchronization throttling - IOPS used for cluster resynchronization can be throttled to prevent performance bottlenecks.
vSAN Health Command Line Tool - A new esxcli command allows to check vSAN health from the command line (esxcli vsan health).
Degraded Device Handling - vSAN 6.6 provides a more proactively stable environment with the detection of degraded and failing devices.
Additional Information