After Hewlett Packard Enterprise has missed offering a Microserver in their 9th Generation, it is now back in Gen10. The Microserver series provides affordable servers intended to be used in SMB and as home servers. Due to its low price and power consumption, you can find this system in many virtualization home labs as ESXi hosts or Storages.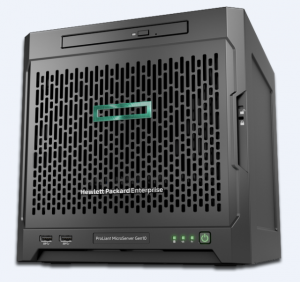 The HPE ProLiant MicroServer Gen10 is available with two different CPUs - AMD Opteron X3216 and X3421. Both models a SoC which means that the CPU cannot be changed like the Intel CPUs in Gen8. They support up to 32GB of unbuffered DDR RAM. The server can be equipped with 4 hard drive from the front.
HPE ProLiant MicroServer Gen10, Opteron X3216 (2x 1.6 - 3.0GHz / 15W TDP)
HPE ProLiant MicroServer Gen10, Opteron X3421 (4x 2.1 - 3.4GHz / 35W TDP)
Features
Gen10 Microservers are shipped with the following configuration:
Processor:
AMD Opteron X3216 Processor (2x 1.6-3.0GHz / 1MB / 12-15W) or AMD Opteron X3421 Processor (4x 2.1-3.4GHz / 2MB / 12-35W)
Memory: Up to 32GB DDR4 Unbuffered UDIMM
Expansion Slots: 1x PCIe 3.0 x8 Low Profile, 1x PCIe 3.0 x4 Low Profile
HDD Bays: 4 HDD bays (Front)
Media bay: (DVD or SSD)
Ports: 2x USB 2.0, 4x USB 3.0
Network: 2x 1Gbit LAN (Broadcom BCM5720)
Storage Controller: Marvell 88SE9230
Power Supply: 200 Watt, non-redundant
Internal Ports: 1x USB 2.0, 1x SATA III
The Kit is shipped with Hard drive screws that allow installing Hard Drives without bays.
Model comparison
Model
X3216
X3421
CPU Series
AMD Opteron™ X3000 Serie APU
CPU
AMD Opteron™ X3216
AMD Opteron™ X3421
Base Frequency
1.6 GHz
2.1 GHz
Max Frequency
3.0 GHz
3.4 GHz
Cores
2
4
TDP
15 W
35 W
TDP-down
12 W
12 W
L2-Cache
1 MB
2 MB
Memory Type
288p DDR4 Unbuffered (UDIMM)
Max Memory
32 GB
USB Ports
2x USB 3.0 (front panel)
2x USB 3.0 (back panel)
2x USB 2.0 (back panel)
1x USB 2.0 (internal )
Storage
Marvell 88SE9230
Storage Ports
1x MiniSAS SFF-8087 (SATA Backplane 4x SATAIII)
1x SATAIII
Drive Bays

4x Drive Bay (Front)
1x Media Bay (SSD or DVD)

LAN
2x Gbit RJ45 (Broadcom BCM5720)
Difference Gen8 and Gen10
+ 1x PCIe 3.0 x8 Slot / 1x PCIe 3.0 x4 Slot
+ UEFI
+ 32GB memory
+ 2x Displayport
- No remote management (iLO / RAC / AMT)
- SoC CPU (Not changeable)
- No microSD card slot
CPU Performance
The following chart is a comparison of Microservers and Intel NUCs based on PassMark scores: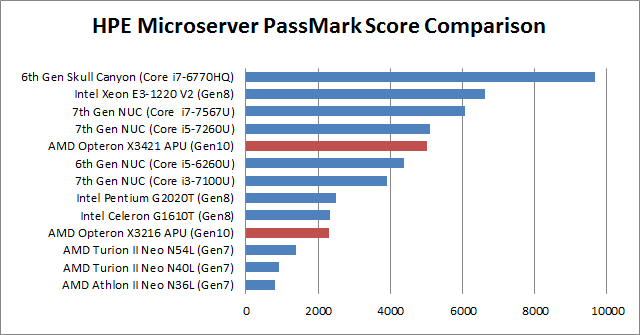 HCL and ESXi Support
The Gen10 Microserver is currently not listed in the HCL and thus not officially supported. The Gen8 version was listed, so there might be a chance that the Gen10 will be listed in the future.
Despite it is not supported, ESXi runs out of the box with the following ESXi versions:
ESXi 6.5
ESXi 6.0
ESXi 5.5
Delivery and assembly
The server is very handy and fits easily on or under a desk. Compared to Gen8, the front is no longer a door, but a removable lid. Memory slots are accessible without removing the mainboard. To install PCI Card, the mainboard has to be removed, which is quite easy. Just remove one screw in the back and pull it out like in previous versions.
To install hard drives simply use the Hard drive screws (located above the slots) and plug them into the slots. If you have 2.5" drives, most available 2.5" to 3.5" HDD adapter will work too.
Setup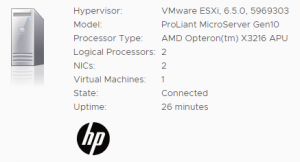 As mentioned, there is no remote management in the Gen10 microserver which means that physical access is required to install ESXi. The installation works without problems with both, the standard ESXi Image, and an HPE customized Image. However, there is no sensor support so the standard image should be fine. The System has been tested with ESXi 6.5, ESXi 6.0 and ESXi 5.5.
Power consumption
Microservers have a very low power consumption. I'm using an X3216 with 4 HDDs as shared storage using FreeNAS which averages at about 50W. With that, the average operating costs are at about 11 Euros per month:
50 watt * 24 h * 30 (days) = 36 KWh * 0,30 (EUR) = 10,80 EUR
Consumption measured with Voltcraft Energy Monitor 3000
Result
The HP Proliant Gen10 is a solid upgrade from previous versions but comes with less flexibility in terms of CPU and the lack of a remote management is a step backward. With two or three Systems you can build a reliable homelab and start to play around various VMware features. I recommend buying the X3421 because of the faster CPU. The X3216 is better suitable to be used as storage with FreeNAS for example. With the Gen10 Microserver, you can create a cluster, play with vMotion, HA, DRS and resource pools or even create your personal vCloud or VDI environment. When you have an additional SSD, you can use vSAN to transform the local storage into redundant shared storage. The server is very silent and can run near your desk.