Intel's latest 7th Gen Dawson Canyon NUCs are equipped with AMT vPro Technology. Intel AMT (Active Management Technology) allows remote management including a KVM Console. vPro is available in NUCs with i7 and i5 CPUs. NUCs with i3 CPUs do not have vPro Technology.
7th Gen NUCs with vPro Technology: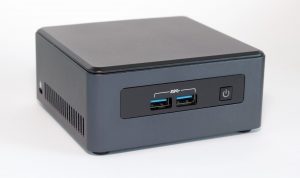 NUC7i7DNHE
NUC7i7DNKE
NUC7i5DNHE
NUC7i5DNKE
Activation and access to the Remote Console/KVM are a little bit hidden. This post explains how to enable and use the remote management.
Power on the Intel NUC. Press CTRL+P at the splash screen to enter MEBx BIOS.
Change the default password. The default password is "admin". The new password has the comply with the following policies:
- At least 8 characters
- At least one digit character (eg. 0, 1, … 9)
- At least one non-alpha-numeric character (e.g. !, $, ;) excluding colon, comma or quotes.
- At least one lower-case letter (a, b, c, d...)
- At least one upper case letter (A, B, C, D,...)
optional: The AMT system uses DHCP to configure an IP Address. If you do not have a DHCP server you can configure a static IP within Intel AMT Configuration > Network Setup > TCP/IP Settings
The Web interface is available at port 16992 (http://<IP>:16992/). Log in once to verify that it is available and properly configured.

Download and extract Intel AMT Software Development SDK
Download and install RealVNC
Open \Windows\Intel_AMT\Bin\KVM\KVMControlApplication.exe from the Intel AMT SDK downloaded previously
Connect to the machine, enter Hostname, Username, Password and open "Machine Settings"
Set KVM status to "Enabled - all ports" and configure an RFB password. The RFB password has to comply with the same policies as mentioned in Step 2 but has to be exactly 8 characters.
You can now use almost any VNC client to connect to the NUC. In this example, I'm using RealVNC.