Intel launched a commercial version of their 7th Gen NUCs. The new Dawson Canyon named NUCs are available with vPro technology which allows you to manage NUCs remotely. NUCs are not officially supported by VMware but they are very widespread in many homelabs or test environments. They are small, silent, transportable and have a very low power consumption, making it a great server for your homelab. Generation 7 Dawson Canyon NUCs are available with i3, i5 and i7 CPUs but only i5 and i7 are equipped with Intel's vPro Technology. The i3 comes without vPro and has an identical CPU than the Baby Canyon. The i7 has a powerful 4 Core Kaby Lake-R CPU which give a great performance boost.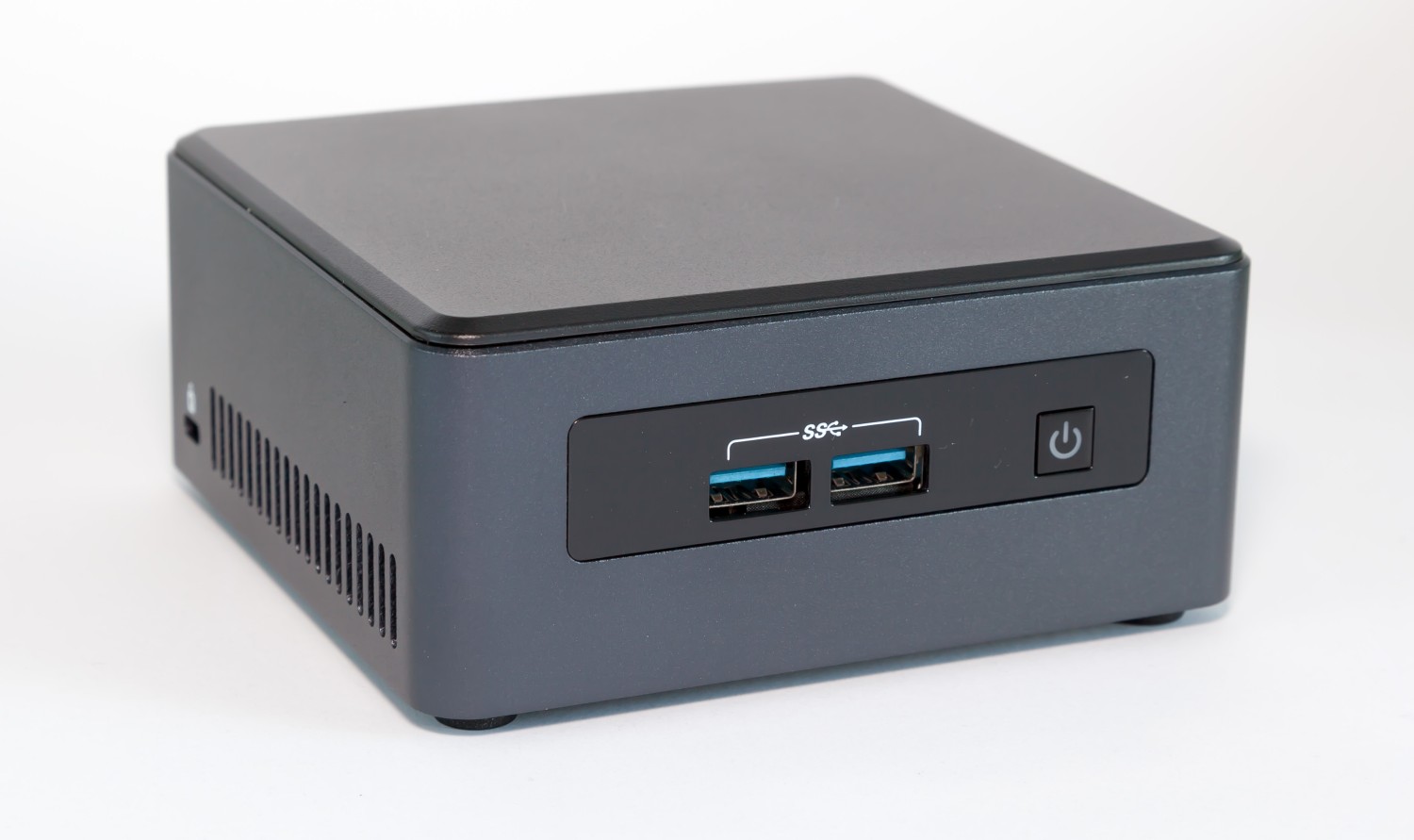 Features
Intel Kaby Lake-R or Kaby Lake-U CPU
i7 Model with 4 Cores
vPro Technology (i7 and i5 only)
Up to 32GB of DDR4 SODIMM memory
Available with and without 2.5″ HDD slot
M.2 slot for PCIe or X4 Gen 3 NVMe
Intel I219-LM Gigabit  Network Adapter
Intel Optane Memory Ready
Comparison to previous NUCs (Baby Canyon)
No USB 3.1 Gen 2 Port
No USB-C Connector
No Thunderbolt 3
No SD Card Slot
vPro Technolgy
Lower power consumption
To get an ESXi Host installed you additionally need:
Memory (1.2V DDR4-2133 SODIMM)
M.2 SSD (22×42 or 22×80), 2.5″ HDD or USB-Stick
Model comparison
Model (2.5")
NUC7i7DNHE
NUC7i5DNHE
NUC7i3DNHE
no 2.5" Slot
NUC7i7DNKE
NUC7i5DNKE
NUC7i3DNKE
Architecture
Kaby Lake-R
Kaby Lake-U
CPU Generation
8th Gen
7th Gen
CPU
Intel Core i7-8650U
Intel Core i5-7300U
Intel Core i3-7100U
Base Frequency
1.9 GHz
2.6 GHz
2.4 GHz
Turbo Frequency
4.2 GHz
3.5 GHz
N/A
Cores
4 (8 Threads)
2 (4 Threads)
TDP
15 W
15 W
15 W
TDP-down
10 W
7.5 W
7.5 W
Memory Type
DDR4-2400 1.2V
SO-DIMM
DDR4-2133 1.2V
SO-DIMM
Max Memory
32 GB
USB Ports
2x USB 3.0 (front panel)
2x USB 3.0 (back panel)
1x USB 3.0 (internal header)
2x USB 2.0 (internal header)
Storage
M.2 22x80 (key M) slot for SATA3 or PCIe X4 Gen3 NVMe OR AHCI SSD
SATA3 2.5" HDD/SDD (only tall (H) models)
LAN
Intel I219-LM Gigabit LAN
Intel VT-x
Yes
Intel VT-d
Yes
TPM
TPM 2.0
No
Intel vPro
Yes
No
Available
Q1 2018
Q3 2017
Q3 2017
Price
555$
$500
$350

HCL and VMware ESXi Support
Intel NUCs are not supported by VMware and not listed in the HCL. Not supported means that you can't open Service Requests with VMware when you have a problem. It does not state that it won't work. Some components used in the NUC are listed in the IO Devices HCL.
ESXi runs out of the box with the following releases:
ESXi 6.5 Update 2 (Build 8294253)
ESXi 6.7 GA (Build 8169922)
Network (Intel I219-LM)
The network adapter is listed in the HCL for vSphere 6.5 and 6.7. The ne1000 driver works out of the box.
VMware Compatibility Guide - Intel Ethernet Connection I219-LM
0000:00:1f.6 Ethernet controller Network controller: Intel Corporation Ethernet Connection I219-LM [vmnic0]
         Class 0200: 8086:156f
Storage (AHCI and NVMe)
The Sunrise Point AHCI controller is listed in the HCL for vSphere 5.5 U3, 6.0, 6,5 and 6.7.
VMware Compatibility Guide - Sunrise Point AHCI controller
0000:00:17.0 SATA controller Mass storage controller: Intel Corporation Sunrise Point-LP AHCI Controller [vmhba0]
         Class 0106: 8086:9d03
The AHCI driver in older ESXi versions was available, but unsupported controllers were not correctly mapped to the driver. Therefore it was required to use the additional sata-xahci package by Andreas Peetz (v-front.de). This workaround is no longer required. ESXi should detect all devices connected with AHCI or NVMe.
The latency problem happened in ESXi 6.5 with the native AHCI driver is resolved in current ESXi versions so it is no longer required to disable the native driver.
Tested ESXi Versions
VMware ESXi 6.5
VMware ESXi 6.7
To clarify, the system is not supported by VMware, so do not use this system in a productive environment. I can not guarantee that it will work stable. As a home lab or a small home server, it should be fine.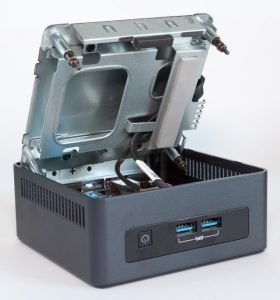 Delivery and assembly
The box contains a short description of how to open and assemble the components. Like the last vPro NUCs (NUC5i5MYHE) it is delivered in a simple box, not the well-designed retail. The system is a little bit heavier than it looks and has a high build quality. The upside has been redesigned from a very scratch-sensitive reflective black to a more rugged surface.
The installation is very simple. At first, remove 4 screws on the bottom and remove the lid, containing the 2.5" drive holder. The driver holder is back at the old design attached to the lid. The assembly takes about 5 Minutes to open the NUC, install memory, NVMe SSD module and a 2.5" drive.
Installation
No customization is required to install ESXi 6.5 U2 or ESXi 6.7 on 7th Gen Dawson Canyon NUCs. You can use the image provided by VMware to Install ESXi:
The simplest way to install ESXi is by using the ISO and Rufus to create a bootable ESXi Installer USB Flash Drive. If you don't have access to ESXi Binaries you can sign up for a free version.
vPro AMT Remote Console
With the vPro Technology, the i7 and i5 Versions have an embedded remote management with KVM capabilities. The remote management uses the shared 1 Gbit network adapter and allows you to boot and manage the NUC remotely.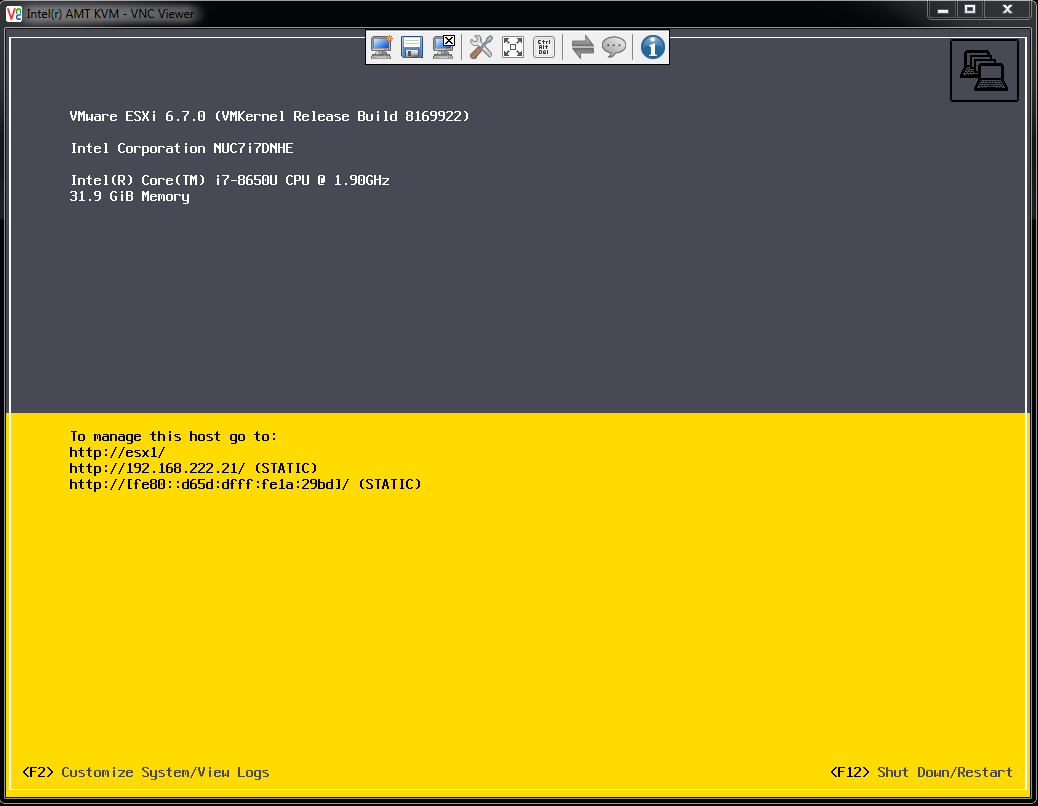 Performance
The performance of a single NUC is sufficient to run a small home lab including a vCenter Server and 3 ESXi hosts. It's a great system to take along for demonstration purposes. Currently, I run a 3-NUC Cluster that runs about 20 virtual machines including 2 vCenters, virtual ESXi Hosts, vSAN and NSX. I would recommend getting an i7 or i5 NUC to be used for ESXi homelabs.
With 4 Cores, the i7-8650U, used in the largest Dawson Canyon NUC is almost as fast as the Skull Canyon NUC, but with much less power consumption. It's the first NUC, beside the Skull Canyon, with 4 Cores.
The following chart is a comparison based on the NUCs PassMark score: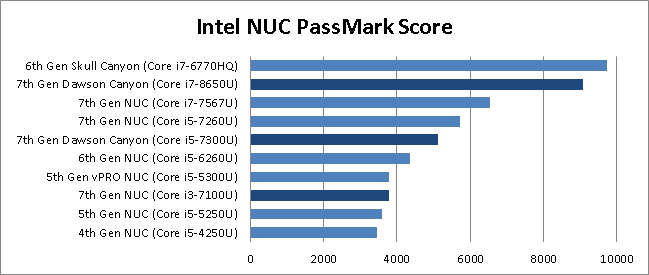 Power consumption
NUCs have a very low power consumption. I've measured the power consumption of my NUC7i7DNHE in 3 states: Idle (ESXi in Maintenance Mode), Average Load (1 vCenter, 4 Linux VMs) and during a Stress test. The NUC has been configured with 32GB RAM and no HDD or SSD.
Idle: 7,5W
Average Load: 10W
Stress Test: 28W
With that, the average operating costs are less than 2 Euros per month:
10 watt * 24 h * 30 (days) = 7,2 KWh * 0,25 (EUR) = 1,80 EUR
Power Off Issue
7th Gen NUCs with ESXi 6.5 had a problem when you shut down the NUC from the vSphere Client or with SSH it does not switch off completely. I've tested the Dawson Canyon NUC with ESXi 6.7 and 6.5 U2 without this issues.
Baby Canyon vs. Dawson Canyon
Shopping Guide
| | | |
| --- | --- | --- |
| 1. | Chassis | |
|  2. | Memory | |
|  3. | M.2 SSD | |
|  4. |  2.5" HDD | |
|  5. | USB Stick | |