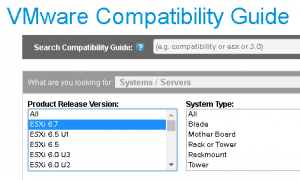 Double check your vendor support when updating ESXi hosts from to vSphere 6.7. Some systems have not been certified by their vendor yet. The following servers were supported in vSphere 6.5 but are according to VMware's HCL not yet supported in vSphere 6.7.
Your server is listed and you want to upgrade?
Usually, the list gets smaller a couple of weeks after a new vSphere version has been released. I will update this post when I notice changes.
Not supported does not say that it does not work.
Servers get certified by their vendor, not VMware. If you want a server to get certified, ask your vendor.
Vendor support matrices sometimes differ from VMware HCL. Please ask your vendor or VMware whether you are allowed to upgrade.
The list has been created with the help of my HCL in JSON Format.
Follow the comments to get notified of updates.
Did I miss something? Please comment.

Last Update: August 13, 2018
You might want to check support information published by server vendors:
The following list is based on VMware HCL:
Source: VMware HCL | List created with JSON based HCL