Intel's Coffee Lake-based 8th Gen Bean Canyon NUC is an ideal candidate for running VMware ESXi. NUCs are not officially supported by VMware but they are very widespread in many homelabs or test environments. They are small, silent, transportable and have very low power consumption, making it a great server for your homelab. The Bean Canyon is available with i3, i5, and i7 CPU. It's the first series where the i5 is also equipped with a Quad-Core CPU, so both - the i5 and i7 - are ideal candidates for ESXi.
NUC8i7BEH/NUC8i7BEK (Intel Core i7-8559U - 4 Core, up to 4.5 GHz)
NUC8i5BEH/NUC8i5BEK (Intel Core i5-8259U - 4 Core, up to 3.8 GHz)
NUC8i3BEH/NUC8i3BEK (Intel Core i3-8109U - 2 Core, up to 3.6 GHz)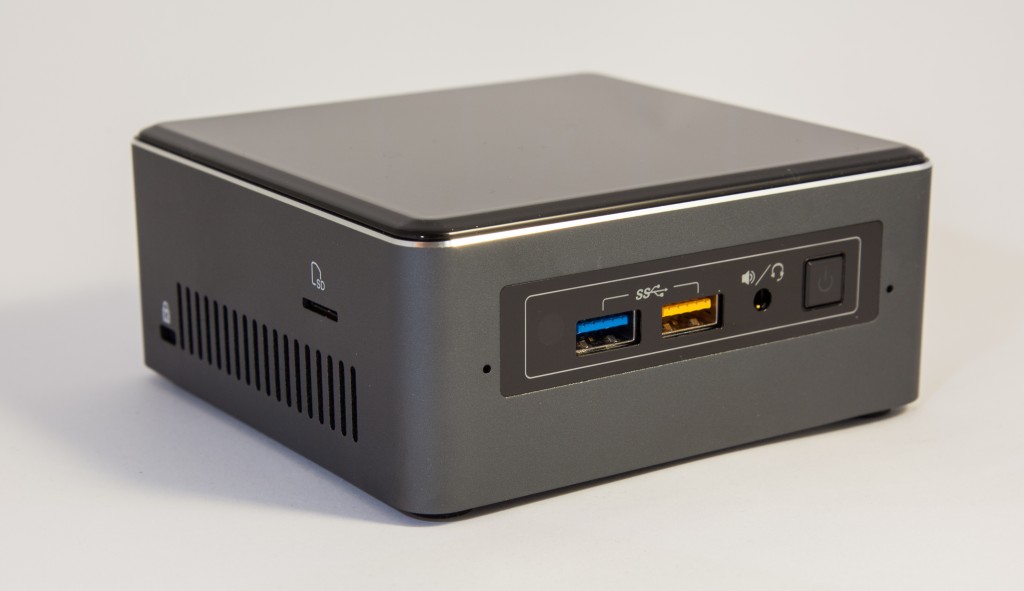 Features
8th Gen Intel Coffee Lake CPU
64GB of DDR4 SO-DIMM memory (32GB are supported, but 64GB works without problems)
Available with and without 2.5″ HDD slot
M.2 slot for PCIe or X4 Gen 3 NVMe
External Micro SDXC Slot
Intel I219-V Gigabit Network Adapter
Thunderbolt 3 (USB-C)
USB 3.1 Gen2
Intel Optane Memory Ready
Comparison with predecessor (Baby Canyon)
Quad-Core CPU in i5 and i7 models
Uniform TDP (28W)
i3 models with Thunderbolt 3 support
To get an ESXi Host installed you additionally need:
Memory (1.2V DDR4-2400 SODIMM)
M.2 SSD (22×42 or 22×80), 2.5″ HDD or USB-Stick
Model comparison
Model (2.5")
NUC8i7BEH
NUC8i5BEH
NUC8i3BEH
no 2.5" Slot
NUC8i7BEK
NUC8i5BEK
NUC8i3BEK
Architecture
Coffee Lake (14 nm)
CPU
Intel Core i7-8559U
Intel Core i5-8259U
Intel Core i3-8109U
Base Frequency
2.7 GHz
2.3 GHz
3.0 GHz
Max Frequency
4.5 GHz
3.8 GHz
3.6 GHz
Cores
4 (8 Threads)
2 (4 Threads)
TDP
28 W
TDP-down
20 W
Memory Type
2x 260-pin 1.2 V DDR4 2400 MHz SO-DIMM
Max Memory
64 GB (32 GB officially supported)
USB Ports
2x USB 3.1 Gen2 (front panel)
3x USB 3.1 Gen2 (back panel)
2x USB 2.0 (internal header)
Thunderbolt 3 Port (40Gbps)
Yes
Yes
Yes
USB 3.1 Gen 2 Port (10Gbps)
Yes
Yes
Yes
Storage
M.2 22x42/80 slot for SATA3 or PCIe X4 Gen3 NVMe OR AHCI SSD
SATA3 2.5" HDD/SDD
SDXC Slot
LAN
Intel I219-V Gigabit LAN
Intel VT-x
Yes
Intel vPro
No
Available
Q3 2018
Q3 2018
Q3 2018
Price
$600
$450
$320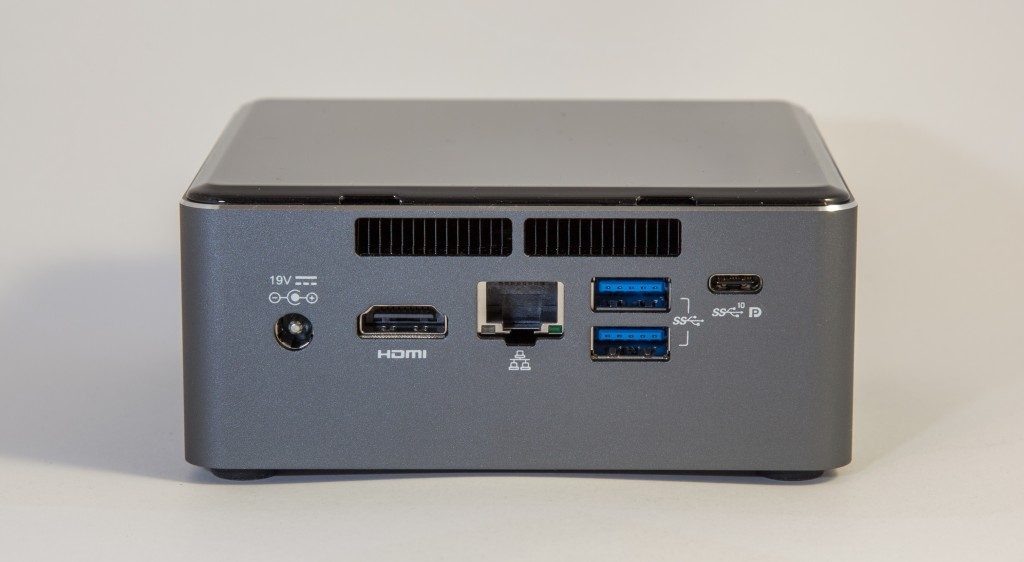 HCL and VMware ESXi Support
Intel NUCs are not supported by VMware and not listed in the HCL. Not supported means that you can't open Service Requests with VMware when you have a problem. It does not state that it won't work. Some components used in the NUC are listed in the IO Devices HCL.
ESXi runs out of the box starting with the following releases:
ESXi 6.5 Update 2 (Build 8294253) released in May 2018
ESXi 6.7 Update 1 (Build 10302608) released in October 2018
To clarify, the system is not supported by VMware, so do not use this system in a productive environment. I can not guarantee that it will work stable. As a home lab or a small home server, it should be fine.
Network (Intel I219-V) - "No Network Adapters" Error
The network adapter does not work out of the box with ESXi versions prior to 6.7u1 or 6.5u2. If you need older ESXi versions to work you have to inject the ne1000 driver manually to the installer image (ESXi 6.5: 0.8.3-7vmw.650.2.50.8294253 / ESXi 6.7: 0.8.4-1vmw.670.1.28.10302608).
SD Card
8th Gen NUCs are equipped with a Micro SDXC Slot. Unfortunately, there is no driver available for ESXi at the moment so it's not possible to use the SD Card slot.
Tested ESXi Versions
VMware ESXi 6.5 U2
VMware ESXi 6.5 U3
VMware ESXi 6.7 U1
VMware ESXi 6.7 U2
VMware ESXi 6.7 U3
Delivery and assembly
The Box contains a short description of how to open and assemble the components. The system is a little bit heavier than it looks and has a high build quality. The upside is very scratch-sensitive, so be careful with it.
The installation is very simple. Remove 4 screws on the bottom and remove the lid and the 2.5" drive holder. The assembly takes about 5 minutes to open the NUC, install memory, NVMe SSD module and a 2.5" drive.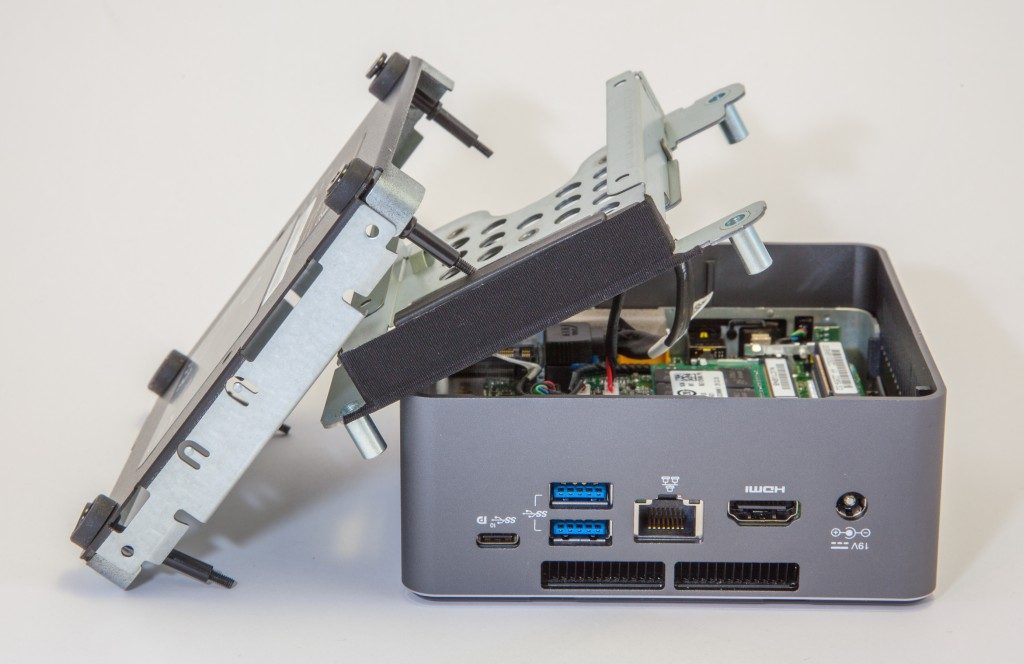 Installation
No customization is required to install ESXi 6.5U2 / ESXi 6.7U1 or later on the 8th Gen Bean Canyon NUC. I recommend to use the latest image provided by VMware to Install ESXi:
The simplest way to install ESXi is by using the ISO and Rufus to create a bootable ESXi Installer USB Flash Drive. If you don't have access to ESXi Binaries you can sign up for a free version.
There is a problem with the ESXi installer when UEFI boot is enabled. To work around the issue, configure the NUC to boot in legacy mode. This step is required for the installation only and can be changed back after.
Power on the NUC
Press F2 to enter BIOS
Disable Secure Boot (Advanced -> Boot -> Secure Boot)
Enable Legacy Boot (Boot Order > Legacy > Legacy Boot)
Press F10 to save and exit
Now you should be able to proceed with the ESXi installation. The installer might seem to be stuck for about 2 minutes at "nfs4client failed to load", just be patient. When the installation is finished you can disable Legacy Boot.
Warning: If you've installed ESXi to an NVMe drive, you have to disable Legacy boot as NVMe can only boot with UEFI.
Performance
The performance of a single NUC is sufficient to run a small home lab including a vCenter Server and 3 ESXi hosts. It's a great system to take along for demonstration purposes. The i7 is even faster than the Hades Canyon and the i5 is, thanks to its quad-core CPU, on a par.
The following chart is a comparison based on the NUCs PassMark score: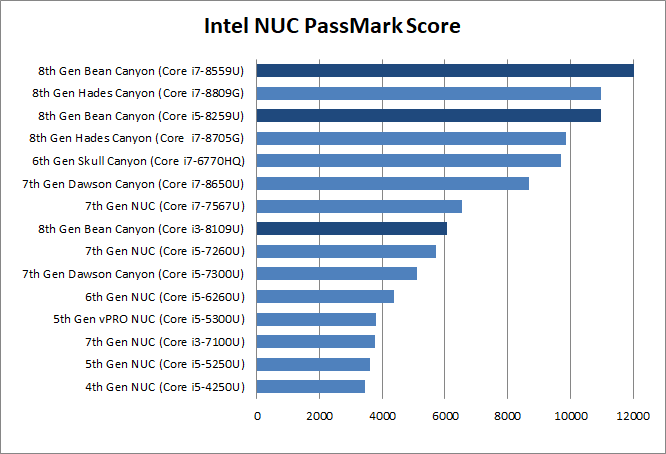 Power consumption
NUCs have very low power consumption. The NUC8i7BEH with an M.2 NVMe draws about 25W. With that, the average operating costs are at about 5-6 Euros per month:
25 watt * 24 h * 30 (days) = 18 KWh * 0,30 (EUR) = 5,40 EUR
Consumption measured with Homematic HM-ES-PMSw1
Shopping Guide
| | | |
| --- | --- | --- |
| 1. | NUC Kit | |
|  2. | Memory | |
|  3. | M.2 SSD | |
|  4. |  2.5" HDD | |
|  5. | USB Stick | |