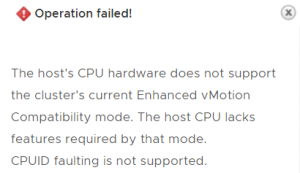 Many VMware Homelabs are based on Intel NUCs. It is also very common that generations are mixed which can lead to compatibility issues when trying to vMotion VMs across different generations. This is typically where VMware EVC comes into play.
VMware EVC creates a baseline of CPU instructions for virtual machines running on ESXi hosts. When you add newer Hosts, EVC hides the new CPU instructions to the virtual machines. While this works great for Xeon CPUs used in professional servers, it has some limitations with consumer CPUs used in the Intel NUC ecosystem.
The problem has become worse with the latest 10th Gen Comet Lake/Frost Canyon NUC. Despite having a 10th generation CPU, it requires the EVC baseline to be configured to "Sandy Bridge", which is the 2nd generation of Intel Core-i CPUs:
NUC10i7FNH/NUC10i7FNK (Intel Core i7-10710U - 6 Core, up to 4.7 GHz)
NUC10i5FNH/NUC10i5FNK (Intel Core i5-10210U - 4 Core, up to 4.2 GHz)
NUC10i3FNH/NUC10i3FNK (Intel Core i3-10110U - 2 Core, up to 4.1 GHz)
When you try to activate VMware EVC higher than Sandy Bridge, the following error message is displayed:
Compatibility
The host's CPU hardware does not support the cluster's current Enhanced vMotion Compatibility mode. The host CPU lacks features required by that mode.
When you try to add the Host to an EVC Enabled Cluster, the task fails:
Operation failed!
The host's CPU hardware does not support the cluster's current Enhanced vMotion Compatibility mode. The host CPU lacks features required by that mode.
CPUID faulting is not supported.
See KB 1003212 for more information.
Host is of type: vendor intel family 0x6 model 0xa6
A common EVC Mode that allows Gen5 - Gen8 NUCs to be used in the same Cluster is "Haswell". To add a 10th Gen NUC, you have to lower EVC to Sandy Bridge. The problem with the "Frost Canyon" is that it does not support the CPUID faulting feature, required since EVC "Ivy Bridge".
Generation 6-8 NUCs are very generous when it comes to vMotion compatibility. They have a similar feature set and you can migrate VMs without EVC. My first Idea was to retire the 5th Gen NUC and disable EVC. This could be a solution because the CPUID faulting feature can be disabled in the Virtual Machines configuration by adding the following line to the vmx configuration file:
cpuidFaulting.enable = "FALSE"
With "CPUID faulting" disabled, I can migrate VMs from Gen6-8 to Gen10, but unfortunately not the other way as the Gen10 has 4 new features:
MDS_NO
RSBA_NO
IBRS_NO
RDCL_NO
As a result, I tried to create my own EVC Mode to allow Gen5 - Gen10 NUCs to be in the same Cluster. Basically, you only need to remove Restricted Transactional Memory (RTM), Hardware Lock Elision (HLE) and CPUID faulting from the Broadwell EVC Mode to be compatible with all of my NUCs.
If you have the same problem, here is how you can do the same. Please keep in mind that the file might be overwritten when you patch your vCenter Appliance, so you have to copy it again. And of course, it's fully unsupported.
Download EVC XML File (Right-Click -> Save as)
vSphere 6.7: evcModes67-NUC.xml
vSphere 7.0: evcModes70-NUC.xml
Make a backup copy of the old file:

# cd /usr/lib/vmware-vpx/
# cp evcModes.xml evcModes.xml.backup

Copy the new XML to the vCenter Service Appliance at /usr/lib/vmware-vpx
Replace the original XML file with the one downloaded for your vCenter version

vSphere 6.7
# cp evcModes67-NUC.xml evcModes.xml

vSphere 7.0
# cp evcModes70-NUC.xml evcModes.xml

Restart the vpxd Service

# service-control --restart vpxd

To activate the EVC Mode you have to use PowerCLI. Verify that the EVC Mode is available:

PS> $Global:DefaultVIServer.ExtensionData.Capability.SupportedEVCMode |select key

Activate the EVC Mode:

PS> Set-Cluster NUC -EVCMode "intel-nuc"


Verify EVC Mode:

Get-Cluster NUC | Select Name,EVCMode

Name EVCMode  
---- -------  
NUC  intel-nuc
Reminder: VPXD Services fails to start when Clusters are configured with EVC mode intel-nuc and the mapping is missing (after patches). Copy the file again and restart vpxd.