The VMware bare-metal hypervisor ESXi is in the market for over 12 years now. During that time it has been continuously refined and added with new features. Since vSphere 5.0, the hypervisor size is very constant and has not increased severely. In this post, I am going to have a look at how much the hypervisor footprint has been changed from ESXi 3.5 to ESXi 7.0.ESX.
ESXi 3.5 - 46,01 MB
ESXi 4.0 - 59,99 MB
ESXi 4.1 - 85,19 MB
ESXi 5.0 - 132,75 MB
ESXi 5.1 - 125,85 MB
ESXi 5.5 - 151,98 MB
ESXi 6.0 - 154,90 MB
ESXi 6.5 - 135,39 MB
ESXi 6.7 - 129,51 MB
ESXi 7.0 - 149,40 MB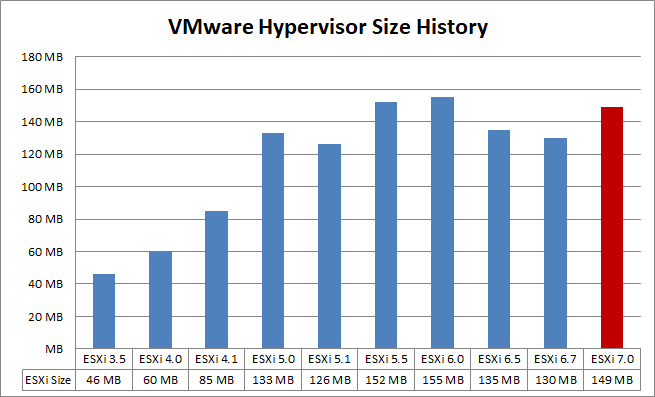 How did I determine the Hypervisor Size?
According to VMware documentation, the footprint of ESXi 5 was 144MB and 150MB in ESXi 6. I could not reconstruct that completely so I compared the following packages:
The "image" package in ESXi 3.5
The "firmware" package in ESXi 4.x
The "esx-base" vib package in ESXi 5.x and 6.x
All "esx-" and "vsan-" packages in ESXi 6.0u2 including 6.5 and 6.7
All "esx-", "vsan-" and "crx" (container runtime executive) packages in ESXi 7.0
The size of an ESXi 7.0 ISO Image is 344 MB. What are the other image components?
| | |
| --- | --- |
| Package | Size |
| Hypervisor | 149 MB (44%) |
| Drivers | 18 MB (5%) |
| VMware Tools Images | 177 MB (51%) |