Today VMware made vSphere 7.0 bits available for everyone to download. VMware vSphere 7.0 is now GA.
VMware vSphere 7.0 Release Notes and Download Links
Development time
Since vSphere 6.0 VMware started to extend their major release cycles. This trend is still active as vSphere 7.0 has been released 1 year, 11 months and 17 days after vSphere 6.7. With 716 days, the development time of vSphere 7.0 was the longest ever.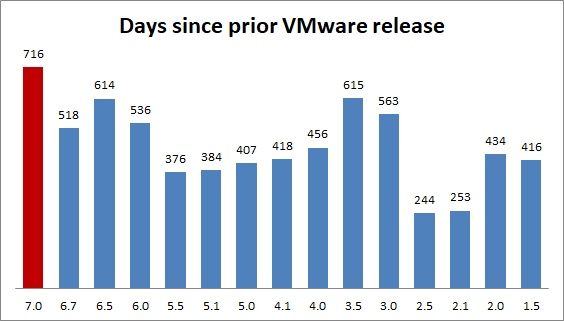 ESX
Release Date
Days since
prior release
7.0
2020-04-02
716
6.7
2018-04-17
518
6.5
2016-11-15
614
6.0
2015-03-12
536
5.5
2013-09-22
376
5.1
2012-09-11
384
5.0
2011-08-24
407
4.1
2010-07-13
418
4.0
2009-05-21
456
3.5
2008-02-20
615
3.0
2006-06-15
563
2.5
2004-11-29
244
2.1
2004-03-30
253
2.0
2003-07-21
434
1.5
2002-05-13
416
1.0
2001-03-23
VMware ESX History Diagram