Details on the 11th Generation of Intels NUC have been revealed recently. Intel's NUC series is currently the most used system in the homelab market. They are small, silent, transportable, and have very low power consumption, making it a perfect system for labs or as a home server.
The 11th Gen is just around the corner and has, compared to its predecessor (Frost Canyon) which did not have outstanding innovations, a lot of cool new features.
Features
Tiger Lake CPU
vPro available with i5 and i7 CPU
PCIe x4 Gen 4 NVMe
Dual Thunderbolt 4
USB 3.2 Gen2
Intel I225-LM Ethernet adapter with 2.5GBASE-T support
Expansion slot with a second Intel i225-LM adapter
DDR4-3200 SODIMM
RS232 serial port header
Qualified for 24/7 operation
There will be a Tall and Slim chassis like you know it from previous generations. The tall version can be equipped with a second i225-LM network adapter and a 2.5" SATA HDD.
CPU Options
According to the preview that has been published recently, the Tiger Canyon will be available with 5 different CPU models:
CPU
i7-1185G7
i7-1165G7
i5-1145G7
i5-1135G7
i3-1115G4
Architecture
Tiger Lake (10 nm SuperFin)
Base Frequency
3.0 GHz
2.8 GHz
2.6 GHz
2.4 GHz
1.9 GHz
Max Frequency
4.8 GHz
4.7 GHz
4.4 GHz
4.2 GHz
4.1 GHz
Cores
4 (8 Threads)
4 (8 Threads)
4 (8 Threads)
4 (8 Threads)
2 (4 Threads)
TDP
28 W
28 W
28 W
28 W
15 W
Intel vPro
Yes
No
Yes
No
No
The following chart is based on the CPUs PassMark Score. There are very few benchmarks available as of now so the numbers might be inaccurate. Benchmarks for the  vPro versions are not available.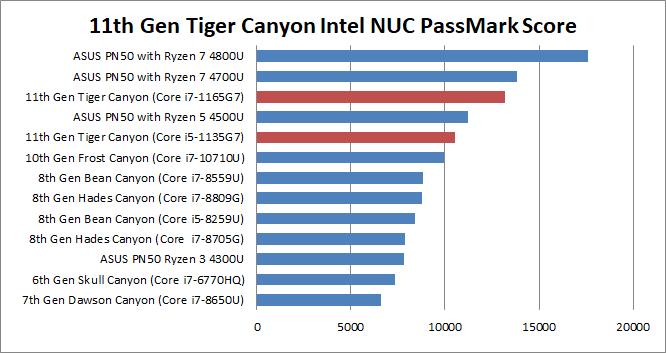 Another chart I made is based on the total GHz (Base Frequency x Number of Cores). This chart does not necessarily reflect the real performances as newer Generations and Hyperthreading can increase the overall performance.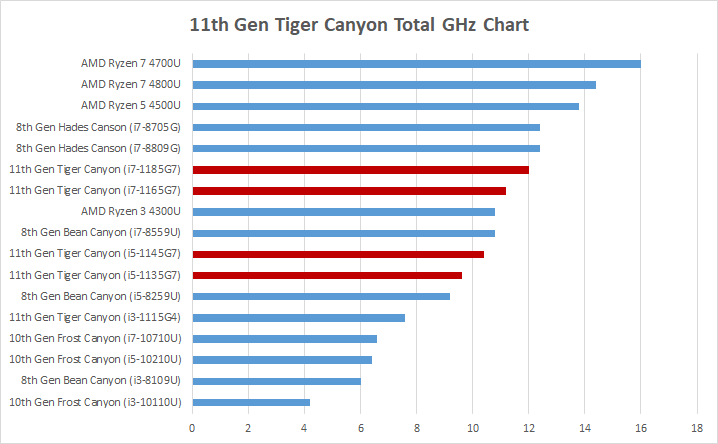 Dual 2.5 Gbit Network adapter
For me personally, this is the most promising feature. All 11th Gen NUCs are equippt with a I225-LM network adapter that suppots the 2.5GBASE-T standard. Currently, this standard is not very widespread but I hope it will become more common in the future.
Additionally, the tall version can be equipped with a second I225-LM network adapter. There is only one NUC that comes with a second network adapter at the moment, the 8th Gen Hades Canyon.
Unfortunately, there is a drawback. The I225-LM, and in general all 2.5GBASE-T / 5GBASE-T adapters are not supported with ESXi and due to the native driver requirement in vSphere 7.0 it has become harder to get community supported drivers. The I225-LM is suspected to come with PCI Device ID 8086:15f2 if you want to check for drivers.
11th Gen Intel NUC Release Date
The 11th Gen NUC has not been officially announced yet, but it is expected to launch by the end of 2020.