The long-awaited AMD Ryzen based PN50 by ASUS is finally available. The ESXi Homelab community is constantly growing. When you want to run ESXi in home labs you typically want to have a system that is small, silent, and transportable. To keep costs at a minimum, the power consumption is also a very important factor. The portfolio of Small Form Factor (SFF) Systems, also known as Barebone, Nettop, SoC, or Mini-PC, is enormous. Intel's NUC series is currently the most used system in the homelab market, but I'm always keeping my eyes on its competitors.
Today I'm going to test the ASUS PN50, which is currently rolled out. The PN50 is available with 4 different embedded CPUs:
ASUS PN50 Ryzen 7 4800U (8 Core / 16 Threads, up to 4.2 GHz)
ASUS PN50 Ryzen 7 4700U (8 Core, up to 4.1 GHz)
ASUS PN50 Ryzen 5 4500U (6 Core, up to 4.0 GHz)
ASUS PN50 Ryzen 5 4300U (4 Core, up to 4.0 GHz)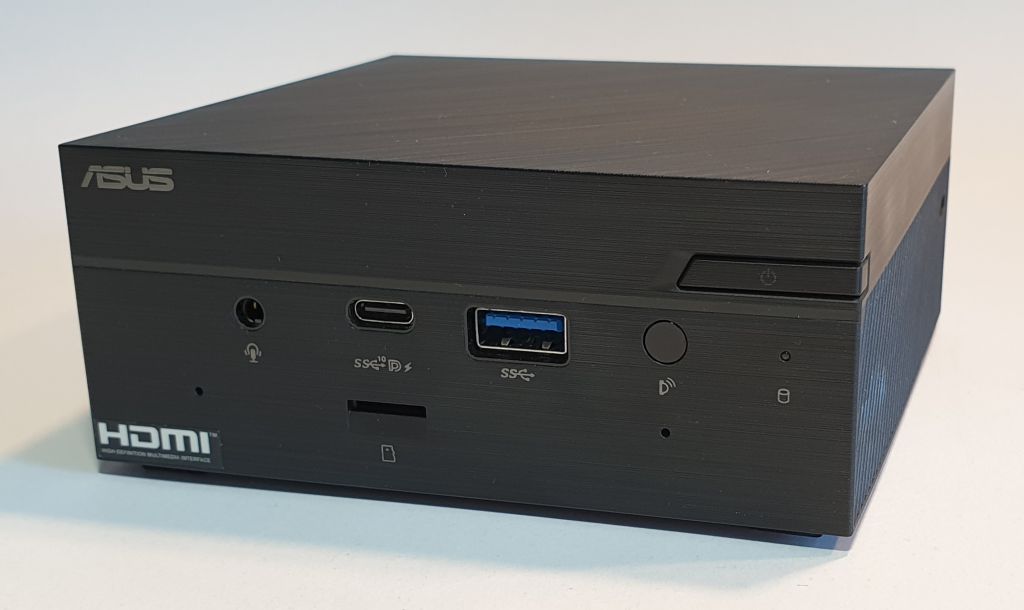 Will ESXi run on the Asus PN50?
Yes. It is possible to install ESXi on the Asus PN50. Unfortunately, Asus is using a Realtek based RTL8168 Gigabit Network adapter for the PN50, which will not work with ESXi 7.0. To install ESXi 6.x, you have to use a community-based driver. If you want to use ESXi 7.0, you have to use a USB-based Network adapter.
Features
AMD Ryzen 4000 Mobile CPU
64GB of DDR4 SO-DIMM memory
M.2 PCIe NVME/SATA 22/80 Slot
2.5" HDD slot
SDXC Slot
Realtek RTL8168 Gigabit Network Adapter
USB 3.2 Gen2 (10Gbps)
Comparison with Frost Canyon Intel NUC
Superior CPU Power, compared to Intel's latest 10th Gen NUC Series
Up to 8 Core CPU (instead of 6)
Higher Base-Frequency
No Thunderbolt
Non-Intel Network Adapter (Bad support for running ESXi or Linux)
To get an ESXi Host installed you additionally need:
Memory (1.2V DDR4-3200 SODIMM)
M.2 SSD (22×42 or 22×80) or USB flash drive
Model comparison
Model
PN50
Ryzen 7 4800U
PN50
Ryzen 7 4700U

PN50
Ryzen 5 4500U

PN50
Ryzen 3 4300U

Dimensions
115mm x 115mm x 49mm
CPU Architecture
Renoir (7 nm)
CPU
AMD Ryzen 7 4800U
AMD Ryzen 7 4700U
AMD Ryzen 5 4500U
AMD Ryzen 3 4300U
Base Frequency
1.8 GHz
2.0 GHz
2.3 GHz
2.7 GHz
Max Frequency
4.2 GHz
4.1 GHz
4.0 GHz
4.0 GHz
Cores
8 (16 Threads)
8 (8 Threads)
6 (6 Threads)
4 (4 Threads)
TDP
10-25 W
Memory Type
2x 260-pin 1.2 V DDR4 3200 MHz SO-DIMM
Max Memory
64 GB
USB Ports
Front: 1x USB 3.2 G2 Type-C / 1x USB 3.2 G1 Type-A
Back: 1x USB 3.2 G Type-C / 2x USB 3.2 G1 Type-A
Storage
1 x M.2 SATA/PCIe SSD (22/80)
1x 2.5" SATA 6Gbps
LAN
1x Realtek RTL8168 Gigabit LAN [10ec:8168]
Optional: Configurable port with second LAN adapter
PSU
90 W
65 W
Available
Q3 2020
Price
$650*
€640*
$440*
€440
$380*
€385
$320*
€305
* As of writing this article, final market prices are not yet available. The prices are based on early listings. I'll update the article when real market prices are available.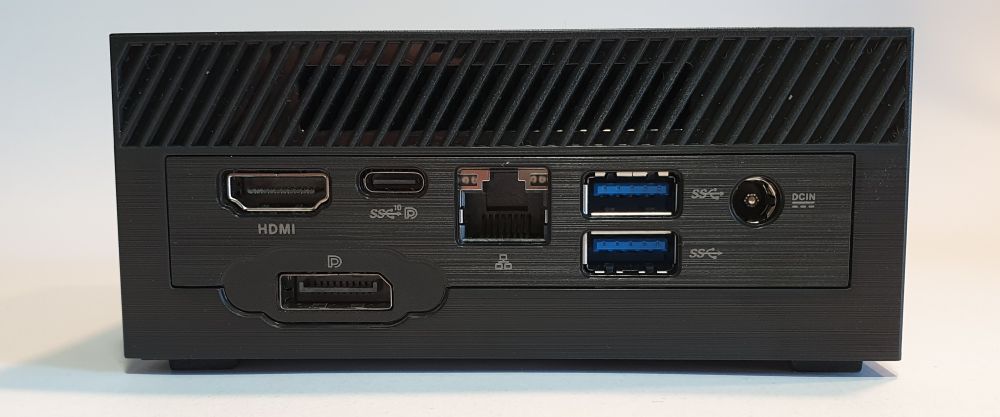 HCL and VMware ESXi Support
The Asus PN50 is, similar to other consumer-based SFF systems, not officially supported by VMware and not listed in the HCL. Not supported means that the hardware is not certified and you can't open Service Requests with VMware when you have a problem. It does not state that it won't work.
Asus has equipped the PN50 with a Realtek network adapter. While Realtek Adapters are very common with consumer hardware, they are unfortunately not supported by ESXi. The problem can be solved with a community created driver which works in ESXi 5.x and 6.x but not in ESXi 7.0, due to the VMKlinux driver stack deprecation.
To clarify, the system is not supported by VMware, so do not use this system in a productive environment. I can not guarantee that it will work stable. As a home lab or a small home server, it should be fine.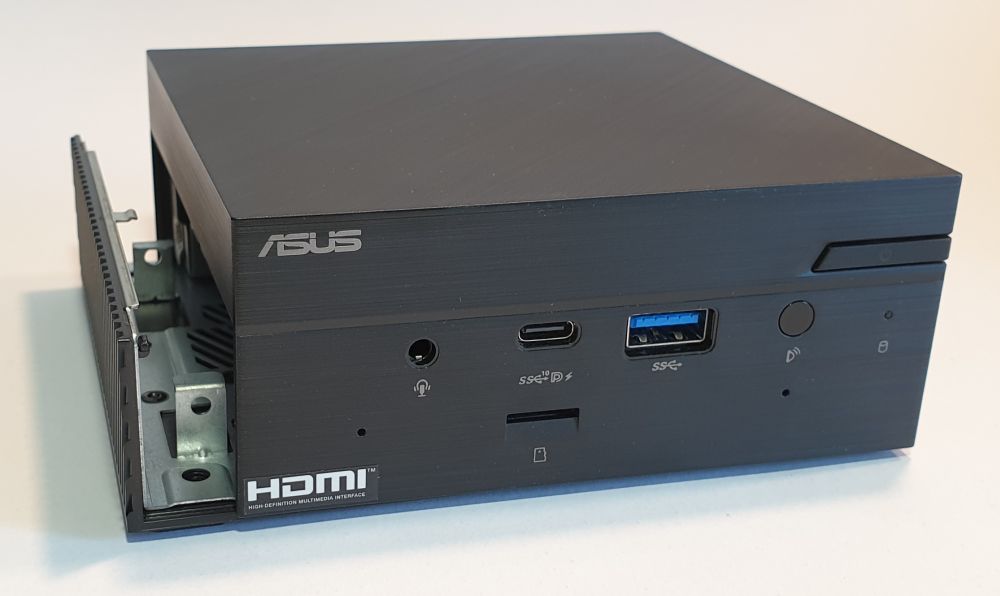 Network (Realtek RTL8168) - "No Network Adapters" Error
The Network adapter does not work with any stock ESXi image. You have to create a customized image containing the net55-r8168 driver by Dmitry Nechaev.
Download Driver: net55-r8168-8.045a-napi-offline_bundle.zip (Author: Dmitry Nechaev)
The driver works with ESXi 5.x and 6.x but not in 7.x. There is no working driver for ESXi 7.0 available at the moment. Refer to the Installation section for instructions on how to create a custom ESXi image.
0000:02:00.0 Network controller Ethernet controller: Realtek Semiconductor Co., Ltd. RTL8111/8168/8411 PCI Express Gigabit Ethernet Controller [vmnic1]
         Class 0200: 10ec:8168

Wake on LAN 
Wake on LAN is disabley by default. If you enable it in the BIOS it works without problems. To enable WOL navigate to Advanced > APM Configuration and enable Power on By PCI-E
Storage
The storage controller works out of the box without any issues. You can install an NVMe or SATA based M.2 drive and an 2.5" SATA storage device.
SD Card
The PN50 has an SDXC slot. Unfortunately, there is no driver available for ESXi at the moment so it's not possible to use the SD Card slot. I recommend installing ESXi on a USB flash drive.
Tested ESXi Versions
VMware ESXi 6.5 U3 (Custom Image with Realtek Community Driver Net55-r8168)
VMware ESXi 6.7 U3 (Custom Image with Realtek Community Driver Net55-r8168)
VMware ESXi 7.0 (With USB Network Adapter + Fling Driver) - Embedded NIC not working
AMD CPUs and EVC Support
When you already have Intel-based systems in your home lab it's worth mentioning that you can not migrate virtual machines using vMotion from Intel to AMD CPUs. Keep that in mind when you plan to add a PN50 to an existing Intel-based cluster. Even if you have enabled EVC (Enhanced vMotion Compatibility) it will only help with migrations across different CPU generations from the same vendor.
If you want to enable vMotion, you can set it to the highest available option: AMD Zen 2 Generation


Delivery and assembly
The system is very similar to Intel's NUC. The chassis is made of plastic but has a good build quality. It is delivered with an external power supply and VESA mount. To get started, you have to install DDR4 memory and optional an M.2 or 2.5" drive.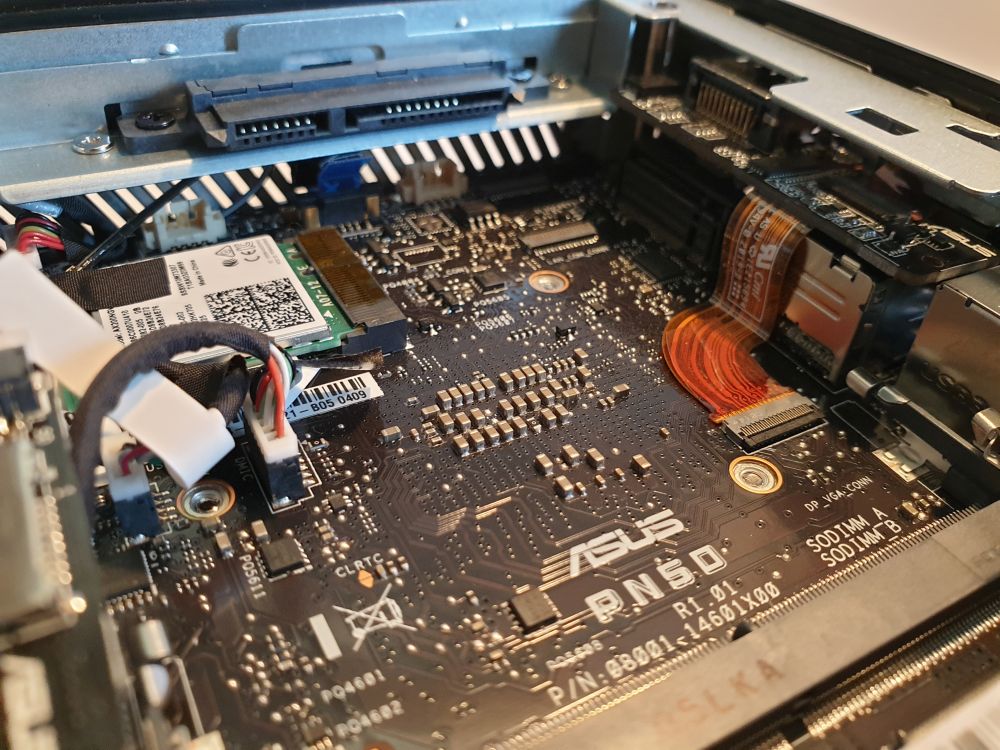 The installation is very simple. Remove the 4 screws on the bottom with a Phillips PH0 and slide the top to the side to get access to Memory and drive slots. If you want to add a 2.5" drive you have to screw it into the lower part of the system. The disk is then plugged into the SATA connector when you slide the two components back together.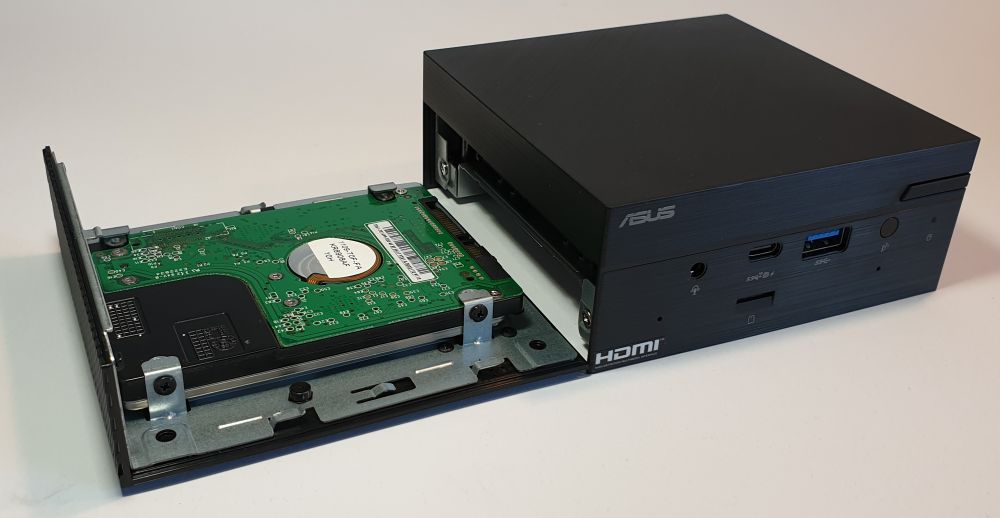 Configurable Port
The ASUS PN50 has a configurable port that can be fitted with a Serial Port, RJ45 Network Interface, or a Display port. As far as I know, this configuration has to be made before buy the system. You can not buy modules later and change the port.



The model I'm using has the Display Port option. The module (PN-DP-R Rev 1.0.0) is connected with a ribbon cable and could be changed easily, but they are not sold separately.
Installation
If you try to install any version of ESXi, the installer fails with a "No Network Adapters" error. The problem is that there is no compatible driver in any ESXi version. Luckily, you can use the community supported Net55-r8168 driver by Dmitry Nechaev.
Download: net55-r8168-8.045a-napi-offline_bundle.zip
How to create a Custom ESXi Image
This option explains how to create the Custom Image with PowerCLI. The Image can be used to install ESXi from scratch. William Lam has also provided a solution that uses the vSphere HTML5 Client.
Download the driver (link)
Copy the driver to your Build Directory (c:\esx) for example
Open PowerShell run the following commands in your build directory.
The instructions already contain the WinError 10054 error workaround.vSphere 6.7 U3

# (Optional) Install PowerCLI Module
Install-Module -Name VMware.PowerCLI -Scope CurrentUser

Add-EsxSoftwareDepot https://hostupdate.vmware.com/software/VUM/PRODUCTION/main/vmw-depot-index.xml
Export-ESXImageProfile -ImageProfile "ESXi-6.7.0-20200604001-standard" -ExportToBundle -filepath ESXi-6.7.0-20200604001-standard.zip
Remove-EsxSoftwareDepot https://hostupdate.vmware.com/software/VUM/PRODUCTION/main/vmw-depot-index.xml
Add-EsxSoftwareDepot .\ESXi-6.7.0-20200604001-standard.zip
Add-EsxSoftwareDepot .\net55-r8168-8.045a-napi-offline_bundle.zip
New-EsxImageProfile -CloneProfile "ESXi-6.7.0-20200604001-standard" -name "ESXi-6.7.0-20200604001-r8168" -Vendor "virten.net" -AcceptanceLevel "CommunitySupported"
Add-EsxSoftwarePackage -ImageProfile "ESXi-6.7.0-20200604001-r8168" -SoftwarePackage "Net55-r8168"
Export-ESXImageProfile -ImageProfile "ESXi-6.7.0-20200604001-r8168" -ExportToIso -filepath ESXi-6.7.0-20200604001-r8168.iso


Use the ISO image to install ESXi. The simplest way to install ESXi is by using the ISO and Rufus to create a bootable ESXi Installer USB Flash Drive. No custom BIOS Settings are required.
If you want to install any other 5.x or 6.x version, just replace the image profile with the profile you want to install. Refer to this page for all available image profiles.
If you want to install ESXi 7.0, you have to use a USB-based Network adapter. See this article for instructions on how to create custom images containing the USB NIC Fling.
Performance
The performance of the ASUS PN50 Series with their AMD Ryen CPU is outstanding for SFF systems. Compared to Intel's latest Frost Canyon NUC, the PN50 has more cores and a higher base frequency, resulting in superior performance.
The following chart is a comparison based on PassMark scores: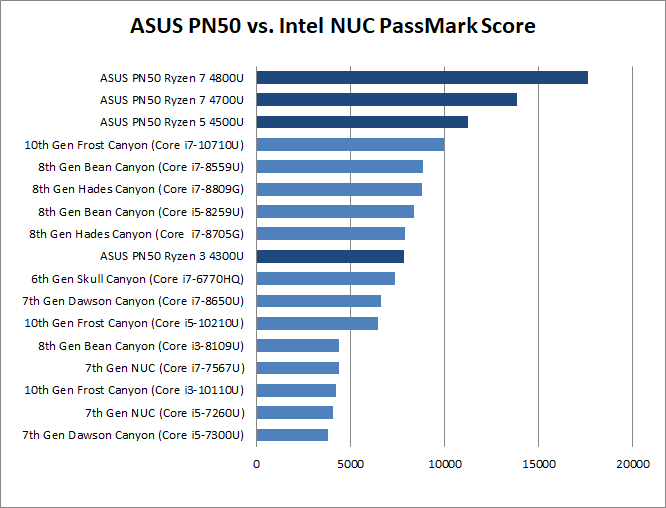 Price comparison with Intel's Frost Canyon NUC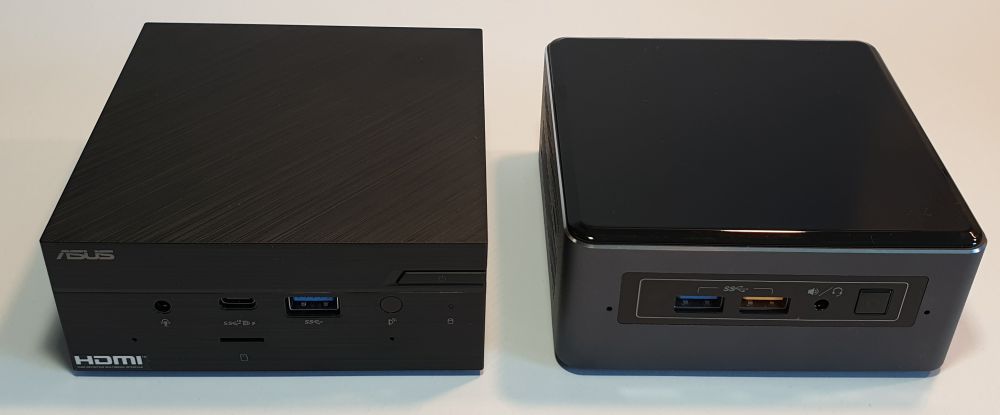 When looking for NUC alternatives, it usually comes to price comparison. The PN50 has the potential to be a game-changer. It offers superior performance at a reasonable price. Unfortunately, you can't use the embedded NIC with vSphere 7 at the moment, but you can use USB-based network adapters as an alternative. Also, there are some workarounds required when you want to run NSX-T.
When comparing systems with similar performance, you can get the PN50 for way less money:
Intel NUC10i7 ($580) vs. Ryzen 5 4500U $380 (-$200)
Intel NUC10i5 ($400) vs. Ryzon 3 4300U $320 (-$80)
If you take a look at the price-performance ratio, the PN50 with Ryzen 7 4700U CPU tops the list: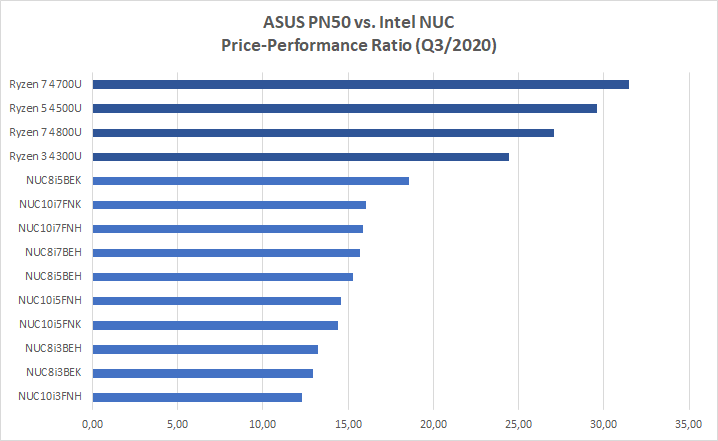 If you know my "Which NUC should I buy" series, you are already familiar with the Price/Performance scatter chart I've created. The following chart includes the ASUS PN50: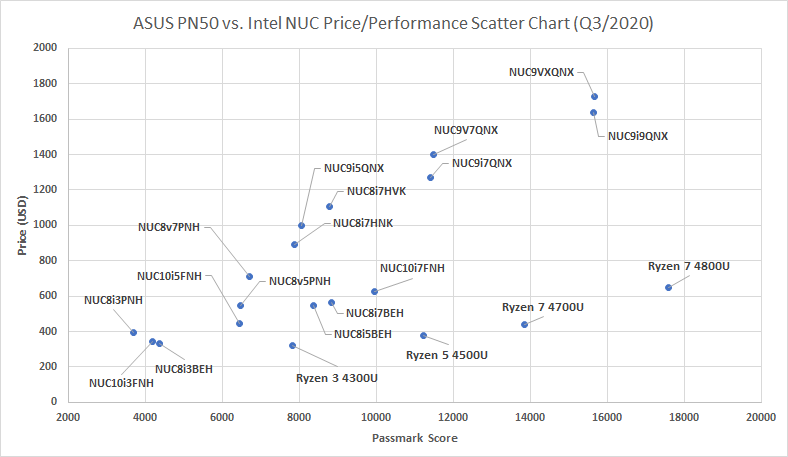 Power consumption
SFF systems have a very low power consumption. I've measured the power consumption of the smallest available PN50 with a Ryzen 3 4300U 4 Core CPU in 4 states: Standby with WOL active, Idle (ESXi in Maintenance Mode), Average Load (vCenter, 4 Linux VMs, and a Windows VM), and during a stress test. The system has been configured with 32GB RAM and no hard drives. The power policy was configured to "Balanced".
Standby (WOL active): 0.9w
Idle: 8.5 W
Average Load: 10 W
Stress Test: 28 W
The average operating costs are 2-3 Euros per month:
10 watt * 24 h * 30 (days) = 7,2 KWh * 0,30 (EUR) = 2,16 EUR
Consumption measured with Homematic HM-ES-PMSw1
Shopping Guide
| | | |
| --- | --- | --- |
| 1. | ASUS PN50 | |
|  2. | Memory | |
|  3. | M.2 SSD | |
| 4. | USB Flash Drive | |