Even before Intel's announcement to drop the NUC Mini-Computer line, having an eye on its alternatives reveals great options for running VMware ESXi. Minisforum is a relatively new vendor that aims to become a top-tier innovator, manufacturer, and supplier of mini PCs. Their Venus Series is very similar to the well-known Intel NUC Series that VMware folks are running in their labs for years. One of the most promising features is that they offer two 2.5Gbit network adapters that are running out of the box with ESXi 8.0 for a very fair price.
SFF systems (also known as Barebone, Nettop, SoC, or Mini-PC) like Miniforums Venus Series or Intel's NUC are not officially supported by VMware but they are very widespread in the home lab community. They are small, silent, transportable, and have very low power consumption, making them great servers in your home lab. The Minisforum Venus Series is currently available with 13th Gen i5/i7 and 12th Gen i7 CPU, supports up to 64GB of Memory, and has two 2.5Gbit Network Adapters.
Minisforum NPB7 (13th Gen Intel Core i7-13700H - 6 x up to 5 GHz / 8 x up to 3.70 GHz)
Minisforum NPB5 (13th Gen Intel Core i5-13500H - 4 x up to 4.7 GHz / 8 x up to 3.50 GHz)
Minisforum NAB6 (12th Gen Intel Core i7-12650H - 6 x up to 4.70 GHz / 8 x up to 3.50 GHz)
Features
13th Gen Raptor Lake CPU
Up to 64GB of DDR5 Dual Channel SO-DIMM memory
M.2 Slot (22x80 PCIe x4 Gen4)
2.5″ HDD slot (SATA 3.0, 6.0Gb/s))
2x Intel 2.5 Gigabit Network Adapter (i225-V)
4x USB3.2 Gen1 Type-A Port ×2
2x USB4 Port
1x USB3.2 Gen2 Type-C
Qualified for 24/7 Operation
120W/19VDC power adapter
To get an ESXi Host installed you additionally need:
Memory (1.1V DDR5 4800 MHz SO-DIMM)
M.2 SSD (22×80), 2.5″ HDD or USB-Flash Drive
Model comparison
Model
NPB7
NPB5
NAB6
Architecture
Raptor Lake (Intel 7)
Alder Lake (Intel 7)
CPU
Intel Core i7-13700H
Intel Core i5-13500H
Intel Core i7-12650H
Performance Cores
6 x up to 5 GHz
4 x up to 4.7 GHz
6 x up to 4.70 GHz
Efficient Cores
8 x up to 3.70 GHz
8 x up to 3.50 GHz
4 x up to 3.50 GHz
Cores
14 (20 Threads)
12 (16 Threads)
10 (16 Threads)
Memory Type
2x DDR5 4800 MHz SO-DIMM
2x DDR4 SO-DIMM
Max Memory
64 GB
USB3.2 Ports
4x Type-A
3x Type-C
2x Type-A
3x Type-C
USB4
2x Type-C
N/A
Network Ports
2x RJ45 2.5 Gigabit Ethernet Port
Storage
M.2 2280 PCIe4.0 SSD
SATA3 2.5" HDD/SDD
LAN
2x Intel i225-V Gigabit Network Adapter
Intel VT-x
Yes
Yes
Yes
Price
€579 (EU)
$489 (US)
€439 (EU)
$389 (US)
€409 (EU)
$359 (US)
Comparison with Intel NUC
Fewer Variants - Minisforum only offers a single Chassis with an i5 and i7 CPU per Generation while Intel also offers an i3 CPU and different Chassis options with and without a 2.5" HDD slot.
Larger Chassis - The dimensions (mm) of the NPB7 are 128 x 128 x 55 while the 13th Gen NUC is only 117 x 112 x 54. The picture below is a NUC5i5MYHE which has a size of 115 x 111 x 48.
Different CPU Line - For Intel's NUC Series it was very common to see CPUs with the P Suffix which stands for "Performance for thin & light". Minisforum uses CPUs with the H suffix, which are optimized for "High Performance". You can expect higher performance, but also higher power consumption from the Minisforum.
DDR5 Support - Intel's latest 13th Gen uses DDR4 memory while the Minisforum supports the latest DDR5-4800 memory. Please remember that DDR4 and DDR5 modules are physically incompatible.
Price - I got an NPB7 in a pre-sale phase for €549, including delivery from Hong Kong and taxes. Currently, it is available for €579 in the EU and $489 in the US market. The latest available 13th Gen NUC is sold for over $600 and that is still without the second network adapter or the "better" vPro CPU.

HCL and VMware ESXi Support
Small Form Factor Systems like the NUC or its variants are not supported by VMware and are not listed in the HCL. Not supported means that you should not use it in production as you can't open service requests with VMware when you have a problem. It does not mean that ESXi won't run.
The following ESXi Versions can be installed without additional drivers:
ESXi 8.0 (or later)
ESXi 7.0 Update 3f (or later)
If you try to install an older version of ESXi 7.0, the following error message is displayed:

No Network Adapters

No network adapters were detected. Either no network adapters are physically connected to the system, or a suitable driver could not be located. A third party driver may be required.

Ensure that there is at least one network adapter physically connected to the system before attempting installation. If the problem persists, consult the VMware Knowledge Base.
While I highly recommend using ESXi 7.0 U3f or later, you can still install older versions by using the Community Networking Driver for ESXi. The driver that is required to run ESXi is provided by VMware employees as a Fling. To clarify, the system is not supported by VMware, so do not use this system in a productive environment. I can not guarantee that it will work stable. For home labs or as a small home server, "NUCs" are perfectly fine.
Network (2x 2.5Gbit - i225-V)
The two network ports can be used out of the box.
0000:56:00.0 Network controller Ethernet controller: Intel Corporation Ethernet Controller I225-V
         Class 0200: 8086:15f3

0000:57:00.0 Network controller Ethernet controller: Intel Corporation Ethernet Controller I225-V
         Class 0200: 8086:15f3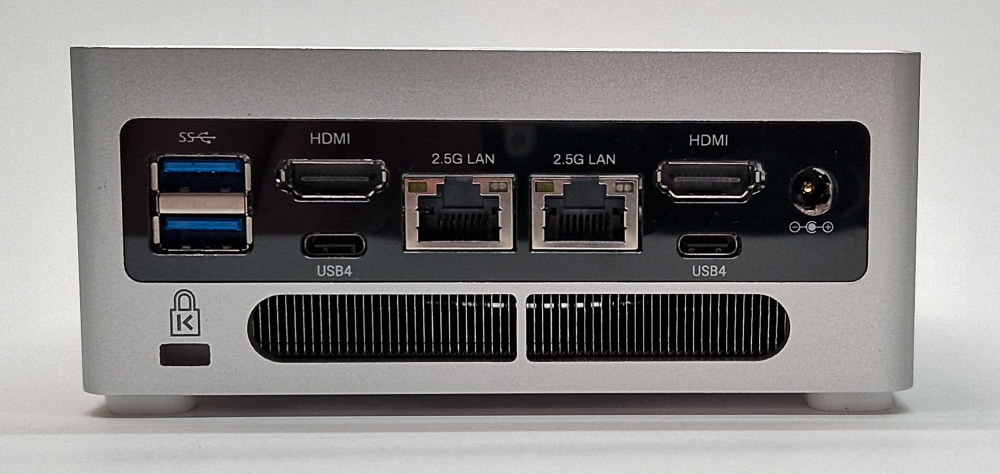 Storage
The storage controller works out of the box.
0000:00:17.0 Mass storage controller SATA controller: Intel Corporation Alder Lake-P SATA AHCI Controller
         Class 0106: 8086:51d3

Tested ESXi Versions
VMware ESXi 8.0 U1
VMware ESXi 8.0
VMware ESXi 7.0 U3f
Delivery and assembly
The Minisfourm NPB7 is delivered with an external power supply, VESA bracket, SATA Adapter, and an active M.2 SSD heatsink.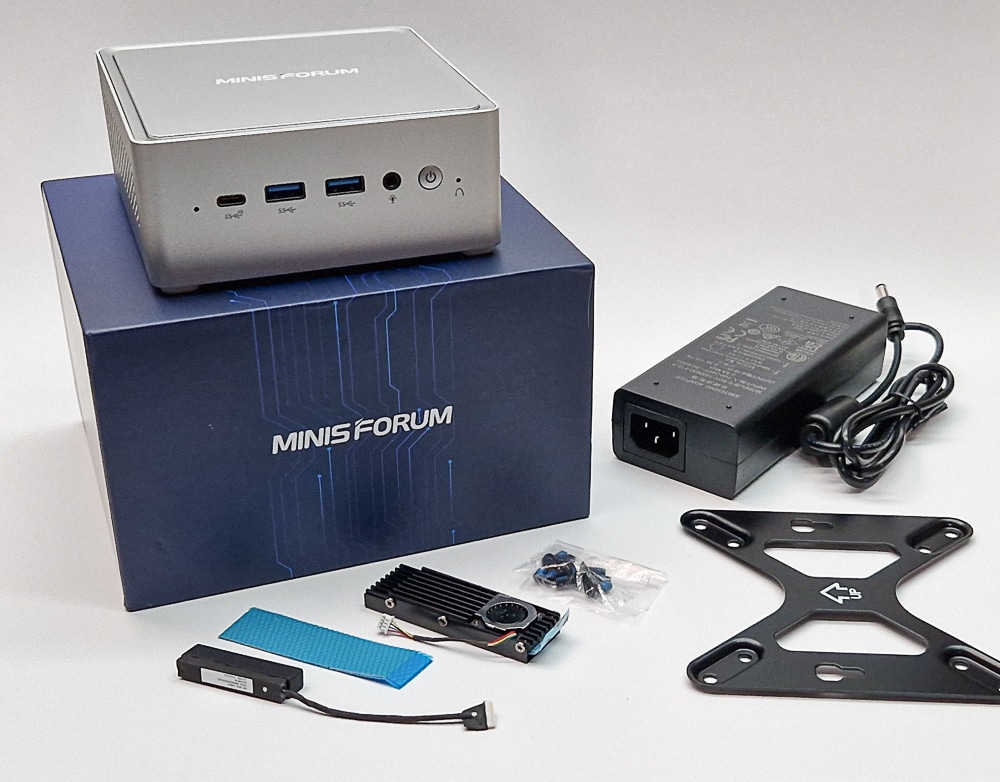 The installation of the required components (Memory and SSD) is quick and simple. The chassis can be opened toolless by pressing on the top cover.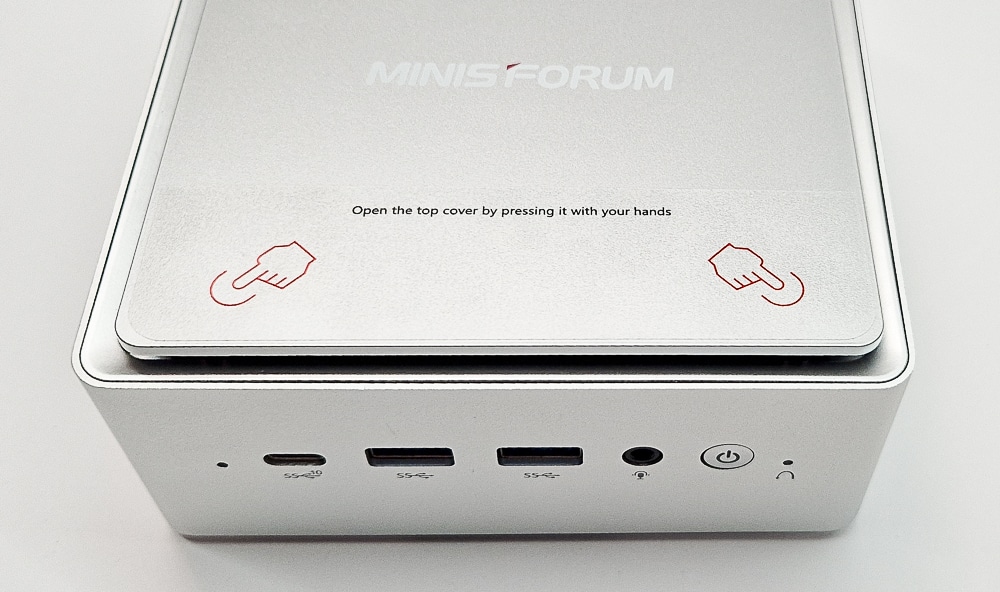 If you want to install a 2.5" drive you need the SATA cable that comes in the box. The drive itself can be attached to the lid.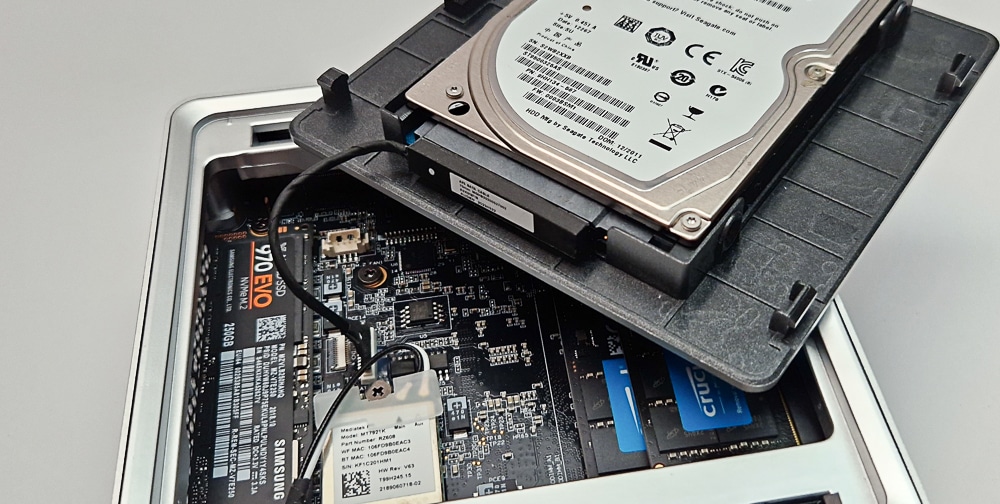 Installation
When you try to install ESXi 7.0 or 8.0 on a system with a 13th Gen Intel CPU, the installation fails with a purple diagnostics screen:
HW feature incompatibility detected; cannot start

Fatal CPU mismatch on feature "Hyperthreads per core"
Fatal CPU mismatch on feature "Cores per package"
Fatal CPU mismatch on feature "Cores per die"
This problem is caused by the new CPU architecture which includes different types of cores - Performance-cores and Efficient-cores. With vSphere 7.0 Update 2, the kernel parameter cpuUniformityHardCheckPanic has been implemented to address the issue. The option can be configured with the following command:
# esxcli system settings kernel set -s cpuUniformityHardCheckPanic -v FALSE 

You also have to enable the kernel option ignoreMsrFaults to prevent PSOD during VM startups.
# esxcli system settings kernel set -s ignoreMsrFaults -v TRUE
See this article for detailed instructions on how to set the options during installation.
If you want to use ESXi 8.0 or ESXi 7.0 U3f, just download the Image and create a bootable USB flash drive.
Memory Issues
When I first powered on the NPB7, the screen keeps black for an unexpected amount of time, and nothing happened. There are reports in the community that the NPB7 is very picky about supported memory modules but it turned out that it just has a weird behavior when there are any changes to memory modules. When you switch on the system and nothing happens, just wait for about 5 minutes.
I've successfully tested the following memory modules: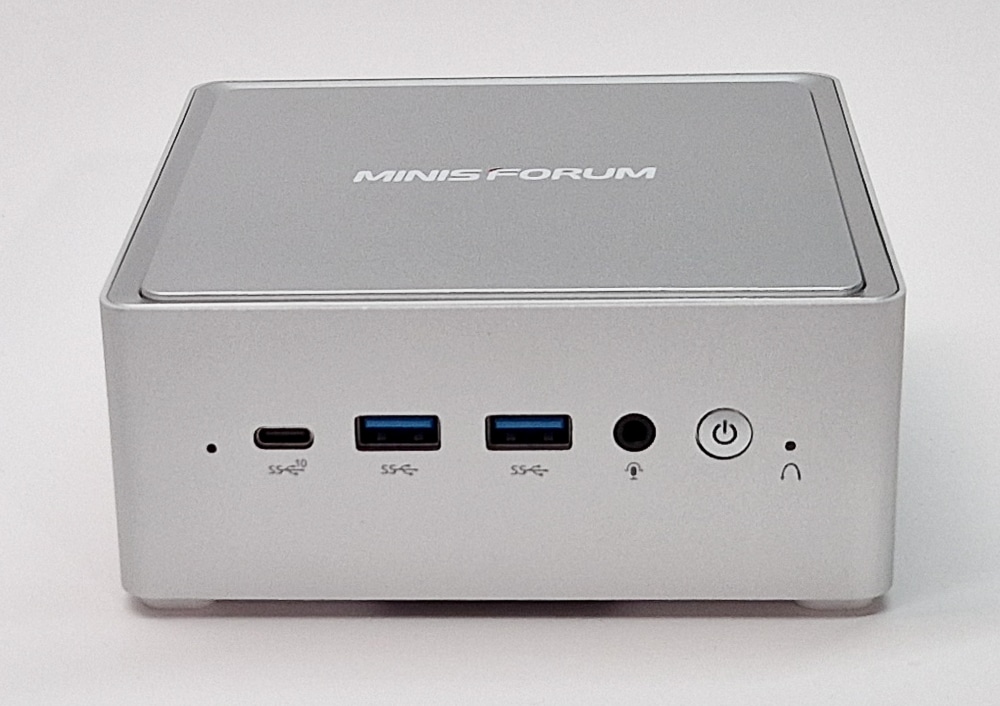 Minisforum Support Experience
When you buy hardware from a local distributor, you usually contact the distributor if you have any warranty issues. I purchased the NPB7 directly from the vendor in a presales action and it was delivered from Hong Kong. Unfortunately, it came with a broken/bent pin in the power supply. There are a couple of bad reviews about Minisforum when it comes to support and if you expect Amazon-like service, you will be disappointed, but in my opinion, it was handled quite well. I e-mailed Minisforum a picture of the issue, the mail was answered after 7 days and a replacement power adapter was sent without questions asked. Due to a lack of stock in the German warehouse, the delivery took 2 weeks. Not super fast, but acceptable.
Performance
The performance of mobile Intel CPUs, used in NUC-like systems is getting better and better. A single system is sufficient to run a small home lab and it's a great system to take along for demonstration purposes.
The following chart is a comparison based on the NUCs PassMark score: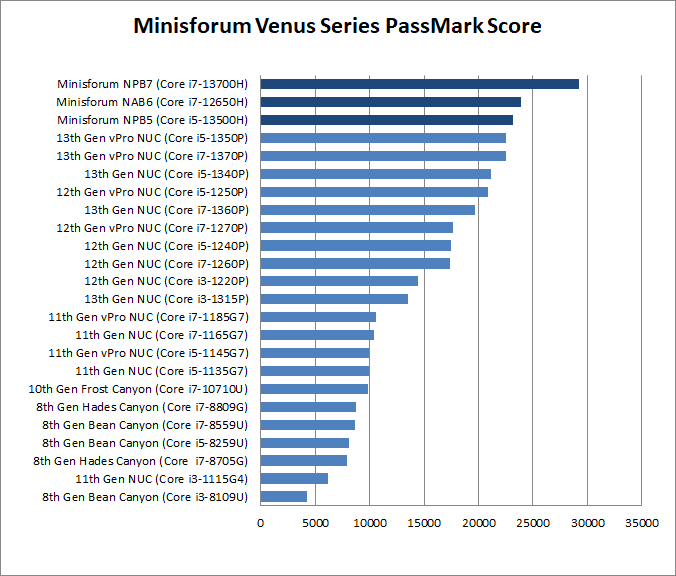 Power consumption
Mini Computers have a very low power consumption. I've measured the power consumption of my Minisforum NPB7 in 3 states: Idle (ESXi in Maintenance Mode), Average Load (1 vCenter, 4 Linux VMs), and during a Stress test. The system has been configured with 64GB RAM and an M.2 SSD. The power policy was configured to be "Balanced" (I do not recommend changing the policy).
Standby: 2.5 W
Idle: 15.5 W
Average Load: 26.5 W
Stress Test: 68 W
The average operating cost is about 6 Euros per month:
26,5 watt * 24 h * 30 (days) = 19,08 KWh * 0,30 (EUR) = 5,72 EUR
Consumption measured with Homematic HM-ES-PMSw1
Shopping Guide
1.

Minisforum Venus
Series



Minisforum NPB7
Amazon

 2.

Memory

 3.

M.2 SSD

 4.

 2.5" HDD

 5.

USB Stick