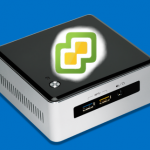 VMware vSphere ESXi 7.0 Update 3 has been released in October and before you start to deploy it to production, you want to evaluate it in your testing environment or homelab. If you have Intel NUCs or similar hardware you should be very careful when updating to new ESXi releases as there might be issues. Please always keep in mind that this is not an officially supported platform and there might be compatibility issues.
In vSphere 7.0, there are ups and downs with consumer-grade network adapters. Since the deprecation of VMKlinux drivers, there is no option to use Realtek-based NICs, and previous versions had problems with the ne1000 driver. Luckily there is the great Community Networking Driver for ESXi Fling that adds support for a bunch of network cards and VMKUSB-NIC-FLING always covers your back.
I've updated my NUC portfolio to check which NUCs are safe to update and what considerations you have to take before installing the update. Additionally, I'm taking a look at the consequences of the recently deprecated USB/SD-Card usage for ESXi Installations and some general Issues in 7.0u3.