This article explains how to configure LDAPS authentication in vCenter 7.0.
Read more »
The vCenter Server has an internal user database that allows you to add and manage users very easily. Users management and Single Sign-On is provided by the embedded Platform Service Controller which is available since vSphere 6.0. In a large environment, you might want to connect your virtualization infrastructure to a centrally manage Active Directory.
This article explains how to add AD authentication in vSphere 7.0 and how to get the "Use Windows session authentication" checkbox to work with the "Enhanced Authentication Plugin".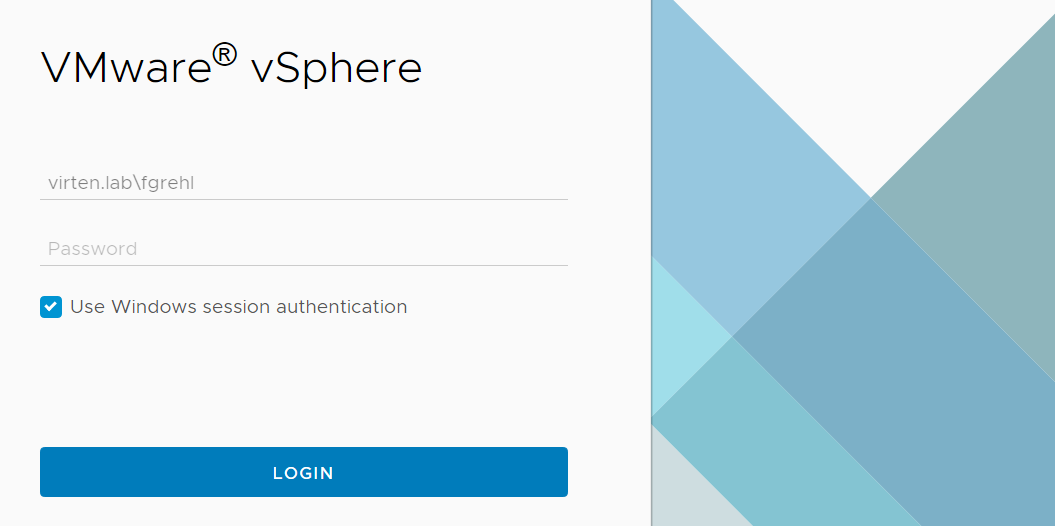 In vSphere 7.0, the Windows-based vCenter Server is finally gone. Time to move forward and get in touch with the Linux based Photon OS. The following tips and tricks might come handy when working with the vCenter Server Appliance 7.0:
Enable SSH
File Transfer with SCP/SFTP
Public Key Authentication
Disable or Increase Shell Session Timeout
Password expiration
Reset vCenter Server Appliance 6.7 root password
Create a Backup Job
Remove Certificate Warnings (Root CA)
Install Additional Software
VMware Datacenter CLI (DCLI)
Run Docker Containers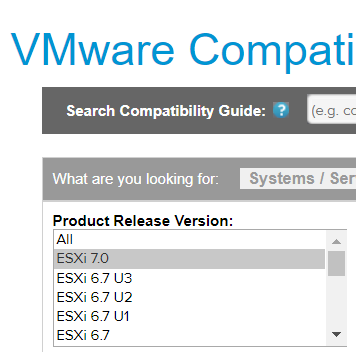 Beside Server Hardware, also double check if your IO Devices (eg. NIC, HBA,..) are supported when updating ESXi hosts from VMware vSphere 6.7 to 7.0. The following devices were supported in vSphere 6.7 but are according to VMware's HCL not (yet) supported in vSphere 7.0.
Not supported does not say that it does not work.
The list has been created with the help of my IO-Devices HCL in JSON Format.
Did I miss something? Please comment.
In vSphere 7.0, VMKLinux driver compatibility has been deprecated and removed.
To get ESXi installed on a 10th Gen Intel NUC you need a customized image at the moment. How to create the custom image is explained here. The problem is that the ne1000 driver, which is bundled in ESXi 7.0, is not compatible with the NUCs Gigabit Network interface. When you now try to install the latest ESXi patch, the driver is overwritten with the non-working default ne1000 driver.
The solution is quite simple. You can either install the working driver again after patching or create a custom ESXi 7.0b image. The method described here is specific for ESXi 7.0b but might also work for future releases, as long as ESXi 7 is not equipped with a ne1000 driver supporting Intels latest I219-V.
This article explains how to connect and work with the embedded vPostgres Database of a vCenter Server Appliance version 6.5, 6.7, and 7.0.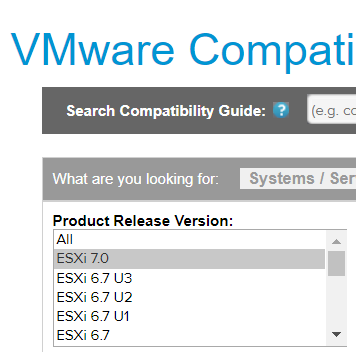 Double-check your vendor support when updating ESXi hosts to vSphere 7.0. Some systems have not been certified by their vendor yet. The following servers were supported in vSphere 6.7 but are according to VMware's HCL not yet supported in vSphere 7.0.
Your server is listed and you want to upgrade?
Usually, the list gets smaller a couple of weeks after a new vSphere version has been released. I will update this post when I notice changes.
Not supported does not say that it does not work.
Servers get certified by their vendor, not VMware. If you want a server to get certified, ask your vendor.
Vendor support matrices sometimes differ from VMware HCL. Please ask your vendor or VMware whether you are allowed to upgrade.
The list has been created with the help of my HCL in JSON Format.
Follow the comments to get notified of updates.
Did I miss something? Please comment.
The list only contains systems by the following vendors: Cisco, DELL, Fujitsu, Hewlett Packard Enterprise, Hitachi, IBM, Lenovo, and Supermicro
Have you ever wondered that the VMware vCenter Server build number mentioned in Release Notes does not match with the build number displayed in the vSphere Client? There are many different versions and build numbers used through the product. How the numbering works is different from Releases to Release. Here is an example of version numbers used in vSphere 6.7:
vCenter Server 6.7 U3f
Appliance Version: 6.7.0.43000
Windows Application Version: 6.7.0.31288
ISO/Installer/Update Build: 15976714
Appliance Build Number: 15976728
Windows Build Number: 15976721
In this article, I am going to explain where these numbers are used and also how the numbering differs from vSphere Release to vSphere Release (eg. vSphere 6.7 numbering standards differ from vSphere 6.5).
The VMware bare-metal hypervisor ESXi is in the market for over 12 years now. During that time it has been continuously refined and added with new features. Since vSphere 5.0, the hypervisor size is very constant and has not increased severely. In this post, I am going to have a look at how much the hypervisor footprint has been changed from ESXi 3.5 to ESXi 7.0.ESX.
ESXi 3.5 - 46,01 MB
ESXi 4.0 - 59,99 MB
ESXi 4.1 - 85,19 MB
ESXi 5.0 - 132,75 MB
ESXi 5.1 - 125,85 MB
ESXi 5.5 - 151,98 MB
ESXi 6.0 - 154,90 MB
ESXi 6.5 - 135,39 MB
ESXi 6.7 - 129,51 MB
ESXi 7.0 - 149,40 MB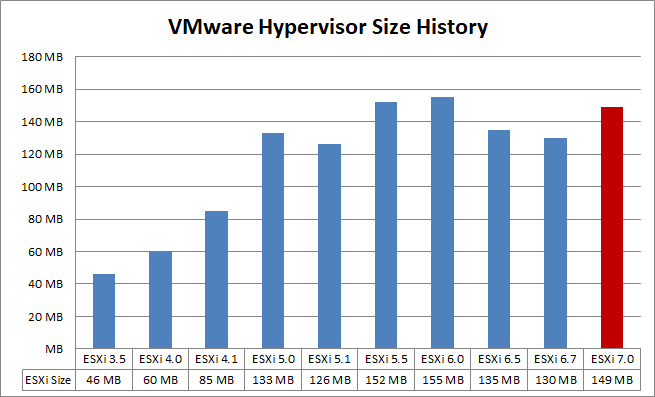 vSphere 7.0 has been released and as known from previous versions, VMware provides a free version of their Hypervisor ESXi for everyone again. The license key can be created for free at VMware's website. It has no expiration date. The binaries you will receive as "Free Hypervisor" are 100% identical to the paid version but with some software limitations.
Tech Specs and Limitations
No commercial support (Community support)
Free ESXi cannot be added to a vCenter Server
Some API functionality is missing (API is read-only)
No physical CPU limitation
Number of logical CPUs per host: 480
Maximum vCPUs per virtual machine: 8
The Key is restricted to 1

00

Physical Servers deployments.
Other limitations like the 32GB Memory or 2 CPU Socket limit are no longer in place.