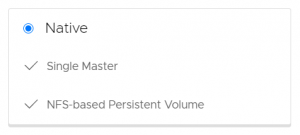 With the release of Cloud Director 10.2, the Container Service Extension 3.0 has been released. With CSE 3.0 you can extend your cloud offering by providing Kubernetes as a Service. Customers can create and manage their own K8s clusters directly in the VMware Cloud Director portal.
I've already described how to deploy vSphere with Tanzu based Kubernetes Clusters in VCD. CSE 3.0 with the "Native K8s Runtime" is is a neat alternative that allows you to deploy K8s directly into the customer's Organization networks, which is currently not possible with Tanzu.
This article explains how to integrate CSE 3.0 in VMware Cloud Director 10.2.
Read More »Deploy Container Service Extension (CSE 3.0) in VMware Cloud Director 10.2