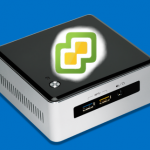 VMware vSphere ESXi 7.0 Update 1 is here. If you have Intel NUCs in your homelab you should always be very careful when updating to new ESXi releases as there might be issues. Please always keep in mind that this is not an officially supported platform.
Typically, you see problems with new major releases (eg. the Realtek problem in ESXi 7.0) but this time we seem to run into a problem with 8th Gen NUCs in the 7.0 U1 release. The Intel I219-V (6) network adapter fails to load after upgrading to ESXi 7.0 U1. When you try to do a fresh installation, it fails with the well known "No Network Adapters" error.
To be on the safe side, I'm doing a quick checkup on which NUCs are safe to update and where you have to implement a workaround.
In the meantime: Stay Calm, you can run ESXi 7.0 U1 on the 8th Gen NUC!