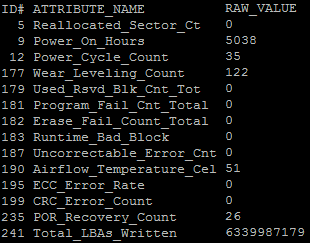 Solid-State-Drives are getting more and more common in ESXi Hosts. They are used for caching (vFlash Read Cache, PernixData FVP), Virtual SAN or plain Datastores. A problem that comes with SSDs is their limited lifetime per cell. Depending on their technology, each cell can be overwritten from 1.000 times in consumer TLC SSDs up to 100.000 times in enterprise SLC based SSDs.
The value to keep an eye on is the guaranteed TBW (Total Bytes Written or Terabytes Written) which is typically provided by the vendor in their specifications. This value describes how many Terabytes can be written to the entire device, until the warranty expires. The current value can be readout with S.M.A.R.T. in the Total_LBAs_Written field.
Unfortunatelly, VMware makes it hard to readout RAW S.M.A.R.T values on ESXi hosts. For that reason I've ported a version of smartctl, which is part of  smartmontools to ESXi. I've made the package available as VIB. The download link is at the bottom of this post.