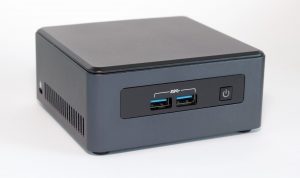 This page lists the latest available BIOS version for all Intel NUC Kits. The currently installed version can be verified with the vSphere HTML5 Client: ESXi > Configure > Hardware > Processor > System > BIOS Version
When a newer version is available, perform the following steps to update:
Download BIOS Update File (.BIO)
Copy the .BIO file to a USB flash drive. You can use the flash drive where ESXi is installed.
Plug the USB flash drive into a USB port.
Turn on the Intel NUC.
Before ESXi starts, press F7 to enter the BIOS Flash Update screen.
Select the USB device and press Enter.
For scripters, the Intel NUC Latest BIOS Version list is available as JSON file: nucLatestBios.json
The list is updated automatically. If you encounter any issues with this site or something is missing, please do not hesitate to contact me.
Intel NUC Latest BIOS Versions
Last Update: Sat, 22 Apr 2023 17:44:34 +0000