Hewlett Packard has launched an extremely affordable server for SMB and home users. Not only due to its price of approximately 200 euros, but also because of its low power consumption it is an great candidate for a virtualization home lab. An optional Remote Access Card (RAC) can extend ILO similar functions to the server.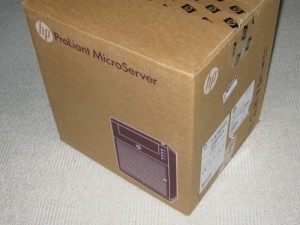 The HP N40L has 2 CPU cores and supports up to 8GB of RAM. Although this is quite low for a hypervisor, it should be sufficient for a pure test environment. The server does only have a software-based RAID controller which will not work with the ESX. If you want to use the local disks as an array, you have to buy an additional RAID controller. The P410 for example is supported. I decided not to buy a RAID controller, because I want to store my VMs on an shared Storage. The good news is that the server is shipped with 4 hard drive trays, which allows the installation of any SATA hard drive.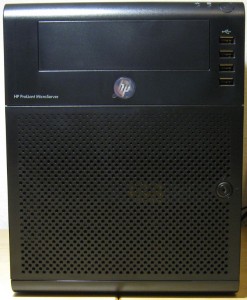 Features
The Server is shipped with the following configuration:
Prozessor: AMD Turion™ II Neo N40L (2x 1,50GHz)
Memory: 2GB PC3-10600E UDIMMs DDR3
Hard Disk: 1x Seagate Barracude (250GB, 7200RPM, SATA)
LAN: 1x 10/100/1000 MBit (NC107i)
PSU: 150 Watt, non-redundant
Ports: VGA, eSATA, 7x USB 2.0 (4x Front, 2x Back, 1x On-Board)
HCL and ESXi 5.0 Support
The server has hardware support for virtualization and a 64-bit CPU. Therefore it should be compatible to VMware ESX. To clarify, the system is not listed in the VMware HCL, so do not attempt to use this System in a productive environment. But as a home lab, or a small home server it should be fine. I think HP has just skipped the expensive VMware testing procedure, which is reflected in the low price of the unit.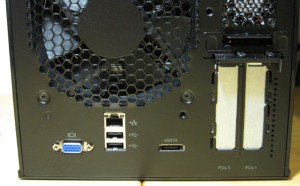 Delivery and assembly
The server is shipped in a handy little box, together with a power cable, safety instructions, and a CD with links to documentation. The server is very handy and fits easily on or below my desk. The front is secured with a lockable door which covers the disks and the motherboard. There are no additional tools or screws required, because everything is attached inside the case. Except for the rear cover all external parts are made of plastic, but the quality is very high.
Prior to assemble the memory or expansion cards, the mainboard has to be completely removed. To remove the mainboard you have to undo the two thumbscrews at the front, unplug all cables and pull it out of the case. I installed 8 GB of RAM, the Remote Access Card and an additional Quad-Port Network adapter.
Setup
The IP address of the RAC is configured though a DHCP Server and you can access it either with HTTP or HTTPS. The default login is admin and password. The RAC enables the server to be powered on and off remotely. Additionally it comes with a KVM and remote media Java application. To install the ESX server you have to launch the KVM und Remote Media application, mount the ISO file through the "Add Image ..." button and check the Box next to "Mapped". The server is now ready to be installed from your local ISO file and can powered on through the Server Information -> Power -> Control menu. The installation is pretty straight forward and finishes without any errors. The System has been tested with ESXi 4.0, ESXi 4.1, ESXi 5.0, ESXi 5.1 and ESXi 5.5,
Power consumption
The standby power consumption is about 19 watt. With load the consumption raises to about 60-70 watt, so the system is still very energy efficient. If the Server is up 24x7 the operating costs are at about 12 Euros per month:
65 watt * 24 h * 30 (days) = 46,8 KWh * 0,25 (EUR) = 11,70 EUR
Consumption measured with Voltcraft Energy Monitor 3000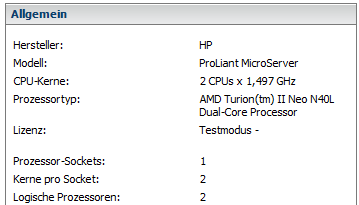 Difference between N36L, N40L and N54L
The Server is currently available in 3 models. There is in fact no difference between the models except the CPU power:
N36L 2x 1.30GHz (TDP 15W)
N40L 2x 1.50GHz (TDP 15W)
N54L 2x 2.20GHz (TDP 25W)
Result
The HP Proliant N40L is a great deal. With two or three Systems you can build a reliable homelab and start to play around various VMware features. You can create a cluster, try vMotion, HA, DRS and resource pools or even create your personal vCloud or VDI environment. Great stuff to learn for your VMware certification. The server runs pretty quiet, so you can run it near your desk.
Shopping Guide
| | | |
| --- | --- | --- |
| 1. | Chassis | |
|  2. | Memory | |
|  3. |  Remote Access | |
[Update: Jan 7, 2013 - Added informations about N36L and N54L]