Hewlett-Packard has just released a Generation 8 Microserver which is going to replace the well known N36L/N40L/N54L Microservers. The new server has the same trendy design as the entire Gen8 series. The AMD Turion CPU has been replaced by an Intel Ivy Bride CPU which is way more powerful and the memory limit has been raised to 16GB. With that, the new server brings much more power to your VMware vSphere Homelab and allows you to run more virtual machines. In this post i am going to compare both specs to point out what's new and better.
N36L/N40L/N54L vs. Gen8 at a glace
+ CPU socket (changeable CPU)
+ 16GB memory max
+ Integrated iLO and Mobile App Support
+ 2x USB3.0 port
+ Internal microSD slot
+ 2x onboard nics
- 5,25" Slot
- no eSATA port
- no PCIe 8x slot

CPU
HP ProLiant MicroServer Gen8 can be ordered with to different Ivy Bridge CPUs:
Intel Celeron G1610T (2.3Hz/2-core/2MB/35W) Processor
Intel Pentium G2020T (2.5GHz/2-core/3MB/35W) Processor
This is more power, compared to the Turion CPUs:
N36L: 2-core 1.30GHz (TDP 15W)
N40L: 2-core 1.50GHz (TDP 15W)
N54L: 2-core 2.20GHz (TDP 25W)
CPU Benchmarks (PassMark)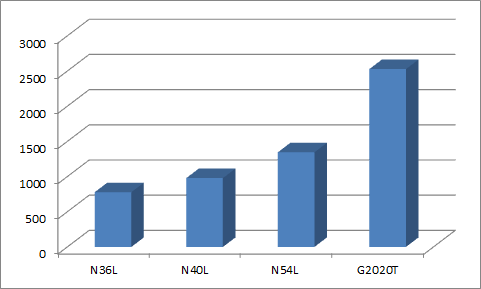 Memory
8GB maximum has been raised to 16GB. (The processor supports up to 32GB)
RAID Controller
The Gen8 MicroServer comes with an integrated HP Dynamic Smart Array B120i RAID Controller which supports RAID 0/1/10. As far as i know this RAID Controller works with ESXi. I am going to confirm that when it is delivered.
Network Controller
The Gen8 MicroServer has a second onboard NIC.
Remote Management
HP iLO Management Engine is now embedded so you don't need an additional card. To use remote server management you have to buy a license.
Expansion Slots
The Gen8 MicroServer has one x16 PCIe 2.0 slot. This is less than the old system which has an additional x78 port. But as this port was usually populated with the remote access card, both systems are actually equally equipped.
Internal Storage
Both systems have 4 hard drive trays. The Gen8 MicroServer supports up to 12TB (4 x 3TB 3.5" SATA)
Interfaces
Additional to 5 USB 2.0 Ports (2 front, 2 rear, 1 internal), the Gen8 MicroServer has 2 USB 3.0 Ports and an internal MicroSD slot.
Virtualization Features
Intel VT-x and EPT is supported
Shopping Guide
| | | |
| --- | --- | --- |
| 1. | Chasis | |
| 2. | Memory | |